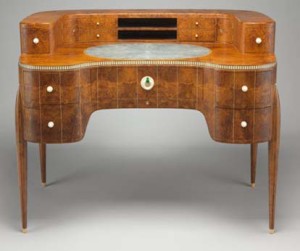 The Art Deco style became popular after World War I during the Roaring '20's, when people were full of optimism in both Europe and America because the war was over. The style reflects the uplifted moods of citizens during this time. This style combined the use of the current industrial trends, mixed with the use of modern materials and the element of movement. The Art Deco style has an interesting history behind it.The actual term Art Deco originated in Paris, France in the year 1925 during an exposition that featured art pieces and furniture from popular designers. These designers included Süe et Mare, Edgar Brandt. and Jacques-Emile Ruhlmann. The combination of art and furniture came to be the defining elements of the French Art Deco style. This style combined elements of other art styles such as Art Nouveau and Neoclassical.
What Exactly is the Art Deco Style?
Art Deco pieces of furniture focus of maintaining elegant shapes and clean lines. They tend to look both sleek and modern, yet still offer the benefit of being comfortable. Sticking to the concepts of being simple and practical, Art Deco furniture does not generally have a lot of unnecessary decorations or embellishments, although some pieces may actually have some rather bold ornamentation. Shiny surfaces and a sleek sophistication are also part of the Art Deco furniture style.
Art Deco Lady Dancer Statue Candle Holder
Art Deco Peacock Sculptural Table Lamp
Common Features Found in Art Deco Furniture Pieces
A common feature found in the Art Deco style of furniture are flat bent chrome bases that provide slight movement much like a rocking motion. Wood furniture pieces are commonly coated with a heavy black lacquer. Large decorative panels used as room screens are also heavily lacquered in black. You may also find wood frames with a heavy, shiny lacquer, upholstered in a rich white leather to serve as room screens as well. A stepped-up arm is also another common characteristic of Art Deco pieces of furniture.
Types of Woods and Upholstery Materials Used in Making Art Deco Furniture
There are certain types of woods that are frequently used in the making of this style of furniture. These may include ebony, birds-eye maple, exotic Brazilian rosewood, and light maple veneers. The upholstery fabric of choice for many furniture pieces is velour, a sensual material that both compliments and contracts the streamlined form of Art Deco pieces.
What are Common Color Schemes in the Art Deco Style?
Color is used in sparse amounts in the Art Deco style. Color schemes and combinations for this style of furniture commonly include the colors black, a combination of green and black, red and black, and white and black, with accents of gold, chrome, dove gray, or a pale blue shade. Other colors are not generally used with the Art Deco theme.
 Art Deco
 Art Deco Furniture
 Art Deco Complete
 The Art Deco Style
 French Art Deco
 American Art Deco
What Sets this Type of Furniture Apart from Other Styles and Makes it Unique?
The thing that truly make the Art Deco style so unique was the fact that is was one of the first forms of art and decorating in history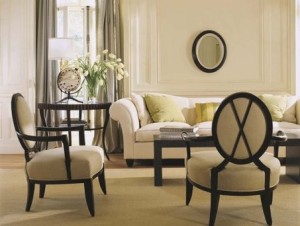 that gave the designers the freedom to develop their own unique style. The 1910 to 1939 French Art Deco period has been said to be responsible for paving the way for the beginnings of modern design. The designers took advantage of the new types of materials that were becoming more readily available to them during this period. They were now using a wide array of both natural and man made materials. Chrome and sculptured wrought iron became essential elements is the design of Art Deco furniture, and the physical characteristics of tubular chrome allowed for the design of dramatic, clean lines to be used in the making of the furniture. The Art Deco style of design was considered to be very modern for its time and many of these design elements have carried over into other design styles from much later time periods. This style of furniture is also one of first styles with the ability to be mass produced at a time when the rapid development of industrialization was transforming the culture of America.
Vintage and Antique Art Deco Furniture Finds
Vintage pieces of Art Deco furniture decorations can be found on online auction sites such as Ebay. This is a great place for antique collectors to look. Be aware that many of the beautiful antique wooden furniture selections cost at least close to two hundred dollars, with many pieces even going over the one or two thousand dollar mark. Also, these are heavy pieces of vintage furniture that will be required to be shipped by freight. Most sellers ask that you contact them about details for shipping, so make sure to do so before placing a bid or purchasing a "buy it now" item, as you may end up paying more than you bargained for. You may also be lucky enough to find Art Deco pieces at flea markets, estate sales, garage sales, and thrift shops such as Goodwill. Chances are these other options will offer lower prices, as they may not realize the actual value of what they have on their hands.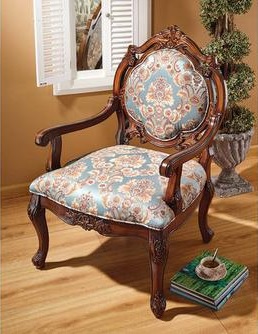 Madame de Pompadour Sitting Room Arm Chair

Commonly Found Antique Pieces
Some of the more readily available furniture pieces seems to be the vintage Waterfall bedroom dresser with a circular mirror above it. The circular mirror is found on other models of dressers in this style as well. There are also many other types of furniture from complete bedroom sets, to dining tables, to chairs, armoires, and credenzas offered. Many of these pieces date back to the 1920's, 1930's, 1940's, and 1950's.
Things to Look for When Searching for Art Deco Furniture
There are several things to look for to be certain a piece is truly Art Deco. Look for sleek and smooth piece, sensuous lines, and opulent style. This style used highly glossy finishes, lacquered finishes, polished chrome accents, inlaid wood patterns, bold patterns, geometric shapes, and overstuffed cushions. During the peak of its popularity, the Art Deco style stood for glamour, luxury, and an uplifted element of faith in both society and technology.For all of these reasons, this makes this unique style a highly collectible furniture find.
[phpbaysidebar title="Art Deco Furniture" keywords="vintage art deco furniture" num="8″ siteid="1″ sort="BestMatch" id="2″]
(Visited 806 times, 1 visits today)