Know Your Antique Glassware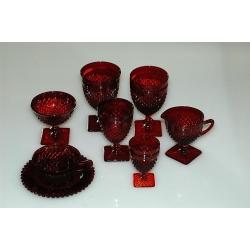 If you want to collect genuine antique glassware, then it is important to make sure that you know what you are collecting and can determine genuine from reproduction antiques. One way to learn about collecting antique glassware is to study the excellent antique glassware guides by author Gene Florence.
Gene Florence is the author of the best antique glassware guides in the industry. He is an expert on antique glassware companies, patterns, colors, and styles. Any of his books is a great place to start your collection. Gene Florence has been a collector of interesting things since his boyhood in Lexington, Kentucky. He taught school for nine years, then turned his career into pursuing his interest in Depression glassware. His first book was published in 1972, and later opening his own Grannie Bear Antique Shop in 1976 which specialized in Depression glassware. He has now written over 80 books on collectibles including numerous books on Depression glassware.
Shown: Anchor Hocking Miss American Glassware Set
[phpzon keywords="antique glassware patterns" num="2″ country="US" trackingid="antiquevintagegallery-20″ templatename="default" paging="true"]
Learn About Antique Glassware Companies
There are many collectible antique glassware companies that produced interesting and unique handmade glassware. One of the most collected is Depression glassware. If you are a collector, study the company or style that you are interested in before you start buying. Consult other collectors, and antique shops that have an excellent reputation to learn about the glassware that you want to collect.
The most avid collectible antique glassware types often have collector organizations that can help you learn the ins and outs of collecting that particular type of glass. Some of the companies have museums with samples of their glassware.
Types of Glassware
There are several types of antique glassware that is very popular among collectors. These include Cambridge glass, Anchor Hocking glassware, Carnival glass, American Pattern, China, Art Glass pieces, and Depression glass. These glasswares are valued by collectors for their bright colors and attractive patterns.
Cambridge glass was produced in Cambridge, Ohio from the year 1910 to 1954, when the company closed. After reopening, the pieces were again produced until the final company closing in 1958. Cambridge pieces included the words Near Cut on the early pieces, and those produced after the year 1920 feature a triangle with the letter C inside it, making it easy to distinguish genuine antique Cambridge glass. The trademarks of Cambridge glassware are heavy pressed glass, etched stemware, and both clear glass and colored glass. Collectors of Cambridge pieces tend to prefer the colors Ebony, Emerald Green, Royal Blue, Moonlight Blue, Amberina, Carmen (a ruby red color),Peach-Bio, and Crown Tuscan (an opaque glass in a pink shade).
Another popular maker of antique glassware was Anchor Hocking. Originally known as the Hocking Glass Company, the company was founded in 1905 in Lancaster, Ohio. The company saw the peak of its success in the 1920's and 1930's, during the Depression era. Glassware could be mass produced, which allowed the company to sell it inexpensively at a time when families needed to watch their spending. Popular patterns of Anchor Hocking glassware include the Waterford, Spiral, Circle, Sandwich, Roulette, Mayfair, and Queen Mary patterns. In 1939 they produced a deeply red colored glass named Royal Ruby. Several patterns featured this popular color, including Miss America, Coronation, R-1700, and Bubble. Perhaps the company's best known glass is the Fire-King brand which was used on many coffee mugs, mixing bowls, and various dinnerware pieces. The opaque white pieces known as Vitrock, and the popular green color called Jade-ite, belong to the Fire-King line and are popular with glass collectors. Patterns in the Fire-King line from Anchor Hocking included Alice, Jane Ray, Early American Prescut, Hobnail, Philbe, and Rainbow. The transparent blue color of the Philbe pattern is the rarest and most highly sought after color produced by this company.
Anchor Hocking Reference
[phpzon keywords="anchor hocking" num="4″ country="US" searchindex="Books" trackingid="antiquevintagegallery-20″ sort="none" templatename="default" paging="true"]
Anchor Hocking Glassware
[phpbay keywords="anchor hocking glassware" num="4″ siteid="1″ sortorder="BestMatch" templatename="default" paging="true"]
Collecting Antique Glass Candlesticks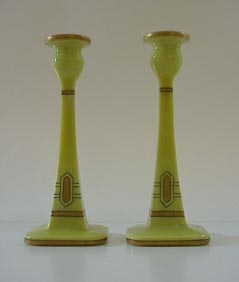 One of the most popular antique glassware items to collect is pairs of candlesticks. Candlesticks are elegant reminders of dinner parties, table settings, and lifestyles that have mostly gone the way of all formal occasions. Nowadays, most people do not have the income to live that way, or they don't want to be bothered to formally set their table on a regular basis.
Candlesticks are also smaller and take up less space than larger items, so collectors who have less space to store their collections can still make room for candlesticks. There many beautiful sets of glass candlesticks available for collectors. Styles and colors abound so your choice is broad. Before you buy, make sure that the seller has proof of authenticity.
References on Antique Glass Candlesticks
[phpzon keywords="antique glass candlesticks" num="4″ country="US" searchindex="Books" trackingid="antiquevintagegallery-20″ sort="none" templatename="default" paging="true"]
References on Cambridge Glass
[phpzon keywords="cambridge glass" num="4″ country="US" searchindex="Books" trackingid="antiquevintagegallery-20″ sort="none" templatename="default" paging="true"]
Etched Cambridge Glass
[phpbay keywords="etched cambridge glass" num="4″ siteid="1″ sortorder="BestMatch" templatename="default" paging="true"]
Collecting Antique Glass Salt and Pepper Shakers
Salt and pepper shakers are my favorite antique glassware item to collect. The reason is that they can be really fun and different in how they look, as well as the fact that they are small and don't take up much room.
I love the colors and reflective qualities of all types of glass, and antique glassware has colors and patterns that cannot be made today. It is also possible to find salt and pepper shaker sets that do not break the bank to buy, and at least for now, that limits my own personal collecting. Gene Florence has a wonderful book about salt and pepper shakers which includes Depression glass but also many other types of collectible glass salt and pepper shaker sets.
Florence's Big Book Of Salt And Pepper Shakers
[phpzon keywords="florence salt pepper" num="2″ country="US" trackingid="antiquevintagegallery-20″ templatename="default" paging="true"]
Antique Glass Salt and Pepper Shakers for Sale
[phpbay keywords="antique salt pepper" num="4″ siteid="1″ sortorder="BestMatch" templatename="default" paging="true"]
Depression Glass
The Fenton Glass Company in West Virginia produced the first carnival glass in 1907. Carnival glass is antique glassware that is iridescent and was made at little cost so that the average family could afford it. It came to be known as "Poor Man's Tiffany". Fenton's first line of carnival glass was known as Venetian Art and the original line was called Iridill. The iridescent quality was achieved by using an iridization technique known as doping, which involves spraying metallic salts onto pressed glass while still hot. The piece would then be fired yet again to achieve the shiny, colorful results. Pieces such as vases, goblets, candy bowls, pitchers, and tureens were manufactured in large quantities in brilliant shades of pinks, purples, reds, blues, golds, and turquoise colors. Other companies such as Northwoods glass company followed suit with their line of Golden Iris glassware. Dugan, Imperial, and Millersburg glass companies also began producing carnival glassware after Fenton made it popular.
Glass manufacturers such as Hocking, MacBeth-Evans, and Federal Glass, all produced Depression glass which was widely sold during the 1930's . These antique glass pieces could then be purchased very inexpensively and were even affordable during the years of the Depression. Pieces of this brightly colored, beautifully patterned glassware could be purchased at the dime store, or perhaps were part of a promotion in which one piece was given out each week when you purchased something specific. Week by week, families could eventually build an entire collection of Depression glass dinnerware. Popular patterns of the time included the American Sweetheart, Mayfair, Cameo, Royal Lace, and Princess patterns. Green, pink, and cobalt blue glass colors tend to be the most prized by collectors of this type of glass.
These are just a few of the companies who manufactured collectible glassware products from decades gone by. Today, these pieces still delight antique and glass collectors alike, and bring with them a little piece of the history of America. Glassware can be collected by brand, color, pattern, or style of glass. Ebay offers a wide selection of various varieties of antique glassware, and many pieces can be found online through antique websites. Visit local thrift shops, garage sales, estate sales, and antique malls when seeking antique glass items.
Collecting Antique Glass Vases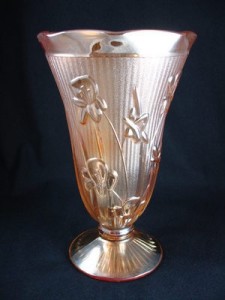 Antique glassware vases are another popular item to collect, especially since they are very useful even today. There is nothing that brightens up a room more than a beautiful vase filled with colorful fresh flowers.
There are so many styles of antique glass vases to choose from to collect. The vase pictured above is from the 1950's made by the Jeannette Glass Company, but it is only one of many. I am partial to Depression glassware but there are many other eras of antique glassware that are just as enticing. For more information on antique glassware collecting and resources, follow the links below.
References on Depression Glass Vases
[phpzon keywords="depression glass vases" num="4″ country="US" trackingid="antiquevintagegallery-20″ templatename="default" paging="true"]
Depression Glass Vases for Sale
[phpbay keywords="depression glass vase" num="4″ siteid="1″ sortorder="BestMatch" templatename="default" paging="true"]
(Visited 3,603 times, 1 visits today)