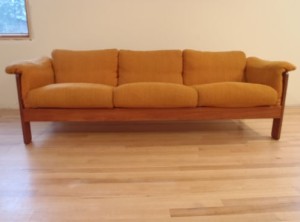 The period of Scandinavian design that inspired the making Scandinavian contemporary furniture took place in the 1950's. Compared to other parts of Europe, the industrial revolution came a bit later to Scandinavia which put a different spin on the way the Scandinavian contemporary furniture was constructed in the early days. Instead of using industrial materials and mass producing furniture, the designers in Denmark, Sweden, Norway, and Finland instead created furniture pieces of modern design using handcrafts and traditional materials.
Characteristics and Features
The Scandinavian contemporary design movement focused on functionality, minimalism, and simplicity. The belief behind this style was that the furniture should be of good design for everyone, and in addition to being functional, should also be beautiful. The designer also made optimal use of all resources available to them when making this furniture. Even though the style is simple, the pieces always possess a certain warmth and coziness. The colors of the furniture tend to be pale and light.
 Danish Modern
 Sourcebook of Scandinavian Furniture
 Lars Bolander's Scandinavian Design
Connection to Nature and Materials Used
Nature is a real inspiration for this type of design. Furniture designs are simple, while at the same time representing elements in the natural environment. Due to the harsh weather conditions of Scandinavia, the people have come to have a great respect for nature, which shines through in their furniture design. The designers were careful about how they used natural resources and materials and took care to use them sparingly. Primary materials used in Scandinavian contemporary design include wood, leather, granite, clay, furs, wool, linen, and metal.
The Industrialization of Scandinavia Changes How Things are Made
While Scandinavia was late to become industrialized, this meant that for awhile traditional furniture making crafts were preserved. However, once industrialization occurred in this area, it caught on rapidly. Any hints of luxury in the designs were replaced by functionality, and serial mass production began in an effort to create affordable furniture for everyone. Instead of only the wealthy being able to afford beautiful pieces, now all economic classes could. As Scandinavian design involved, form pressed woods, pressed steel, plastics, and anodized or enameled aluminum became popular materials used in production.
Where to Find Vintage Scandinavian Contemporary Pieces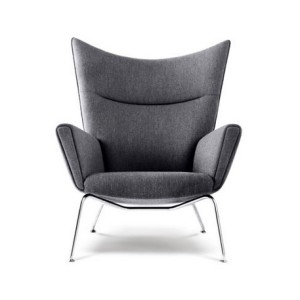 If you are looking for some vintage pieces of this style of furniture, there are several good places to begin your search. Checking out your local thrift shops is always a good start. Many times people donate items from grandma's attic or elsewhere that have been stored away for years. This is a great way to happen upon some great antique and vintage finds. Local garage and rummage sales are also a great place to look for vintage furniture pieces. Check for local estate sales as well, as this is a prime source for discovering antique and vintage items. Online resources such as Craigslist can also be searched for the type of items you are looking for, as well as checking the for sale section in the classified ads of your local newspaper. Another great place to look is the online auction site Ebay.
Examples of Scandinavian Contemporary Pieces
This Scandinavian Design Contemporary Style sofa found on Ebay has a very interesting shape. Sofa measures about 100 inches long and 46 inches wide. You will notice characteristic features of this furniture style in the light color, as well as the shape. Notice this is not as big and bulky as most couches, and uses much less material to make it. Note the very small legs of the piece and see how little material was actually used to create this comfortable, functional piece.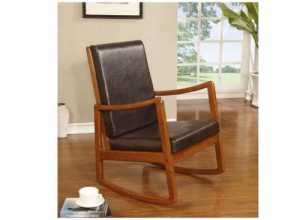 The Scandinavian Rocking Chair Contemporary Black Faux Leather Accent Furniture is actually a new piece as opposed to vintage, but still has the characteristics of older pieces. This chair features a very simple, yet comfortable design. Made from a bentwood frame of walnut wood, the chair features a smooth rocking base and style that look great in a contemporary home. Cushions come upholstered in a faux leather and come in choice of colors. Note how the design doesn't have any extra bulk that is not necessary to creating the piece. Perfect example of the minimalistic design commonly found in this furniture style.
A new piece based on the style of one of the most famous Scandinavian furniture designers, Hans J. Wegner, this wing chair and ottoman set show the simplicity of this design era. Perfect in a contemporary decor setting, this set is a light yellow upholstered with wool blend fabric. This is a reproduction piece of the CH445 Wing Chair created by Wegner in the year 1960. This piece is part of a reproduction series that creates replicas of Danish Modern and Mid Century furniture styles.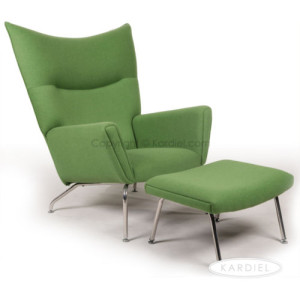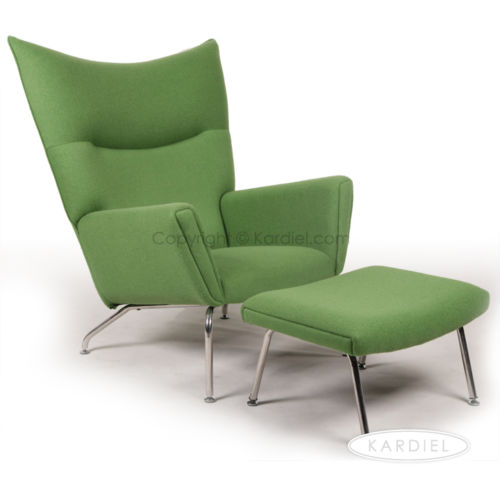 Creating the Look of a 1950's Scandinavian Contemporary Home
While Scandinavian contemporary design first came to be in the 1950's, they style gained popularity in later decades where it was then typically called Mid-Century Modern Design or Danish Modern. In this instance, modern does not mean new or current, but instead refers to a specific style of design. Some well known Scandinavian designers of this time period were Hans Wegner, and Arne Jacobsen. If you're lucky enough to stumble upon an original vintage piece by one of these designers and can afford it, jump at the chance. If not, there are modern furniture companies that create reproduction pieces of designs from the Scandinavian contemporary era that may be both easier to find and more budget friendly. To achieve the look, after adding some furniture pieces of this style, combine them with light, freshly colored walls and keep flat surfaces free from clutter. For additional room decor, try using items that are organic and that have asymmetrical lines.
[phpbaysidebar title="Scandinavian Contemporary Furniture" keywords="Scandinavian Contemporary Furniture" num="8″ siteid="1″ sort="BestMatch" id="2″]
(Visited 604 times, 1 visits today)