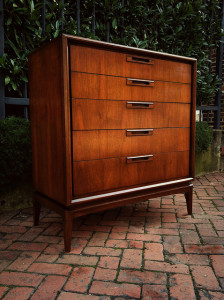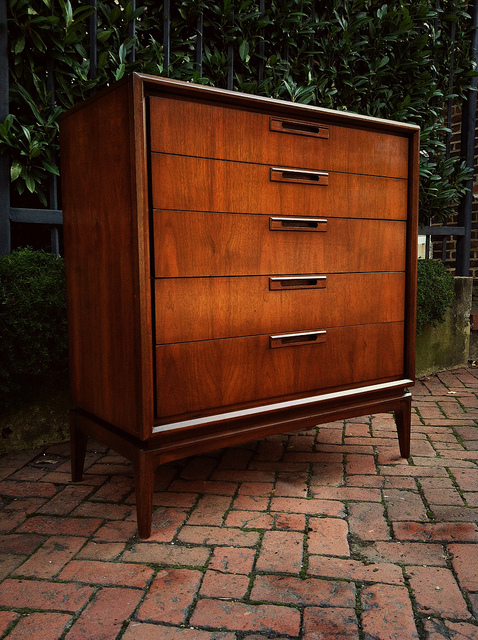 Danish Modern furniture is the product of the collaboration between both architects and cabinetmakers. This minimalist wood furniture style originated in Denmark and was very popular in the 1940s through the 1960s. The Danish Modern furniture design combines aspects of modernism, clean lines, and uses classical furniture craftsmanship. Materials used in this vintage furniture style were carefully researched and the pieces were designed to be proportioned to fit well with the human body. When mass production techniques became available for creating this style of furniture, the focus shifted from being solely on the function of the pieces, and began to concentrate on the form as well. Furniture designer Kaare Klint took the principles of Bauhaus modernism to help bring the Danish design into the spotlight back in the 1920s. His efforts, along with those of Arne Jacobsen, Hans Wegner, and other cabinetmakers, really brought this style of furniture to life and helped it thrive for three solid decades. Collectors in United States have also recently taken a renewed interest in this vintage furniture style.
Characteristics of the Danish Modern Style
Danish Modern furniture blends the elements of form meets functionality. The pieces are simple, yet still have an elegance to them. The tables, chairs, dressers, desks, and other items from the postwar period tend to have airy forms, and clean, sweeping lines. The materials used in their production were of very high quality, so many pieces can still be found today in relatively good shape. The objective of this furniture style was aimed at adapting furniture designs to meet the needs of consumers, and in placing more emphasis on form as opposed to ornamentation.
Due to the quality craftsmanship and building materials that went into early Danish Modern pieces, the furniture still possesses traditional warmth and beauty associated with other styles that are more ornamental. These pieces were designed to be functional and affordable, while still adding a touch of elegance to the home or office. Early pieces were originally handmade, however, designers began to turn more to factory production as they realized more pieces could be produced and that they would sell better because they would be more affordable.
Danish Modern
Danish Modern And Beyond
Scandinavian Modern
Materials Commonly Found in Danish Modern Furniture
Some common materials used to construct Danish Modern pieces includes teak wood, beech wood, Brazilian rosewood, metal legs, fiberglass shells, foam rubber, stretch fabric upholstery, leather upholstery, and molded plastic.
Popular Danish Modern Pieces and Designers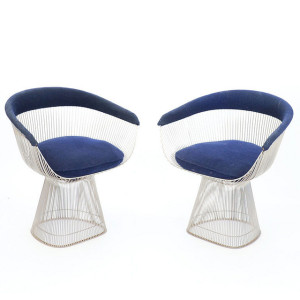 Even though there were a wide variety of furniture pieces produced in this now vintage style, a few designs really stand out from the others. Back in their day, particular styles of chairs were so popular that the worldwide sales for these pieces totaled into the millions.
Two chair styles designed by furniture maker Arne Jacobsen, known as the Egg and the Swan, are today considered to be "international icons" of the furniture world and are very popular with antique collectors. Both the Egg and the Swan chairs were known for the unique ways in which they comfortably enveloped the sitter . Jacobsen is also the designer of the 1952 popular, stackable three legged chair known as the Ant, which features a plywood seat constructed of one solid piece. Jacobsen also made a four-legged version in 1955 which was very popular, known as the 7 Chair. These styles have no arms, and their shapes are instantly recognizable.
Other recognizable names of furniture designers from the Danish Modern period include Mogen Lassen, Ole Wanscher, Finn Juhl, Borge Mogensen, Hans Wegner, Grete Jalk, Poul Kjaerholm, and Verner Panton.
Perhaps the most famous incident involving the designs that came out of this furniture style were the Presidential debates of 1960. When doing their televised debate, both John F. Kennedy and Richard Nixon sat in a chair designed by Hans Wegner, which has simply come to be know as "The Chair".
Danish Modern Lighting
Aside from furniture, the Danish Modern movement also included several interesting light fixtures. These lighting pieces were designed with the idea of reducing the blinding light bulb glare given off by many fixtures and lamps of the time period. Danish Modern lighting pieces featured table lamps and hanging light fixtures with curved shades. These three-tiered shades helped to aim the light both straight down and throughout the rest of the room. Some popular lighting fixture models included the PH Artichoke (shaped like an artichoke), PH Lamp with frosted glass, and the PH desk lamp. All of these were designed by Poul Heningsen, an important inventor during the Danish Modern period.
Colors Used in the Danish Modern Style
Many Danish pieces are constructed from wood, so there are wood tones in every shade ranging from light, to medium, to dark. In the plastic or upholstered pieces, colors such as red, orange, white, black, teal, blue, purple, beige. or gray can be found.
Danish Modern Leather Bench
Jennifer Lounge Chair
Danish Hans Wegner Style Chair
Danish Modern Wing Chair
Tips for Collectors of Danish Modern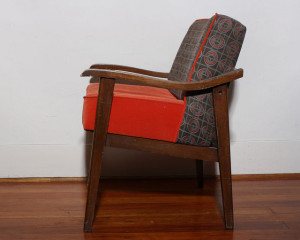 If you love to shop for vintage furniture, there is a wide selection of Danish Modern pieces that can be found on the online auction site, Ebay. Most single pieces are currently selling for one hundred dollars or more. Larger pieces such as credenzas, dressers, and dining table and chairs sets may sell for several hundred dollars or even more. This is because the people selling these items realize that what they have is an antique piece that is popular among modern antique furniture seekers.
You may be able to find Danish Modern pieces at other places such as flea markets, thrift shops such as Goodwill, estate sales, or even neighborhood garage sales. Chances are you can walk away with these items for a bargain price, with only you realizing what a treasure you just found. Check out your local antique malls as well, although you will probably pay a little more for pieces that are known to be antiques, whereas if you find them at other venues, you're likely to get a deal.
Danish Modern furniture pieces can still be incorporated into just about any home decor. With the sturdiness of the pieces, the wood tones that never go out of style, and the interesting lines and shapes of the pieces, they can make a great accent piece or focal point that is still quite functional.
(Visited 239 times, 1 visits today)