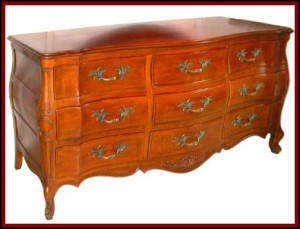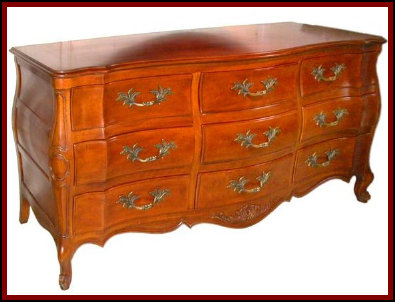 Antique French Provincial furniture is a beautiful, unique style that many people love to collect and use in their homes. This furniture style dates back to the seventeenth and eighteenth centuries, and was popular in such areas as Bordeaux, Normandy, Provence, Brittany, and other country provinces in France. The French Provincial style incorporates a combination of influences and styles from various times. Many antique French Provincial pieces will reflect the culture of the specific place in which they were manufactured, as the pieces retained the identities of the culture in which they were made, which were uniquely distinct from those of the metropolitan area.
Characteristics Of French Provincial Furniture
Most antique French Provincial furniture also reflects the individual style and preferences of the craftsmen who made it. Most provincial craftsmen were not yet on board with the latest design innovation trends that were happening in Paris, so the furniture has a more practical, simpler, and conservative flair to it than other furniture styles favored by the elite class in Paris. Unlike the more elaborate furniture designs that were popular among the more wealthy people of Paris during the same time period, French Provincial furniture lacks excessive decorative accents and the ornate mirrors found in other furniture styles. It was not impossible for some provincial styles to be even decades behind features of the latest popular furniture trends, although this fact never seemed to detract from the popularity of the style.
Many provincial pieces were painted in a crisp, white color. Other characteristics might include serpentine style wavy front drawers, and raised detailed features that can be found on dresser drawers. Bedroom furniture sets typically included curvy mirrors that came attached to the dressers and were sold in a combination set. Many pieces had curvy cabriole legs, and the French Provincial Dixie style pieces featured ornate black metal handles. Pieces were often adorned with simple scalloped carvings. Many of the dining chairs sported wheat pattern carvings to represent the country surroundings of the craftsman who made it. Ladder back chairs with woven rush seats were typical designs of many dining chairs of this style. Over time, the accumulation of ordinary dirt and polishes will give the carvings of these pieces an aged patina, which is part of the old antique charm of provincial furniture.
Some examples of antique French Provincial furnishings include beautiful circular coffee tables with marble tops and cabriole legs, wing back style upholstered arm chairs, tapestry carved arm chairs, and large wooden buffets and china cabinets adorned with elevated wooden carvings.
Shabby Elegance Candleholder
French Provincial Wall Clock
French Provincial Settee
Using The French Provincial Style In The Home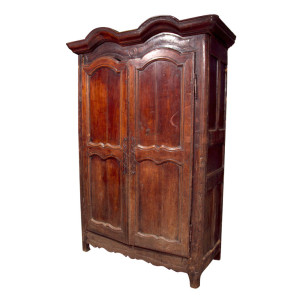 Antique provincial pieces remain as popular in modern times as they were back in their prime. Modern reproductions of French Provincial pieces fail to have the same craftsmanship and quality of the older, authentic pieces. Some reproduced items can be ordered online as specialty items, but tend to be pricey and still lack the same charm as vintage finds. The quality of this antique furniture far surpasses the composite furniture items being currently made.
The French Provincial style is a popular home decorating choice, especially for young children's bedrooms. They also work well to incorporate into a nautical, shabby, country, or cottage style design theme. Buying and restoring these vintage furniture pieces can also be a terrific way to make some extra income, whether it be done on the side as a personal hobby, or as part of a small business endeavor.
Antique French Provincial furniture items can be easily incorporated with other styles of furniture without looking out of place. Many of the styles have beautiful, natural woods in tones that would look great in almost any room, with any decorating style. The addition of a provincial style set of end tables, or coffee table would be good choices that work well with just about any style of home decor. You can also get creative with these pieces, as they never truly go out of style.
Creative Uses For French Provincial Furniture
For example, you could purchase a vintage provincial style dresser in plain white and use it in a baby's nursery as a changing table. All you would need to do is place a sturdy foam changing pad and a basket full of baby changing supplies on the dresser in a handy location. Obviously, as with any changing table, never leave baby unattended, especially since using a dresser for this purpose will not allow you to use a safety strap to secure the child. The great thing about this piece is that it functions both as a changing table and dresser when the child is a baby, and will still be of value as the child grows.
Another great idea for repurposing antique provincial pieces is to use a provincial style bookcase in a dining room or kitchen with country style decor. Simply paint the bookcase in a color of your choice, to match your other home decor and furnishings, and use it for a beautiful and handy way to store and display such items as cookbooks, kitchen appliances, plates, and dishes.
Where To Find Antique Furnishings
Vintage provincial pieces can be found online by using the auction site Ebay, or by searching the listings found on Craigslist. Some of the furniture sets found online can be rather pricey, but considering they are antiques, some pieces are worth quite a bit of money. Check out local estate sale listings, as well as garage sale listings found in your local paper. You may also find vintage provincial pieces at flea markets, antique malls, and even at thrift stores such as Goodwill. Many people like to refinish their furniture finds, or else paint them to make them look more contemporary or to fit in with the color scheme of a room.
Information on French Provincial and How to Restore It
 The Furniture Bible: Identify, Restore & Care for Furniture
 French Provincial Furniture
 French Provincial Furniture And
Never Goes Out of Date
Antique French Provincial furniture is a style that never truly goes out of date, no matter how old the piece may be. These items are classic pieces of history that reflect the pride and workmanship of days gone by. A welcome addition to almost any style of home decor, these pieces will add a touch of classic charm and elegance to any room in your home.
[phpbaysidebar title="French Provincial Furniture" keywords="vintage french provincial furniture" num="8″ siteid="1″ sort="BestMatch" id="2″]
(Visited 2,799 times, 1 visits today)