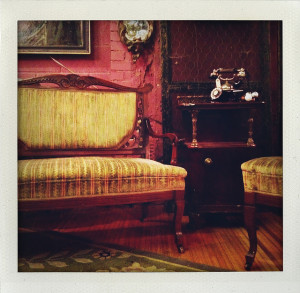 The Industrial Revolution changed the way that furniture was produced in England during the period of 1840 to 1900. Machines now made it possible for mass production of pieces, which meant that even the middle class could afford the same type of furniture that Queen Victoria herself was using in her residence. Queen Victoria, unlike her ancestors, identified with the middle class, and Britain's middle class was paying close attention to the tastes of the Queen. This began the popularity of Victorian furniture during the Victorian era, the name given to the years in which Queen Victoria reigned.
Characteristics Of Victorian Furniture
Victorian furniture pieces tend to be heavy and appear somewhat imposing in a room due to their size. They were constructed from dark colored wood tones, with rosewood and Mahogany being favorites. These woods were stained and then covered with several layers of high gloss lacquers. Many pieces featured ornate carvings and carved silhouettes. Pieces were designed to be ornate, yet with comfort in mind. Furnishings of the old style Tudor and Chippendale inspiration remained popular during the Victorian era, because their sturdy construction and use of dark woods fit in well with the Victorian furniture style. Other features included buttoned upholstery, balloon back chairs, spoon backs, easy chairs for women without arms to accommodate large hoop skirts, and low arms on chairs that featured scrolling.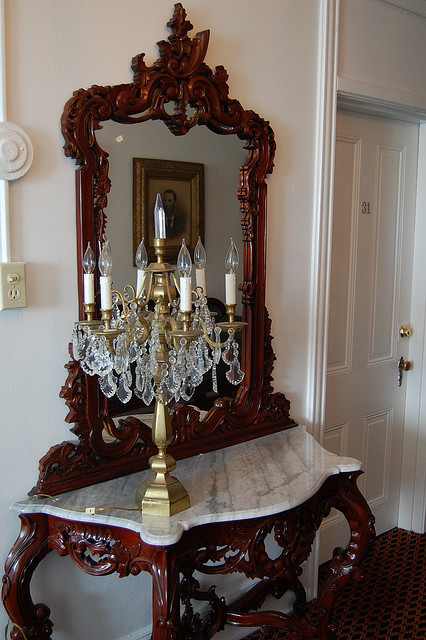 Near the end of this popular furniture trend, the use of medieval and gothic shapes became fashionable, and the more classic Chippendale carvings gave way to such images as gargoyles and snakes. This was known as the Gothic Revival movement during the Victorian era. By the start of the new century, the Victorian era had come to an end. However, Victorian furniture is still popular today among lovers of vintage furniture styles and antique collectors. While the Victorian furniture era may have wound down in England, America began producing its own kind of Victorian styled pieces, sometimes referred to as American Victorian.
Materials Used In Making Victorian Furniture
Aside from mahogany and rosewood, woods such as hickory, apple, walnut, and willow were used to produce such pieces as chests, benches, tables, and upholstered furniture. Velvet, leather, chenille, jacquard, and brocade fabrics were popular as upholstery fabrics. Colors used in furniture included deep rich browns, black, plum, gold, burgundy, rust, green, blue, aubergine, teal, and dusty hues.
 A Pleasant Chaos – Victorian Interior Design
 The Furniture Bible
 The Victorian House Coloring Book
Victorian Era Furniture Revival Styles
This period in furniture making was constantly changing as far as style goes. During the Victorian period, several eclectic styles gained popularity. These were the Early Victorian, Gothic Revival (1830-1860), Rococo Revival (1840 and beyond), Renaissance Revival (1869-1890), and the Late Victorian period, from 1880-1900.
Famous Furniture Designers of the Victorian Era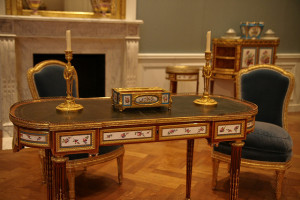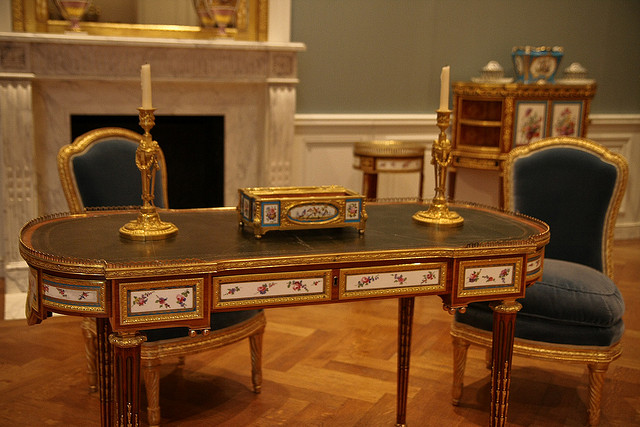 In the Late Victorian period, the Eastlake and Aesthetic movements became popular. These furniture designs were characterized by less focus on the romanticized style of the revival period, and had somewhat of a Gothic form. The main designer of this style was Charles Eastlake, who designed his pieces with less ornamentation than used in the true Gothic revival style. He also opted to use straight lines and less upholstery in his pieces.
Another furniture designer of the Victorian era was Augustus Welby Northmore Pugin, who also worked with the Gothic revival style. Considered to be one of the pioneers of the Gothic Revival style, he designed Gothic tables, chairs, and the Gothic revival desk. Pugin was also asked to be the interior designer for the Palace of Westminster.
Edward William Godwin was another popular designer of the day, and he created such pieces as the octagonal table, sofas, armchairs, and hanging display cabinets. Charles Bevan was a furniture designer as well as a manufacturer of the time. His works include the Mahogany chair and the Walnut chair. His company was known as "C. Bevan & Son Designers, Wood Carvers, and Manufacturers of Art Furniture". Bevin preferred to use the elaborately ornamented Gothic style in his furniture pieces.
Acme 05630 Aston Microfiber Rolled Arm
Victoria Sofa – 500681 – Coaster Furniture
Skyline Furniture Tufted Fainting Sofa
Overview Of The Victorian Period And Its Furniture Styles
When the term "Victorian furniture" is used, it is not referring to one particular style. Designers of this time period were actually influenced by a wide variety of styles, including Gothic, Elizabethan, English, Rococo, and Tudor. The Victorian era saw the use of the indulgence of ornamentation in its furniture pieces. What makes the Victorian furniture era really stand out is how it developed its own interpretation of revived historic and eclectic furniture styles, combining them with the influence of Middle Eastern and Asian cultures. During the later years of the Victorian period, styles such as the Arts and Crafts Movement, Art Nouveau , and Anglo-Japanese styles had begun to influence the designers of Victorian furniture.
One thing that made this furniture so popular among the middle class was that is was a style that was embraced by Queen Victoria. Instead of having royalty seem aloof and above them, regular people could feel as if they had the same luxurious furniture stylings as royalty, because for the first time, they actually could own the same type of pieces at an affordable cost.
Finding Victorian Furniture Today
If you happen to love vintage furniture, or like to collect antiques, the Victorian style is still quite popular today. Many of these lovely pieces of furniture are still around and remain in great shape today, thanks to their craftsmanship and durability. Visit flea markets, estate sales, garage sales, and even thrift stores to find a great bargain. Antique malls will likely charge a higher price for these treasures, as they know of the value and worth of the pieces. Online auction sites such as Ebay also offer a large selection of Victorian furniture pieces. Lovers of vintage furniture will immediately be drawn to the rich lacquered woods, intricate carvings, and ornate appearance of the items. Some upholstered chairs even feature the original needlepoint pattern on the seat. You can also find beautiful examples of the Rococo, Eastlake, and Gothic Revival styles mentioned in this article just by browsing through the listings on any given day. Victorian furniture can add a decorative flare to a home's decor, bringing in both style and a piece of history.
(Visited 592 times, 1 visits today)