I find it fascinating that companies are reinventing vintage style, when you can just look for real vintage items in so many places.  I just read an article about GlassesUSA coming out with a new vintage eyeglasses line, but I would prefer to hunt down my own authentic vintage glasses
, then have my optician make new lenses for them.
If you are looking for some ultra cool vintage eye glasses, the absolute best place to look is eBay.  This is the type of thing that eBay excels at, because the items are small, and shipping is inexpensive.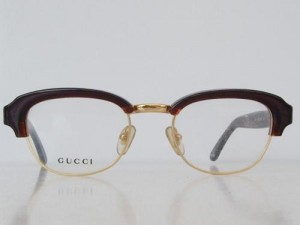 My favorite thing to do is look for vintage designers like Chanel or Gucci eyeglasses
.  There are numerous choices for both men and women that can be used as either regular prescription eyeglasses or as sunglasses.  There is no need to keep the existing lenses.  You can replace them with your own.
These are vintage eyeglasses that never go out of style, because these classic designers are always in style.  You can get them for a bargain price on eBay unless they are extremely rare, and then you have the real thing, not a duplicate.  Most vintage fashion hunters are collectors, and part of collecting is the search for what you want.  Why pay more for the duplicate, when you can get the real thing for less, and it looks just as good or better?
If you need proof of authenticity, you can ask the eBay seller for proof.  Most sellers have proof of authenticity on file, and often on their items for you to see online.
Glasses should be part of your fashion statement, but if your fashion statement is vintage, then go all the way with authentic vintage eyeglasses.