If you love Victorian style, and collect jewelry, then you will fall head over heels in love with these antique Victorian earrings. Antique Victorian earrings are typical of all antique Victorian jewelry in that they are delicate, yet very detailed in design. Floral motifs are very common in antique Victorian earrings, as well as cameo, intaglio, and precious metals and stones.
Jewelry was not only a sign of love for a recipient in Victorian times, but jewelry was also an item which held real value for resale in case of financial need. Antique Victorian jewelry was made by hand, meaning the each piece had many hours of labor in it, as well as the cost of the materials. Victorians were into ornate style as a matter of course, so both men and women wore jewelry.
However, earrings were made for women only, and because of this, the designs were more likely to be light and delicate in the manner which Victorians viewed the female in society.
Antique Diamond Victorian Earrings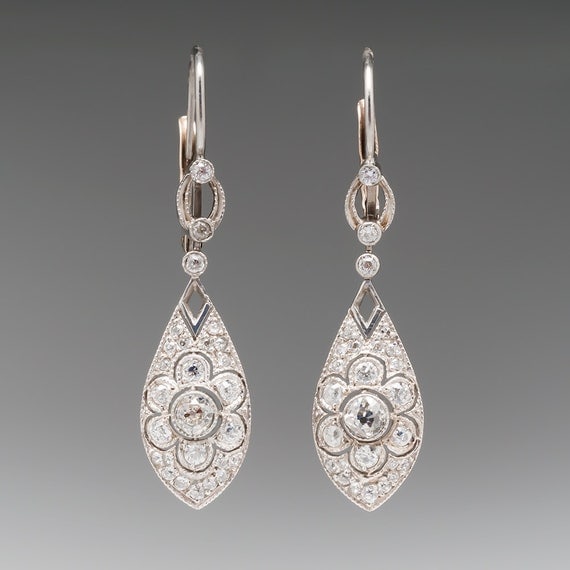 Diamond Platinum Earrings Circa 1900's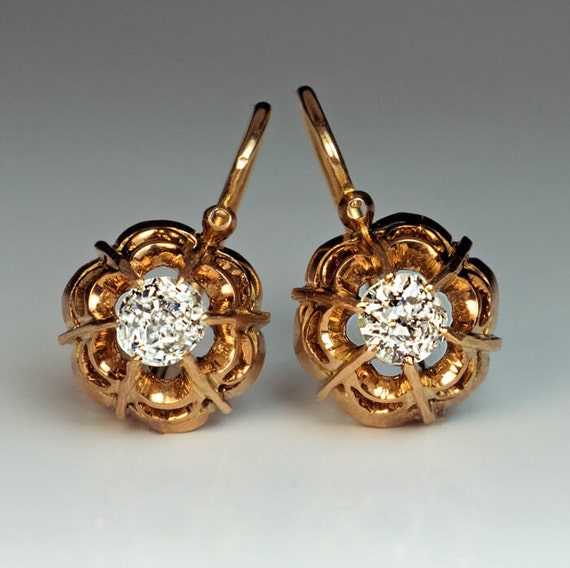 Diamond Gold Openwork Earrings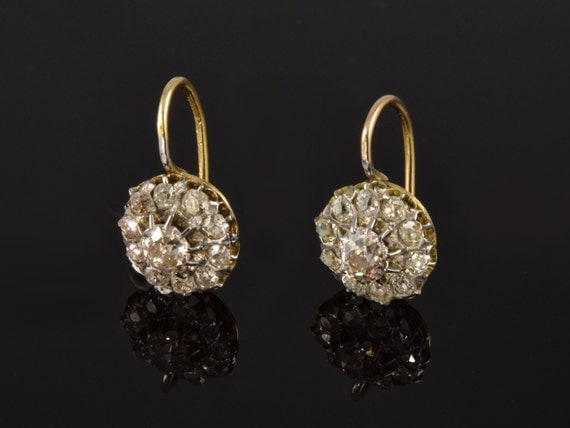 Victorian diamond earrings in gold and silver, circa 1890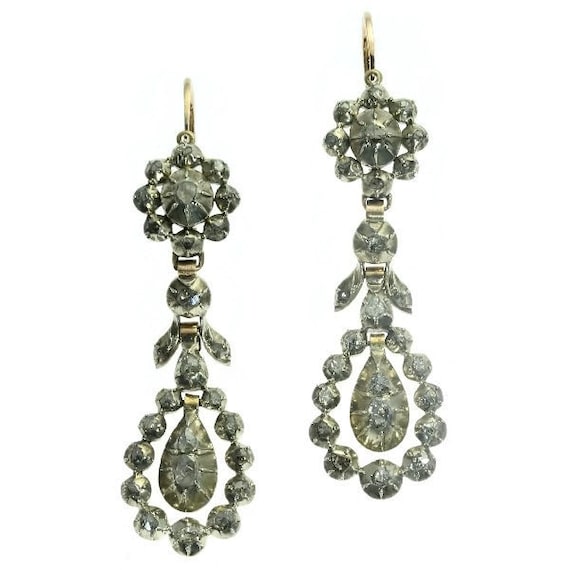 Diamond Earrings Victorian dangling earrings rose gold c.1840

&
Victorians Delighted in Lots of Small Details
As shown in the pair of antique Victorian dangle earrings above, Victorians delighted in very small, fine details. Some pairs of antique Victorian earrings boasted tiny mosaic designs.
You would need a magnifying glass and very steady hands to complete these mosaic designs on a pair of earrings. They were just beautiful, and quite delicate looking.
18K Antique Victorian Earrings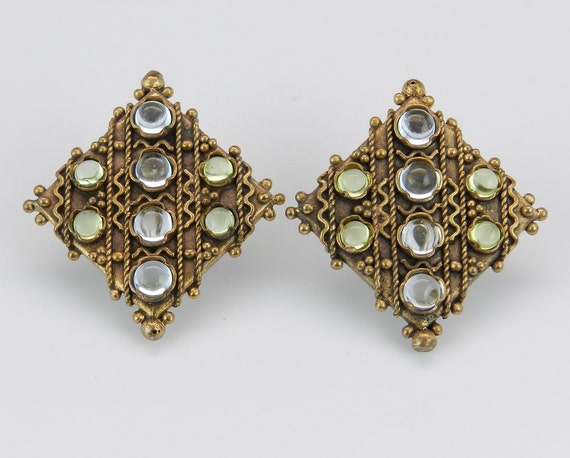 Edwardian Earrings 18K Yellow Gold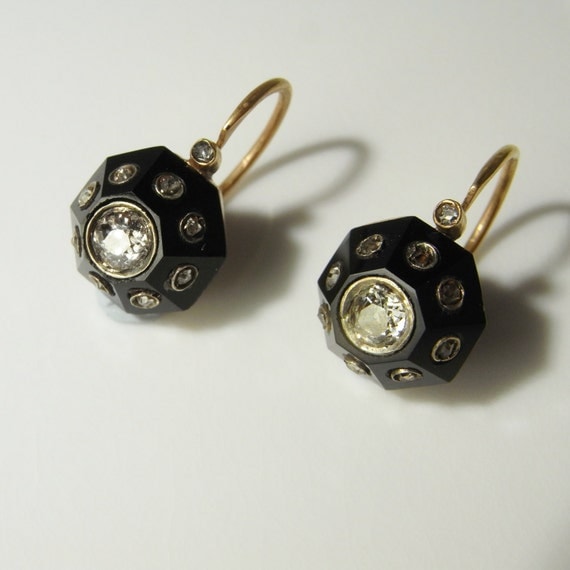 Victorian Diamond Earrings Onyx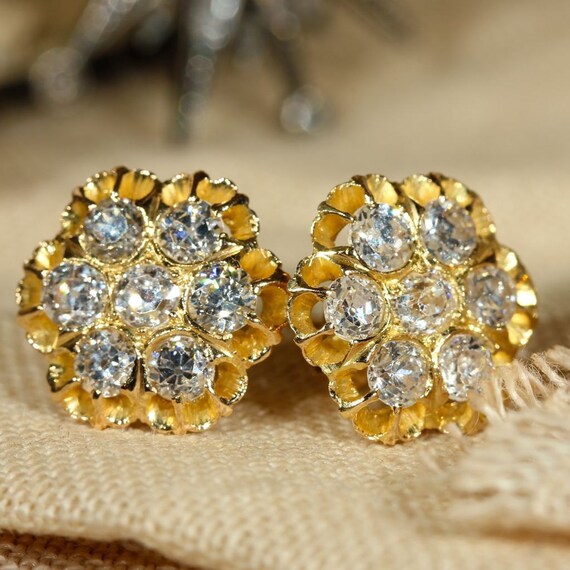 Victorian Diamond Button Earrings in 18k Gold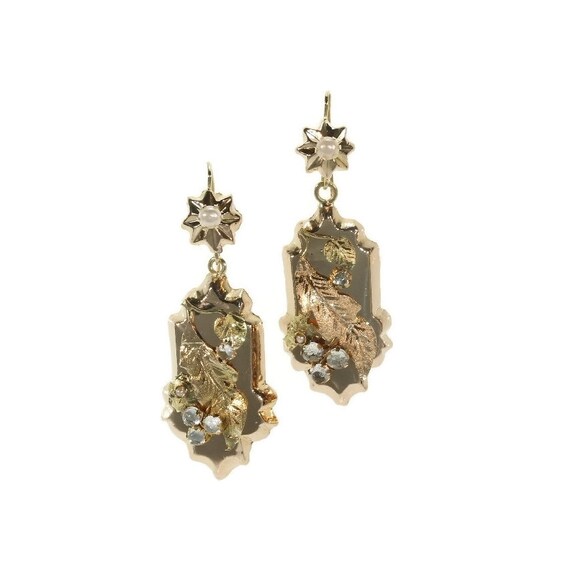 Floral Victorian Gold Earrings c1880

&
Victorian Earrings Reflected the Ornate Style of the Times
No matter what material that antique Victorian earrings are made of, they reflect the ornate, detailed style of the Victorian times. Style was extremely important to the Victorians because it showed status and wealth of yourself and your family.
Many Victorian earrings combine ornate but delicate filigree with gemstones or pearls. Victorians did not have the technology to make many of the synthetic materials that we do today, so most jewelry is made of precious metals, pearls, and precious gemstones, although you may find glass or paste versions of gems. Jewelry, often family heirlooms, were used as collateral or payment if someone didn't have the money to pay their bills. But it was a good way to pass down inheritances from family member to family member.
Antique Seed Pearl Victorian Earrings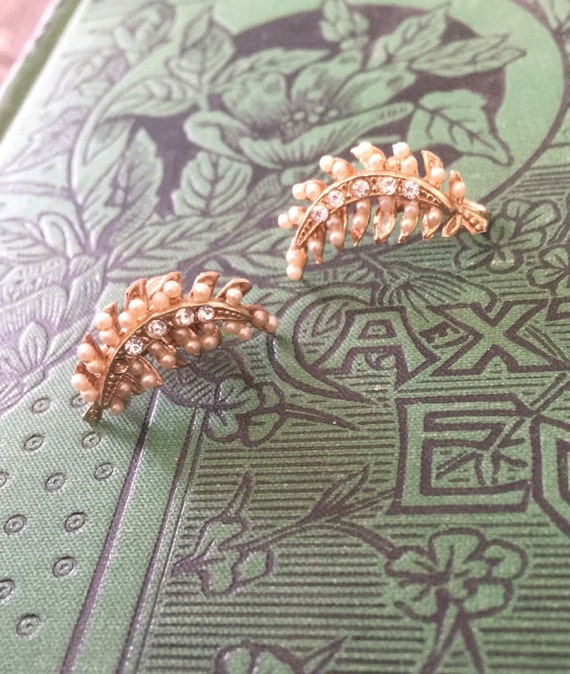 Seed Pearl Leaf Motif Victorian Screw Back Earrings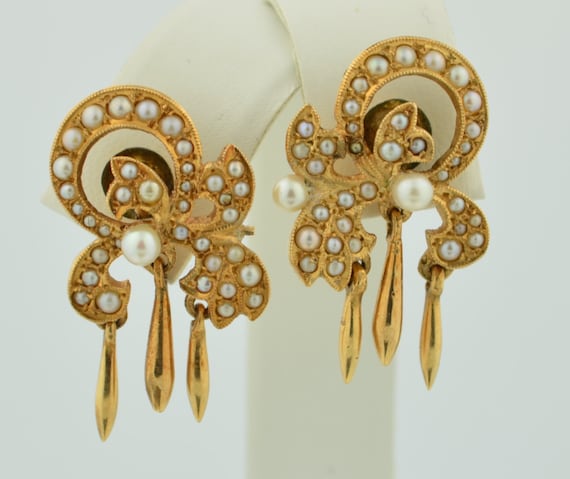 Victorian 14K Yellow Gold Seed Pearl Dangle Earrings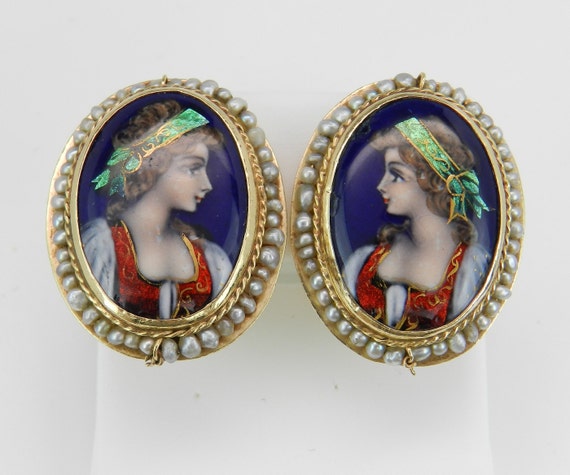 Hand Painted Seed Pearl Clip-On Earrings RARE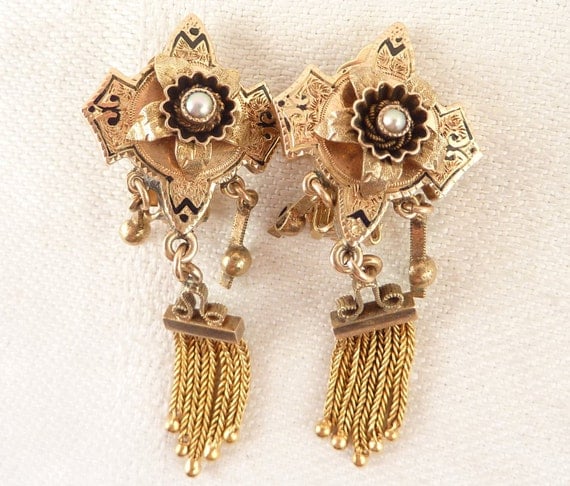 Victorian 10K Gold Black Enamel and Seed Pearl Tassel Drop Clip On Earrings

&
14K Antique Victorian Earrings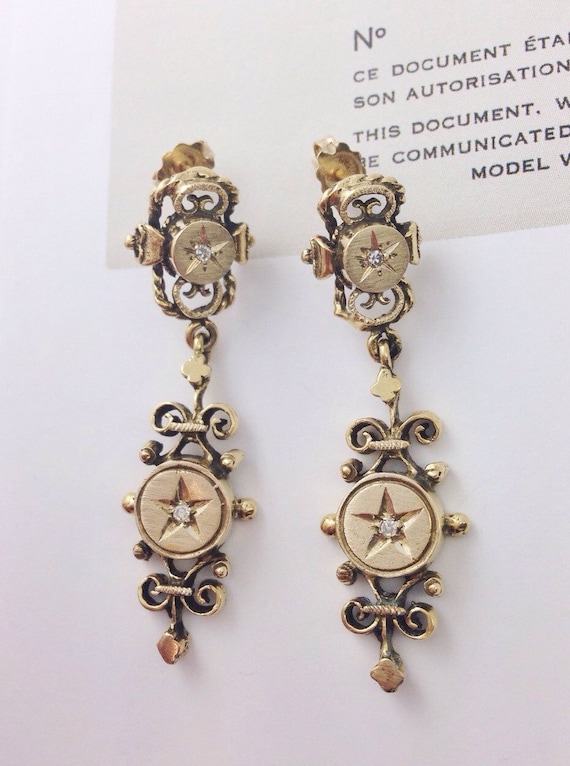 late Victorian Etruscan revival dangle stud earrings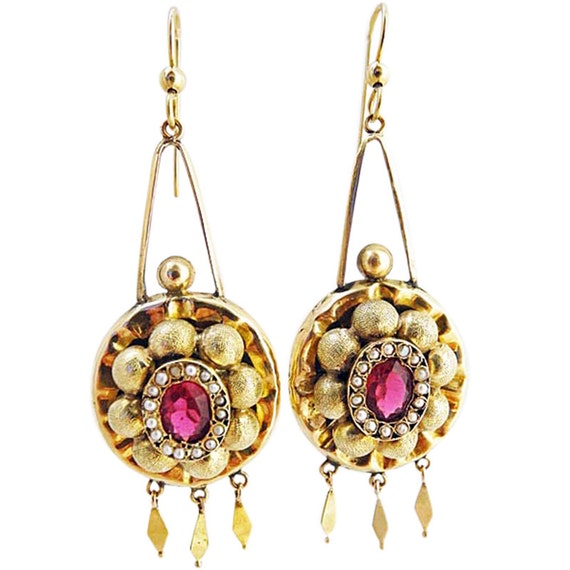 Victorian Earrings 14k Gold Seed Pearls Paste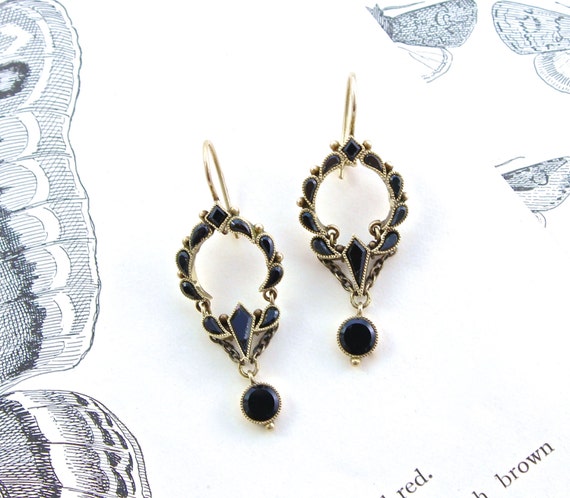 Victorian 14k Black Onyx Earrings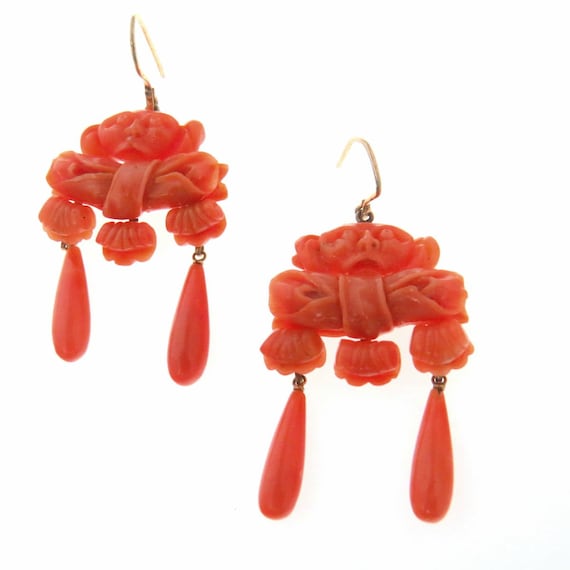 Antique Chandelier Earrings | 1880

&
Victorian Mourning Jewelry
Victorians had mourning wardrobes to commemorate the deaths of close family members. These mourning wardrobes included mourning jewelry that was generally made all in black or metal with black stone.
Victorians wore mourning for six months to a year after the death of their loved ones, so that it was important to have a complete set of outfits for every occasion in mourning blacks. Therefore you will find a lot of mourning jewelry for men and women, including antique mourning earrings like those you see here.
Antique Victorian Mourning Earrings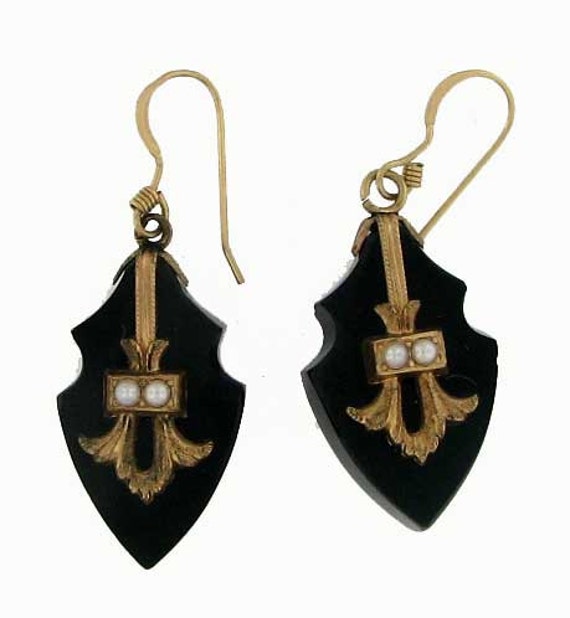 Victorian Gold Filled Black Oynx and Pearl Mourning Dangle Earrings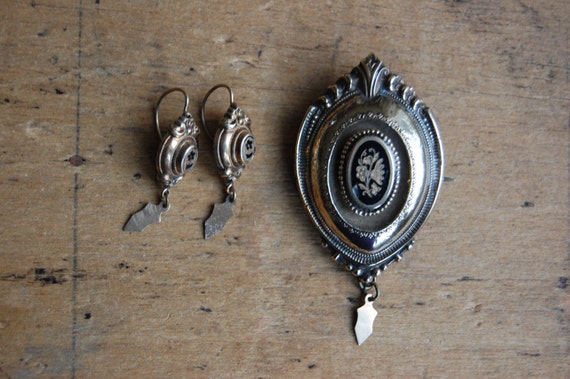 Victorian enamel mourning brooch and matching dormeuse earrings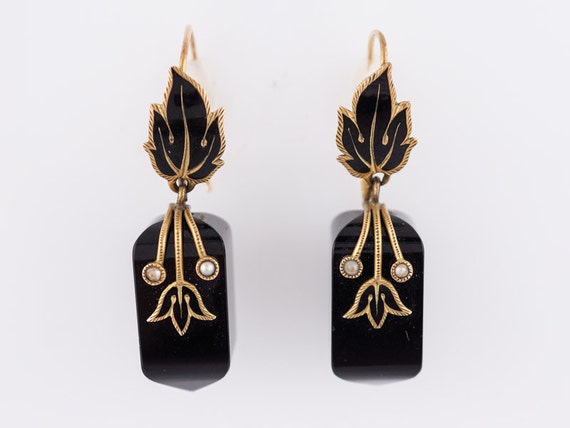 Victorian Onyx and Seed Pearl Mourning Earrings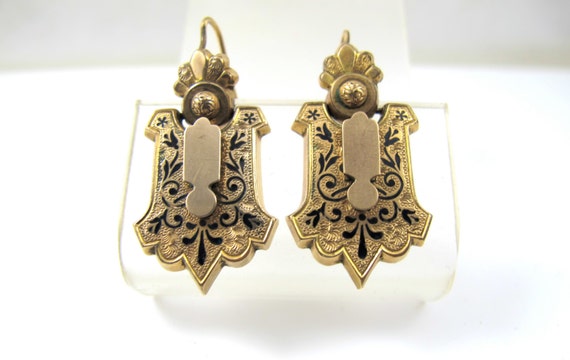 Antique Mourning Jewelry, 1800s

&
Greek, Roman, and Etruscan Motifs
During the Victorian period, people were very interested in the classics, including the history of ancient cultures. The antique jewelry of the Victorian period reflects that interest in ancient cultures through the motifs borrowed from Greek, Roman, and Etruscan designs.
Earrings, rings, necklaces, and other antique Victorian jewelry have these designs, and they also show up in Victorian decor and Victorian clothing.
Antique Victorian Locket Earrings
Lockets were a large part of Victorian jewelry, and that includes earrings as well as necklaces, and brooches. Having a lock of hair, or small memento of a loved family member, husband, or lover was very much desired by both men and women of Victorian times.
So they would carry their mementos with them inside a locket on a pocket watch, earrings, ring, brooch or other piece of jewelry. Remember, men wore just about as much jewelry as women during the Victorian era.
(Visited 872 times, 1 visits today)