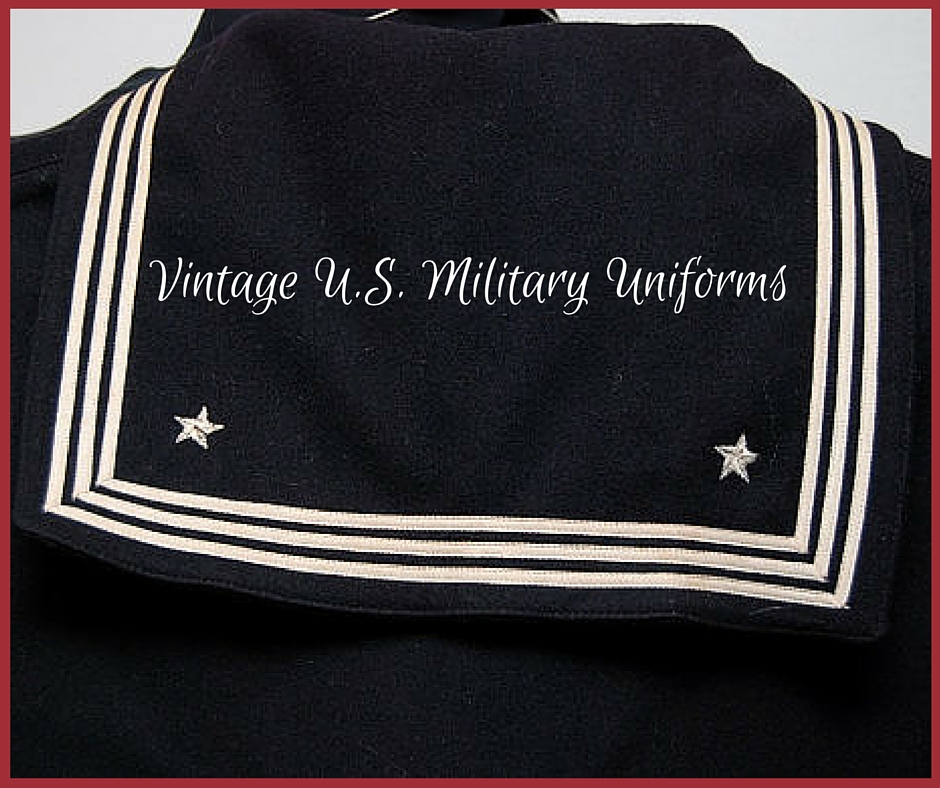 Vintage U.S. military uniforms are very popular with many people for many different reasons. Some people may like to use them as costumes for dress up occasions such as Halloween or Cosplay. Others may enjoy wearing vintage clothing items. Others may like them for their historical significance, whether it be a personal interest or places that collect historical memorabilia such as museums or historical societies. Many individuals also like to collect various pieces of military memorabilia and build personal collections. Here we look at some offerings of U.S. military uniforms and individual pieces of uniforms available from Etsy sellers.
WW2 U.S. Army 5th Army Service Tunic
This is a vintage item from the 1940s from the U.S Army. This is a basic tunic in nice condition , with a three place ribbon bar and Marksman badge with post war pistol bar. Tunic has double patches from the U.S. 5th Army and Army Service Forces. Tunic is tan in color with brass colored buttons, is double breasted, and has four pockets on jacket front. Makes a unique and interesting item to wear, as well as working as part of a great costume or vintage military collection.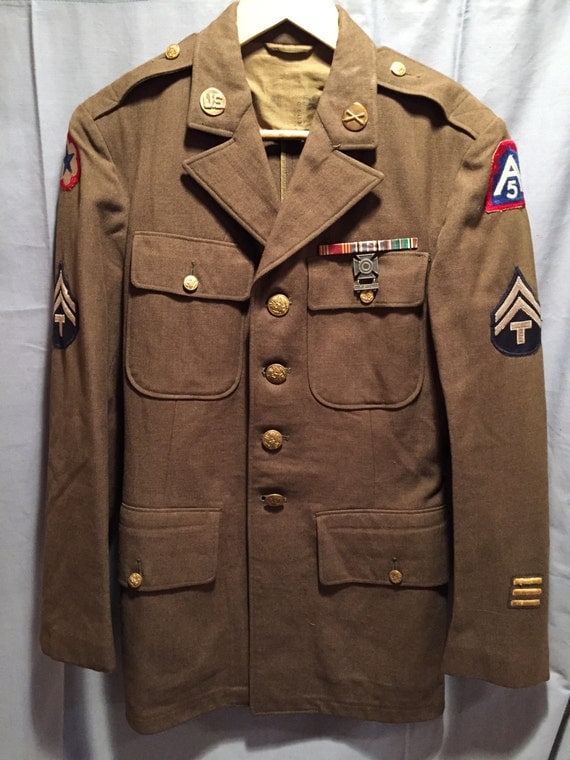 WW2 U.S Army 5th Army Service Jacket

&
Navy Military Uniform Shirt and Pants
This is a U.S Navy military uniform that includes both the shirt and the pants. Very good condition for its age, but could use dry cleaning. This shirt measures 19 inches across the shoulder and the pants are 39.5 inches long. This uniform is the classic navy blue color with the white stripes along the collar. Take advantage of this opportunity to own a complete Navy uniform from the past.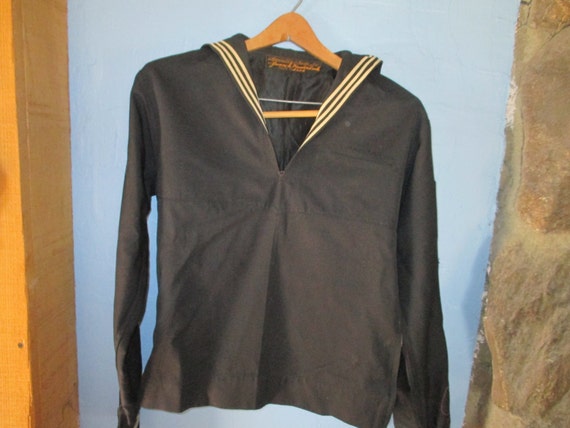 Navy Military Uniform Shirt and Pants

&
Korean War Era USMC Service Green Tunic, Garrison Cap and Two Tan Shirts
A nice set of 1950s era U.S. Marines uniforms that includes a service green tunic, and overseas cap, and two tan shirts with World War II style tank insignia. Tunic features three ribbons and a rifle and pistol proficiency badge. Tunic is missing the green waist belt. Tunic shows light signs of wear while the shirts display more obvious evidence of wear, but would still be great items for use as an historical display. (Note that the shirt and tie displayed in the photo with the tunic is not included with the set.) With this tunic, hat, and three shirts, this is the perfect way to either start or build your collection of U.S. military uniforms.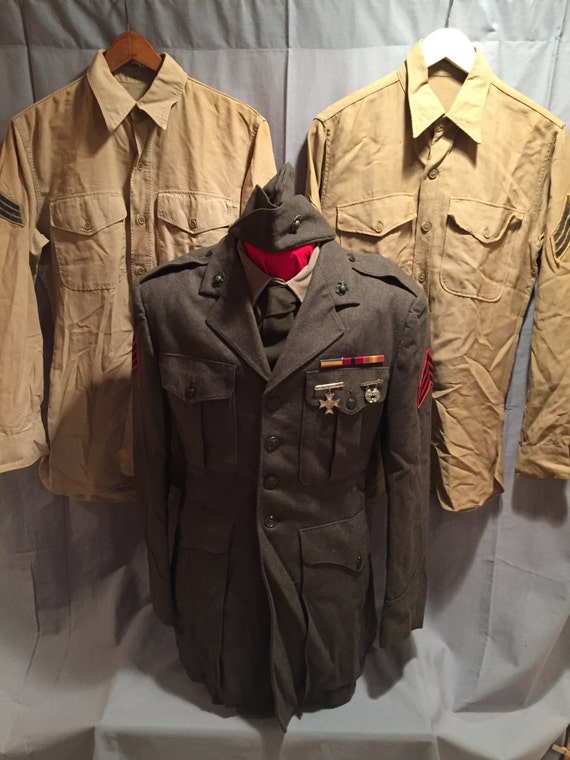 USMC Service Green Tunic, Garrison Cap and Two Tan Shirts

&
U.S. Air Force Early 1951 Dated EM Overcoat
A vintage clothing item from the 1950s , this is a dark blue U.S Air Force military overcoat. Shows slight signs of wear but is still in good, wearable condition. The coat measures 25 inches from armpit to armpit, is 42 inches long from the neck to the bottom edge, with an arm length of 25 inches. Makes a great vintage item to add to your wardrobe.
U.S Air Force Early 1951 dated EM Overcoat

&
U.S. Army M-1950 Field Jacket
This is a well worn vintage U.S. Army field jacket that likely dates back to the 1950s. There is evidence of patches having been removed that were previously on the coat, but with a little hunting on the Internet, you could easily find replacement patches to cover these areas. Length from neck to back measures 30 inches, while distance from armpit to armpit is 20 inches, with an arm length of 25 inches. Jacket features four front pockets and a wide collar.
&
Vietnam Era U.S. Uniform Green Jungle Shirts
These are two olive drab colored vintage U.S.Army shirts from around the 1970s era. Shirts measure 21 inches from armpit to armpit and 29 inches from top of collar to the bottom. Sleeves are 21 inches long, likely making this a man's small or small/medium size. Own a little piece of history from the Vietnam era.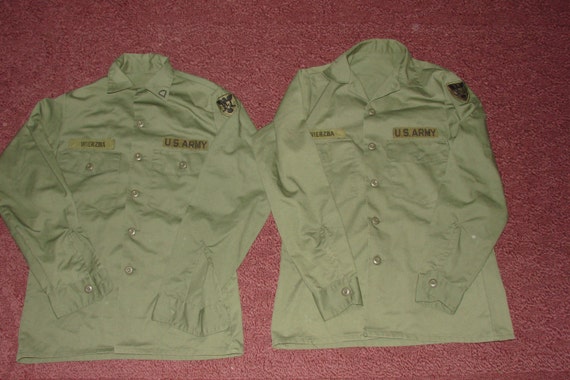 Military Olive Drab Vietnam Era U S Uniform Green Jungle Shirts

&
WW2 U.S. Army Service Forces Signals Corps Service Tunic
This is a vintage U.S. Army World War II tunic that dates back to the 1940s. Beige colored tunic features two metal belt support hooks that accommodated the pre-war garrison belt and collar discs that are US/Signals which correlate with this being a pre-war item because it lacks screw back discs. Jacket is in excellent condition with no visible flaws and is a size 38-39R, which would be equivalent to today's men's medium size. The Three year service stripe is missing, but a replacement could be found online if you wanted to restore the jacket to its former condition. Features the Signals operator specialist patch on the sleeve of garment. A great find for collectors of vintage military memorabilia.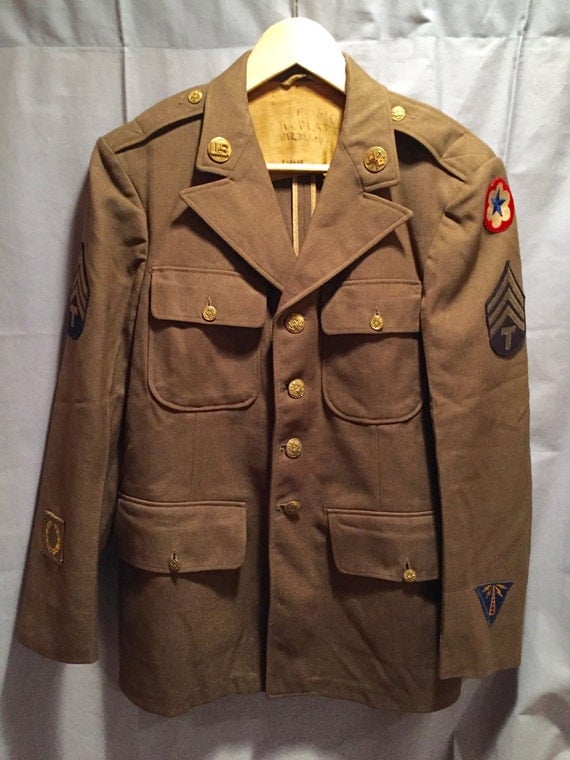 WW2 U.S Army Service Forces Signals Corps Service Tunic

&
U.S. Navy Coat Military Dress Uniform
This is a vintage item from the 1980s made from wool fabric. U.S. Navy Dress Blues jumper has a drawstring hem in a size tall slim. Measures 14.5 inches on back from sleeve to sleeve, 31 inches back length, with a 26.5 inch sleeve length. Makes a great addition to any military collection or display. Excellent condition with the small exception of some slight staining on the front neckline. Dark navy blue in color, with white stripes along the back collar flap. One small white star adorns each corner. Uniform is similar in appearance to the one worn by the Cracker Jacks sailor on the packages.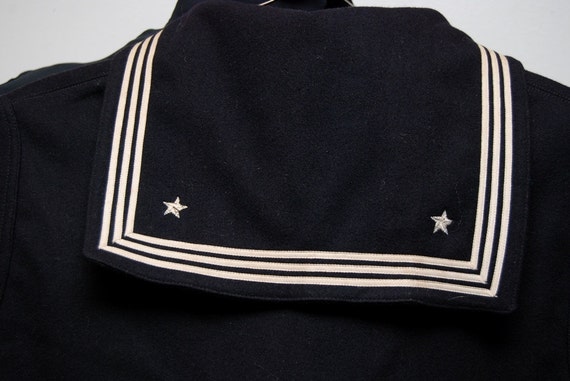 US Navy Coat Military Dress Uniform

&
Vintage U.S. Military Desert Jacket
This is a genuine issue military jacket of the U.S.Army from the 1990s. This is a desert camouflage jacket that was actually worn during battle. Jacket features the regiment patches on each side and also has a hand sewn American flag patch. There are two patches over the two front pockets with one reading "Smith" and the other reading "U.S. Army". Jacket is in good condition with no obvious signs of damage. Jacket features a collar and long sleeves and is a washed out gray color, tan , and white, with a camouflage pattern. A great item for any collector of military memorabilia.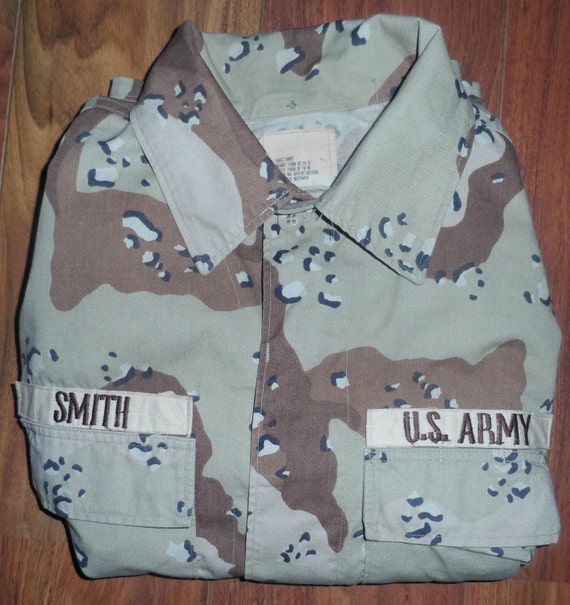 Vintage U.S military jacket – Desert jacket

&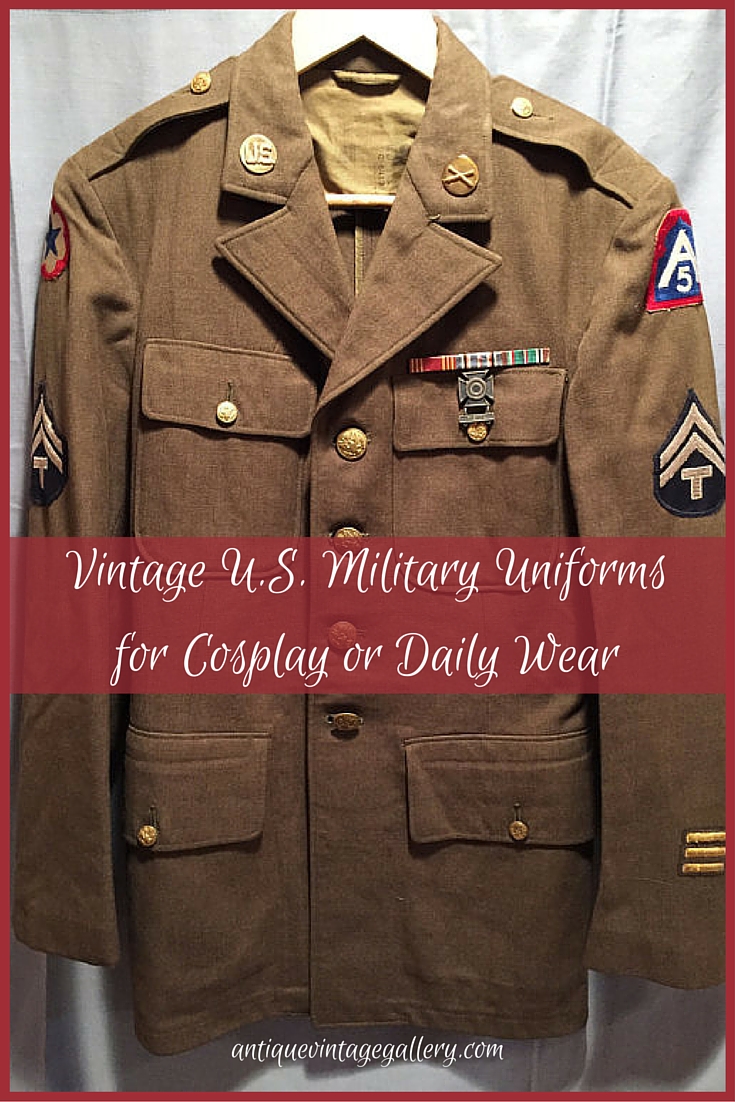 (Visited 1,224 times, 1 visits today)