Buying Antique and Vintage Handmade Quilts Online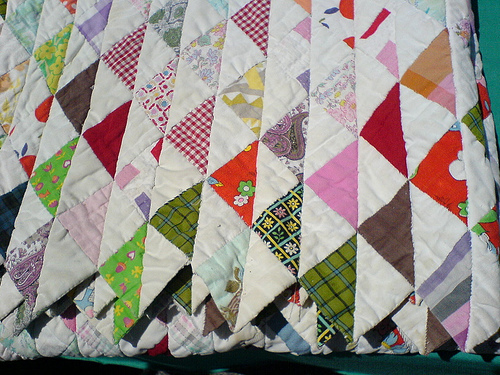 I am an artist, but I have absolutely no talent when it comes to anything with fabric. That is why I always admire anyone who makes handmade quilts. Quilting is a talent and a skill, and a very time consuming handicraft at that. Quilting is also traditionally a way to recycle worn out clothing fabrics into a useful, warm cover for the cold months, so I also admire our traditions of saving both money and the earth.
Quilting, although billed as a craft, is really an art form, because a quilter not only has to piece together the fabric, but also has to design the pattern of the quilt. The craft part of quilting is the skill of sewing, similar to the construction of jewelry. A jewelry artist has to design the piece, then craft it.
The best quilts are beautiful enough to hang on a wall just like a painting, and that is exactly what some people do. However, the purpose behind a quilt is to keep you warm in the cold weather while you are sleeping, essentially a blanket of love created to keep you safe and warm. That is doubly true if the quilt has been made by loving hands for a family member or a child.
Antique Feedsack Handmade Quilt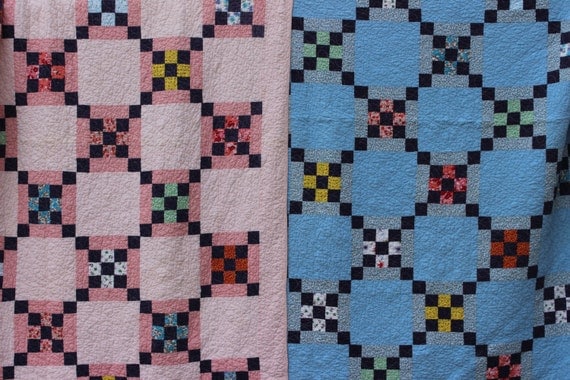 Pair of Quilts Pink and Blue Feedsack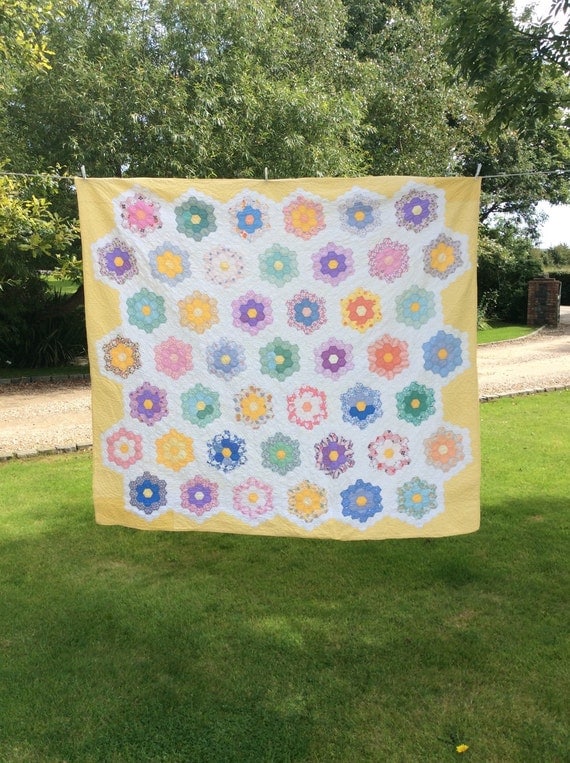 1930's Yellow Flower Garden Quilt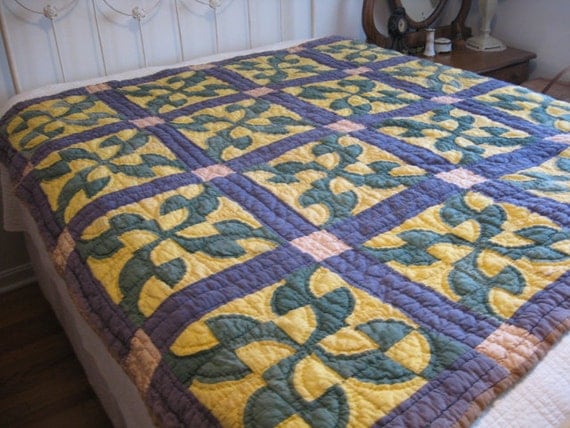 Feedsack Quilt, 1930's Fool's Puzzle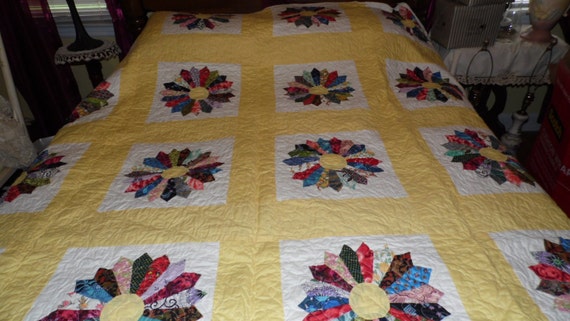 Vintage Pointed Circles Feedsack Quilt

&
Antique Baby Handmade Quilt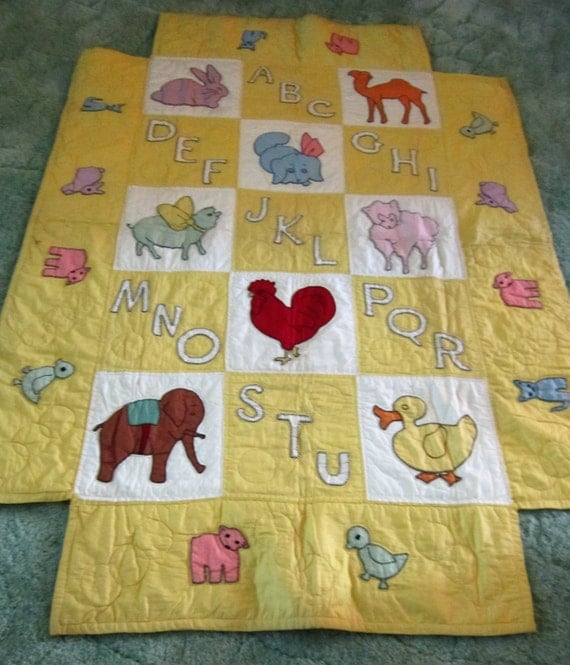 ABC Animal Baby Quilt circa 1930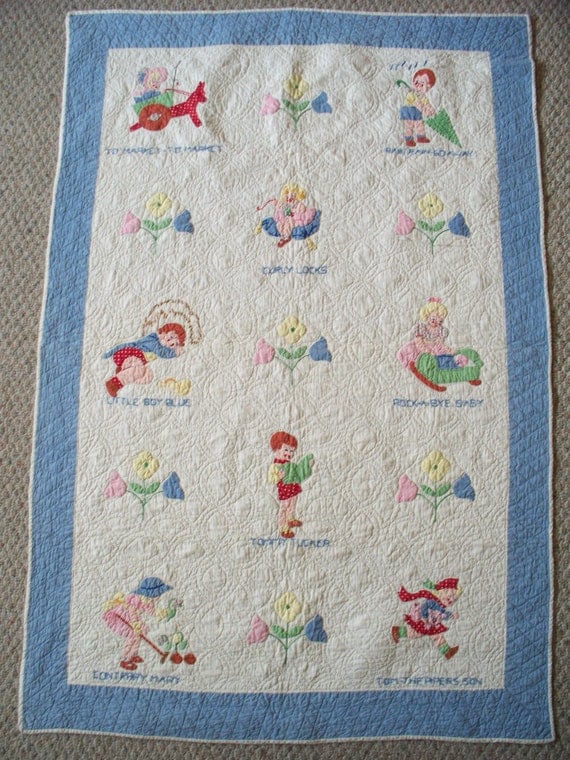 1940's Nursery Rhyme Baby Quilt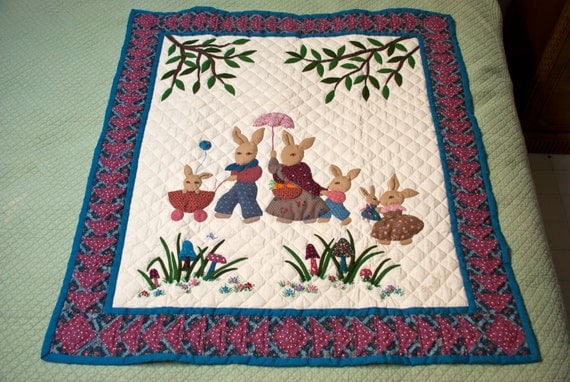 Rabbit Baby Quilt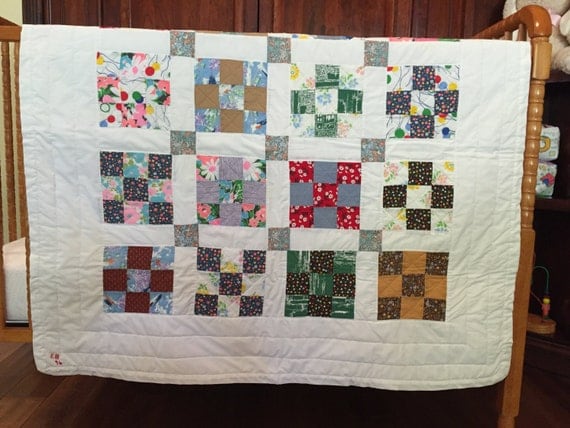 Vintage Baby Quilt

&
Designing a Quilt
In our modern age, a quilt can be designed on a computer before you ever take out a piece of cloth, with programs like the Electric Quilt 7 – Complete Quilt Design Software. However, when antique and vintage quilts were designed, the quilter had to draw out the pattern by hand, figure out how the various shapes of cloth would fit together, and then add pieces of colored fabric to the design in order to get the colored pattern right.
&
The triangle design pictured to the right is relatively simple, because it is made in rows, however, there is not much variance in a pattern like this to allow for cutting and sewing mistakes. The pieces need to all be cut to the same size and shape or else your entire quilt pattern would not fit together. Remember our ancestors did not have sewing machines either, so the sewing was done by hand, piece by piece.
Appreciating the Work that Went into Antique Quilts
Quilts are large pieces that are made to fit adult beds, usually at least double beds. Therefore, completing a quilt took a lot of hours, and effort in historic times, before the sewing machine was invented. Women often would get together and work on quilts together in groups–sewing circles–to complete large projects like quilts. Quilts were often given as gifts for special occasions like weddings, or the birth of a child.
If you think about the work involved, you can get an idea of how many hours it would take to make a quilt. First the women would either have to design a pattern or pick a design. The next step was to assign fabric colors to the design. After picking colors, they would have to cut all the pieces out for the quilt. Then depending on the design, they would either sew the quilt together into smaller parts, possibly squares, then all together. Remember that this was just for the top of the quilt.
After assembling the top, the women would add the filling and bottom fabric and stitch the entire quilt together so that the filling would not move around and the entire quilt was more stable. Lastly, they would sew the final hemming of the entire piece. In some cases, they might sew some of the final hems first, then fill the quilt, and sew it and do a final hem. As you can imagine, this could be months of work, done between their regular chores.
Antique Applique Handmade Quilts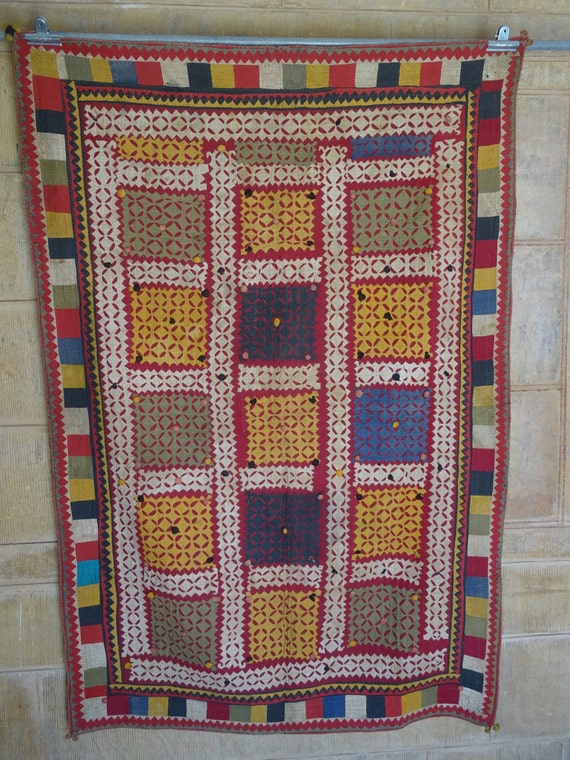 vintage applique and patchwork ralli quilt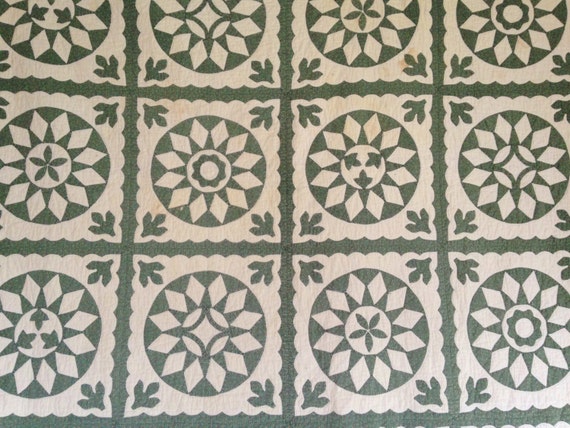 Green and White Applique Quilt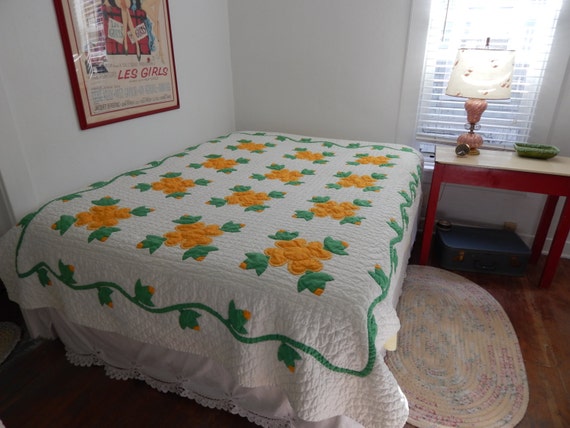 Vintage Floral Applique Quilt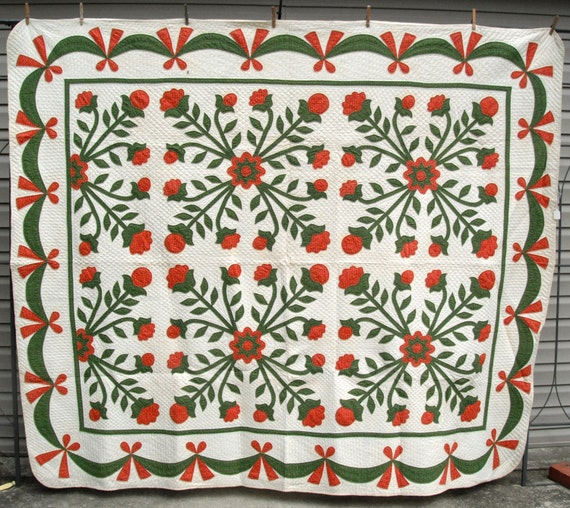 c1870 Applique Quilt

&
Applique Quilts
Applique quilts are not quite as difficult to construct as standard quilts. Applique is sewn onto the top of the fabric after the main quilt is done. Applique is used to apply large patterns or just a single image onto a quilt, and is more common on a baby quilt that may have a large design of an animal or floral pattern.
Antique flower Handmade Quilts
[phpbay]Antique Flower Handmade Quilts, 4, "", ""[/phpbay]
Antique Log Cabin Handmade Quilts
[phpbay]Antique log cabin Handmade Quilts, 4, "", ""[/phpbay]
Quilting is a Global Art Form
Anywhere in the world that the weather gets cold, you will find a cultural tradition of quilting. The patterns, colors, and shapes may change from culture to culture, but the concept of quilting is there. For instance, Nordic designs are often laced with snowflakes, and the colors of blue and white, but they are still made in a similar fashion to quilts in other parts of the world.
The need for shelter and warmth is a primitive need, and the desire to create is universal.
Quilted Stuffed Animal Toys
Not only did our ancestors create quilts for blankets, but they also used the same idea to create toys for their children. Whimsical stuffed toys made from patchwork quilt patterns can be found throughout a lot of history. What an easy toy to make for children, just using sewing skills to create a small pattern of a teddy bear or other animal, or even a little girl or boy doll to play with.
It always amazes me how much we have changed in our skills and knowledge, yet how much we stay the same over time. The quilts that our ancestors made with loving hands are both works of art and collectible today as vintage antiques that you can decorate your home with or hang on your wall. Just start searching on Ebay and Etsy with the links I have provided here, and you will find an treasure trove of lovely antique and vintage quilts to buy for a gift for yourself or someone that you love.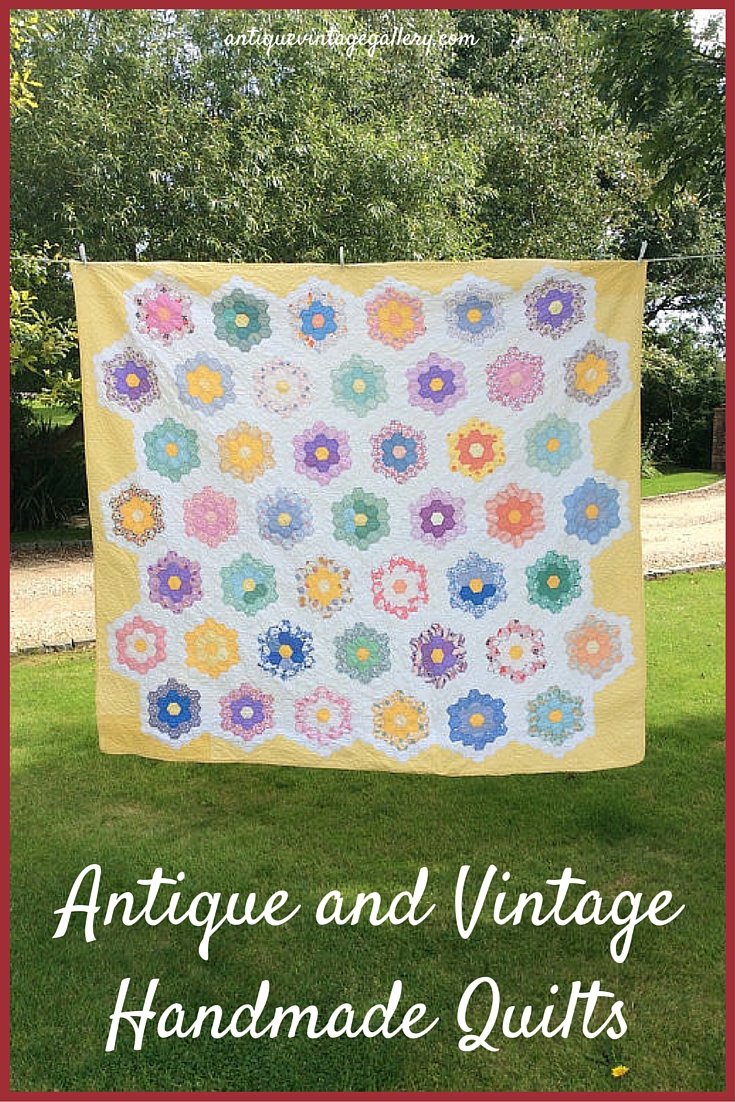 (Visited 660 times, 1 visits today)