Antique Early American furniture was a rudimentary type of furniture made by the American colonists and originated in the mid to late 17th century. Pieces were made from local types of wood, with oak and pine being the most commonly used. Some common pieces that were made included chests, court cupboards, trestle tables, joint stools, Brewster chairs, Carver chairs, and beds. As far as appearance goes, this style of furniture had straight lines, little ornamentation, and simple designs. The pieces were also large, heavy, and sturdy. These furniture pieces used mortise and tenon joints in which a wooden projecting tenon of a piece fits into a mortise of another piece. Here we take a look at some of the common characteristics and other features of this beloved furniture style that represents true American history.
Characteristics of Early American Chairs
One of the most practical pieces of furniture made in this style were chairs. Chair backs of this style were usually made from solid wood, vertical slats, or horizontal slats. The shapes of the chair backs includes banister styles, ladder back, slat back, spindle, solid, stile and panel, or vertical turnings as seen on the Carver chairs which has a single row of vertical turnings, and the Brewster chair, which has a double row of vertical turnings. Legs of early American style chairs were usually square, round, straight, or had simple turnings. The seats of the chairs were typically square in shape and were made from various types of wood or woven rush.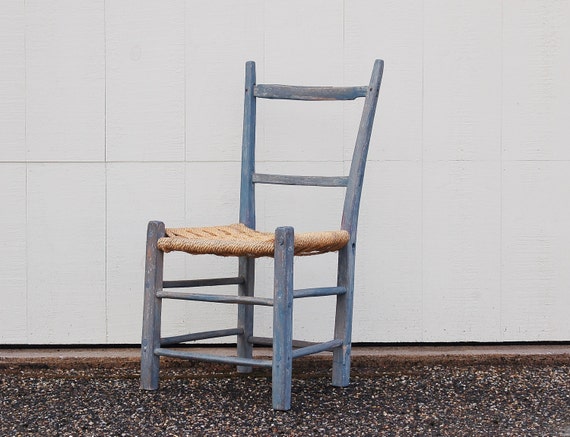 Antique Primitive Ladderback Chair, Circa 1850

Drawer Pulls and Hardware
Drawer pulls for furniture consisted of simple carved wood handles, tear dropped shaped pulls, turned wooden knobs, or wooden mushroom shaped knobs. Hardware materials consisted of iron, leather, or various types of wood.
Furniture Feet and Finishes
The foot of furniture pieces were typically block shaped and flat surfaced, rounded foot bun shapes,or angular, curved brackets. On some pieces, there was no actual foot present as the piece simply continued from the leg.
Furniture was finished by using a clear oil varnish that allowed wood grain to show through, or painted with an opaque pigmented finish that hid the wood grain. A wax finish may also have been used over bare wood, a stain, or a sealer.
made from various types of wood or woven rush.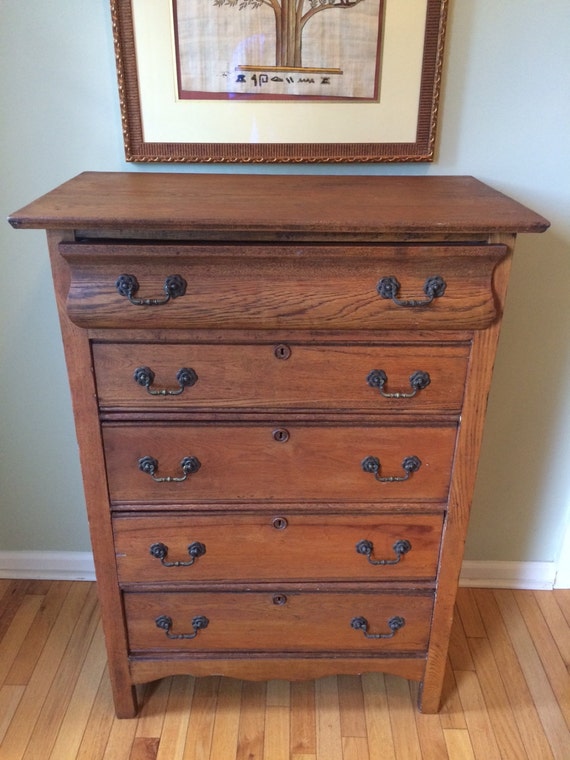 Antique Early American Tall Boy

Motifs and Ornamentation of Early American Furniture
Motif patterns for the early American style included circles, diamonds, tulips, sunflowers, scrolls, roses, and pine tree shapes. Ornamentation included carvings, decorative finials,paneled pieces, or spindles.
Fabrics Used
Fabrics used in early American pieces included linen made from the flax plant, leather from animal hides, and cretonne from cotton or linen. Large floral patterns were popular in this type of furniture.
Types of Woods Used
Although oak and pine may have been used the most, other woods were also incorporated in the making of early American furniture. Ash, birch, fruitwood, elm, hickory, maple, cherry, and sycamore were also favored woods for use in furniture making.
 Early American Country Interiors
 Early American Country Homes
 Early American Cast Iron Holloware
Antique Pieces and Where to Find Them
Collecting period furniture is enjoyed by many antique enthusiasts as well as those who like to furnish their home in a particular style. When looking for early American pieces, try places like your local thrift store or flea market. Many times pieces that have been cleaned out from grandma's attic end up in such places and are prime pickings for antique collectors. Estate sales are also good places to find antique furniture and early American pieces. You might also luck out at a local garage sale. It also pays to check out online sites such as Craigslist or Ebay and actually search for the type of antique furniture style and pieces you are interested in. One thing to look out for is that some listings will come up in your search for antique pieces, but may actually be a new reproduction piece made to look like an older piece. Make sure to check the details and fine print to make sure you are getting an original piece that is in fact an antique. When in doubt, don't hesitate to contact the seller with any questions. The examples given below are all original pieces, true antiques and not reproductions.
Some Examples of Early American Pieces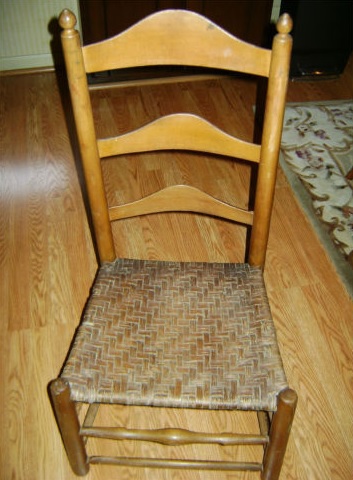 This Very Rare Primitive Farm House Early American Chair shows the square seats and ladder back style of early American pieces, with finials on the top. This chair is an original piece and has a medium wood tone.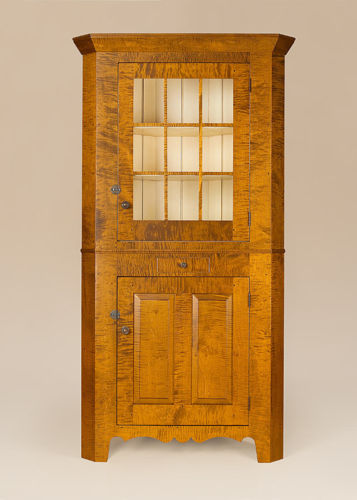 This Superb Antique Early American Corner Cupboard Cabinet shows examples of the lack of much ornamentation, the large scale size and the paneled features of this furniture style. This is a great antique collectible that is perfect for holding dishes and other items.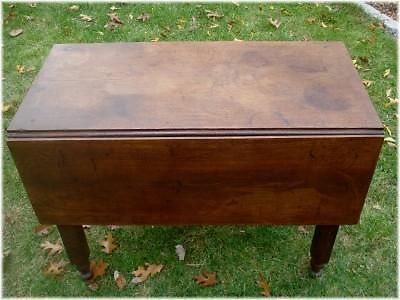 This Walnut Double Drop Leaf Early American Table is the perfect example of the simple style, straight lines, and bun foot characteristics of this furniture period. Original piece with walnut or Butternut wood (seller uncertain), and hand buffed wax finish.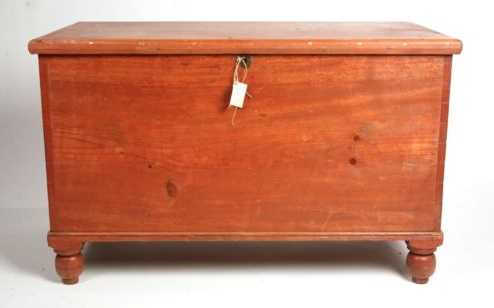 This is a very old antique chest dating back to 1690. A Pilgrim Six Board Chest with original red milk paint in the early American style. Made from New England Yellow Pine. This piece is the perfect place to store extra blankets or pillows, or to use in an entryway to store shoes or jackets.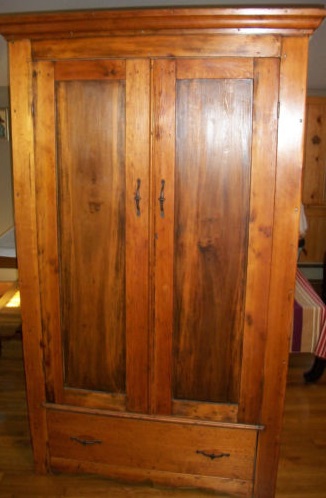 This hand made armoire is the perfect example of the excellent early American craftsmanship. This Solid Pine Armoire/Wardrobe has thick, solid pine plank construction. Hand made pegs secure the handcrafted mortise and tenon joints on the door frame. The armoire also has an iron lock, a typical material used in pieces from this period.
This Dropleaf Side Table is made from a medium wood tone of Tiger maple. Features a very simple wood plank style and small drawer with round wooden knob. Drawers are located at each end of the table. This piece dates back to before 1800 and has the normal signs of wear that add character and history to an antique piece.
[phpbaysidebar title="Antique Early American Furniture" keywords="Antique Early American Furniture" num="8″ siteid="1″ sort="BestMatch" id="2″]
(Visited 1,018 times, 1 visits today)