Decorating Your Patio Vintage Style
If you love vintage patio furniture, and you are ready to decorate your patio, then Etsy sellers have a great selection for you to choose from. You can find everything from vintage outdoor tables, antique patio gliders, vintage dining room sets, to outdoor filigree metal chairs.
Just like interior furniture, you can find various styles of patio furniture depending on the decade you are interested in.  When decorating your patio or deck with vintage outdoor furniture, you can put together an eclectic mix of styles, or stick to one era's style.
Because antique and vintage patio furniture was left outdoors for at least several months of the year, you will have to look carefully to find vintage and antique outdoor furniture in mint condition, but it is available.  And if you cannot find what you want in mint condition, then you can also restore it yourself.
Vintage Outdoor Patio Gliders
Just like rocking chairs indoors, vintage outdoor patio gliders are highly coveted pieces.  Vintage gliders are comfortable chairs, and can be made to seat one or two, and sometimes even three people.  Many of the vintage patio gliders were made in metal with a lattice or filigree style seat and back.  Most vintage patio gliders have arm rests on both sides of the chairs, and are contoured to be comfortable for your seat and back.
Gliders, especially two or three seat gliders are more rare, and therefore the price on a mint condition glider is a little higher than other vintage and antique patio collectibles, but well worth the price for the right vintage glider for your patio.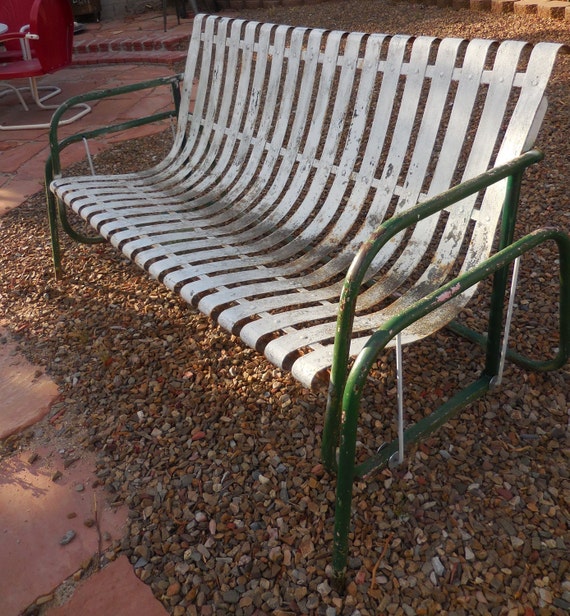 Vintage Patio Glider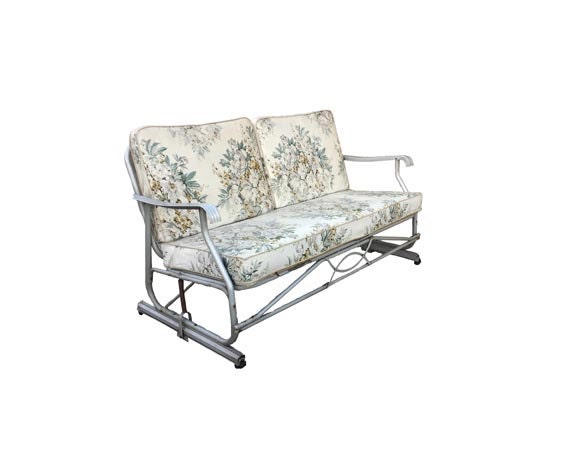 Vintage Porch Glider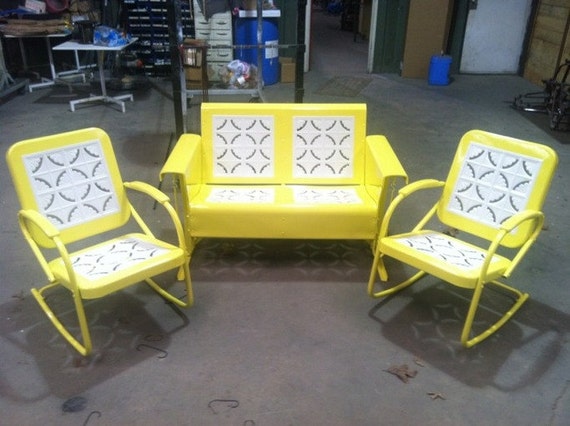 Vintage Metal Porch Glider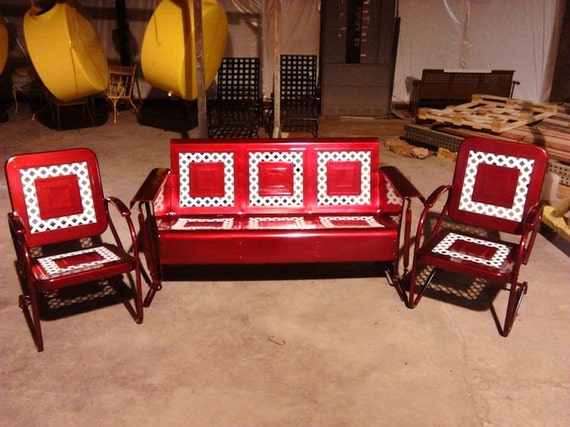 Vintage Metal Glider Porch

&
Vintage Patio Dining Sets
An excellent vintage find is a full antique or vintage patio dining set. Vintage outdoor dining sets may be available in wrought iron, or rattan.  Wrought iron is a much more durable material and can more easily be restored than many other types of materials.  This makes is more likely that you will find a vintage wrought iron dining set on Etsy.
Wrought iron holds up much better in the weather, sun, and rain, and even if cushions need to be replaced, you still have the original framework for the outdoor dining set.  However if you are looking for dining furniture for an enclosed patio area, then weather is much less of an issue, and you can use rattan there, even in the winter.
Vintage Patio Tables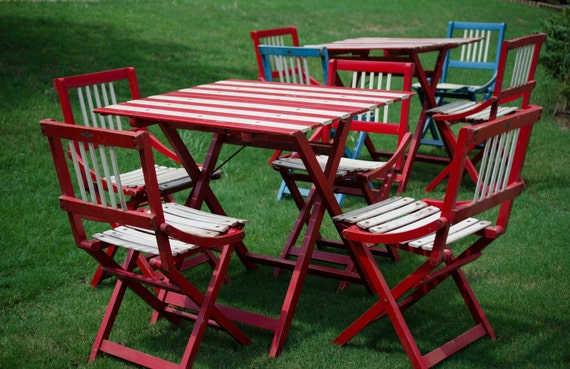 Patio Kitchen Table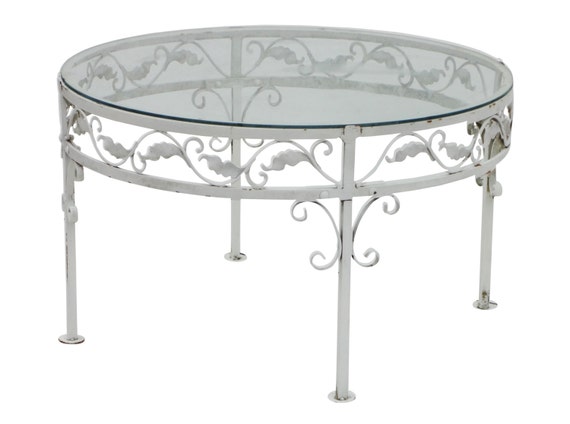 Round Woodard Patio Table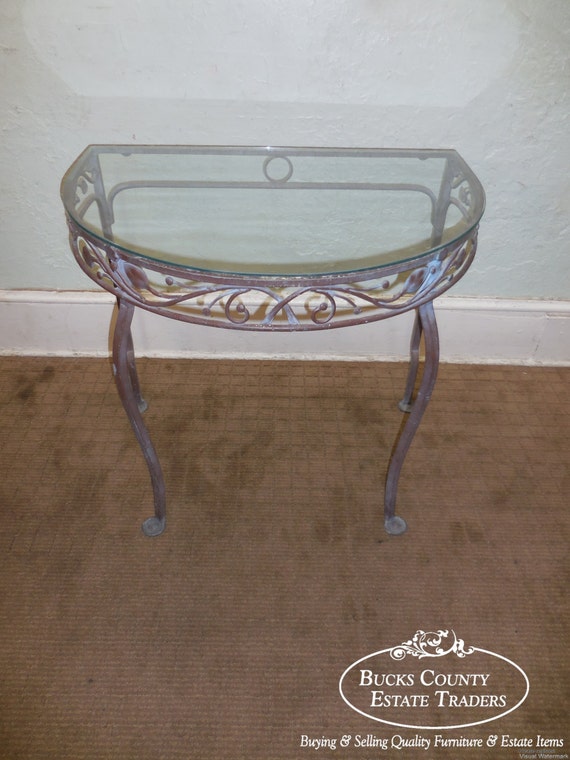 Salterini Vintage Wrought Iron Table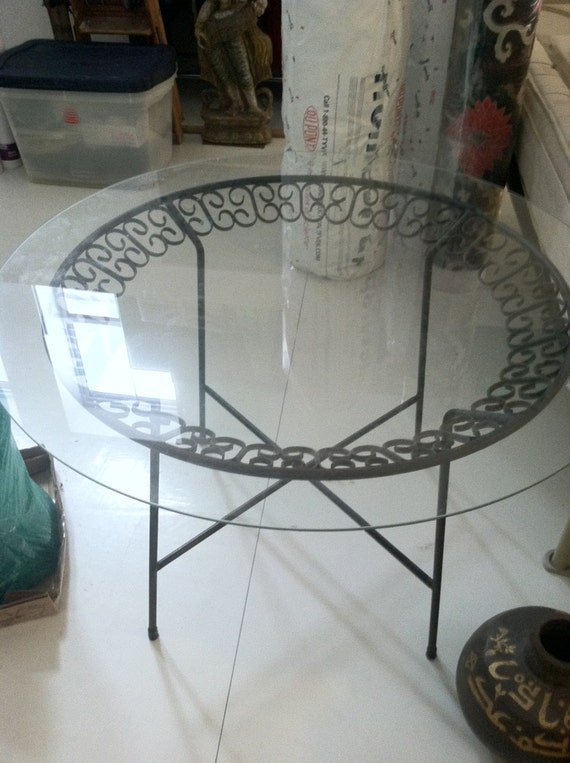 Umanoff Granada Dining Table

&
Vintage Patio Dining Sets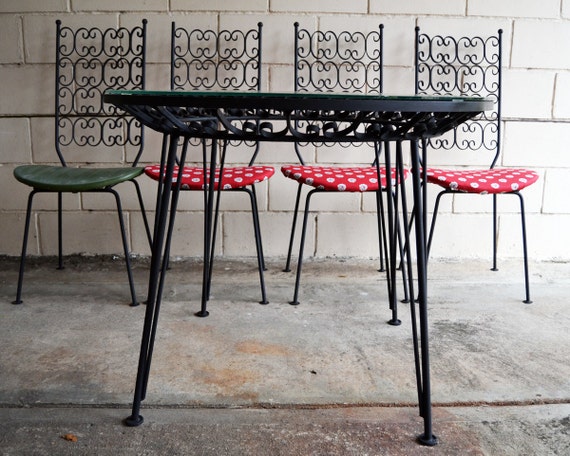 Mid Century Umanoff Patio Table and Chair Set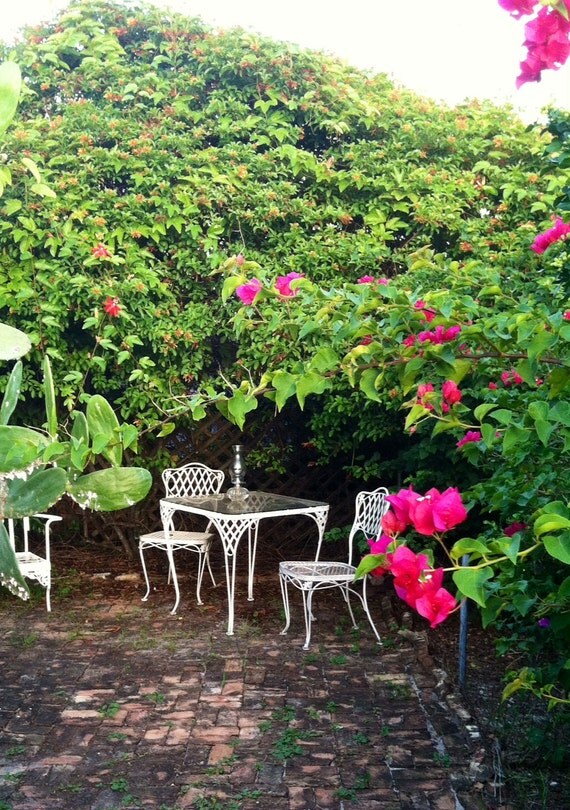 Vintage Woodard iron patio table set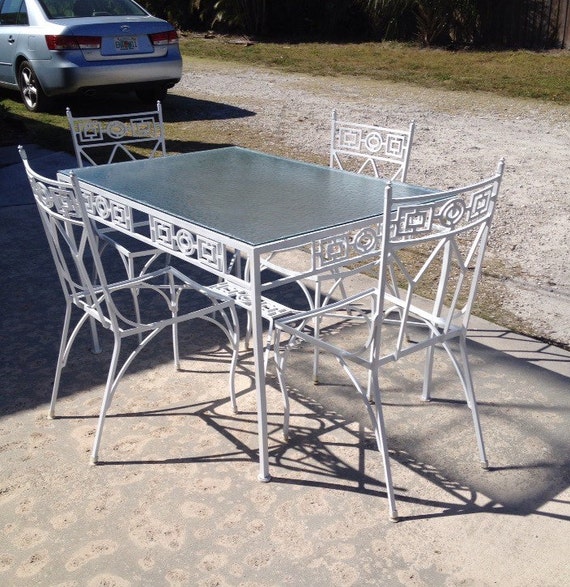 ALUMINUM PATIO GREEK Key Design Table Set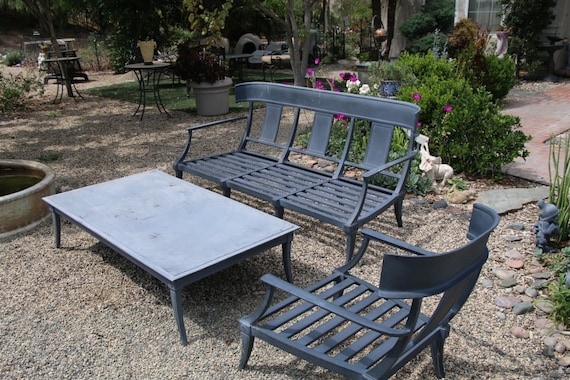 Asian Themed Patio Set

&
Lucky Vintage Outdoor Furniture Finds
If you are lucky, you will be able to find other styles of vintage outdoor dining furniture sets, including slate tables or vintage French provincial patio furniture. Other lucky vintage outdoor furniture finds are folding tables and chairs, and Regency style patio furniture.
Even more rare are antique solid marble patio furniture sets. Do your research, and decide if you want wood, iron, wrought iron, cast aluminum antique and vintage patio furniture, then search for it on Etsy. You will be amazed at what vintage and antique finds Etsy sellers have.
Vintage Outdoor Lounge Chairs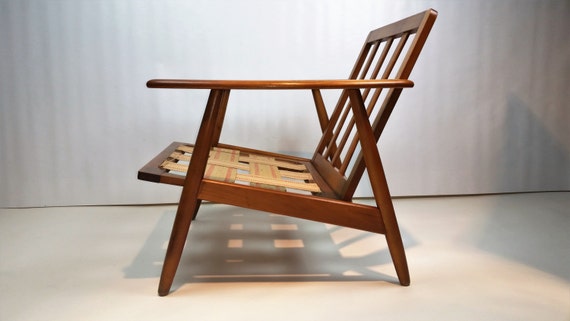 Mid Century Modern Danish Lounge Chair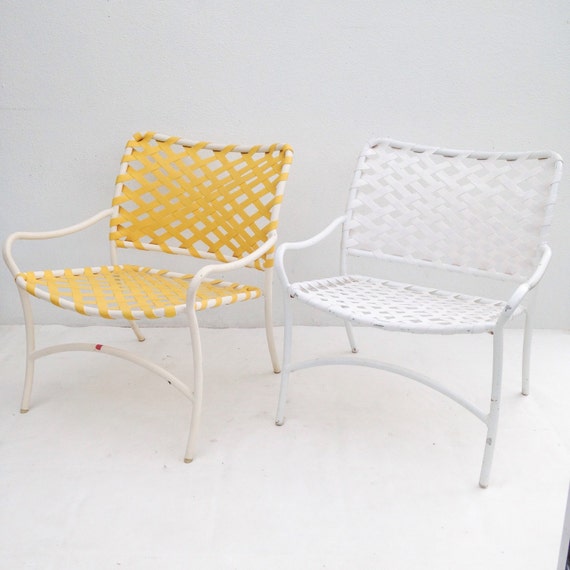 Brown Jordan Yellow Mid Century Modern Patio Lounge Chairs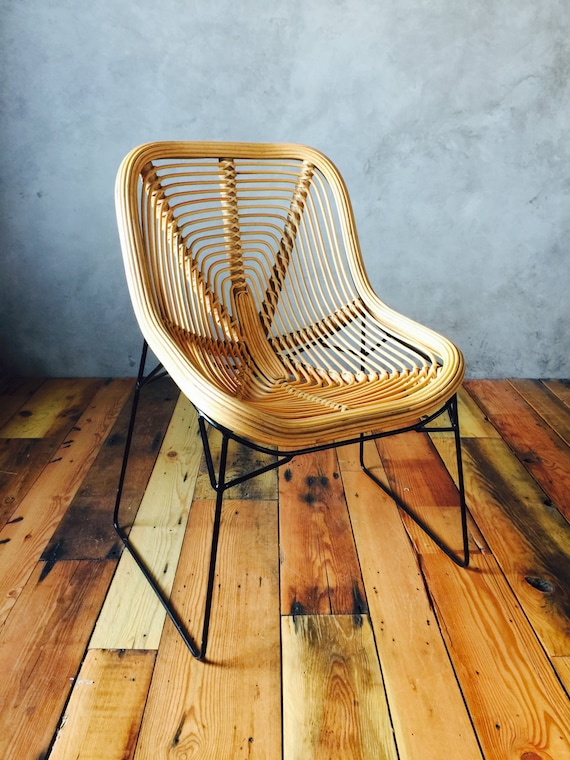 Pair of Wicker Style Lounge Chairs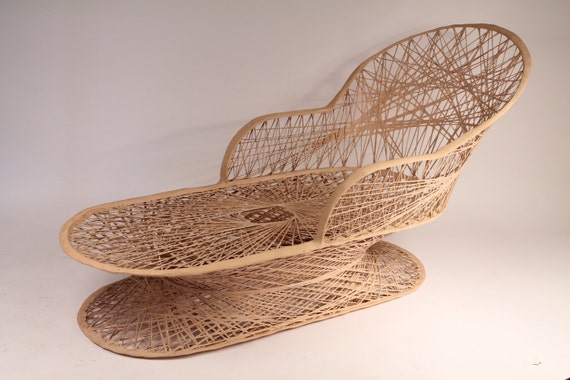 RARE RUSSELL WOODARD spun fiberglass patio lounge chair

&
Vintage and Antique Patio Accessories
As you put together your vintage patio ensemble, don't forget to search for vintage accessories like vintage outdoor lamps, and vintage patio umbrellas. Vintage accessories will bring together your patio's look, and will make your patio the talk of your friends and family.
You can also add vintage pillows and cushions to your chairs, and benches which will add color and brighten up the vintage look. And to complete the vintage patio theme, you can add vintage or antique silverware and dishware as your table settings.  Then top it all off with vintage or antique glassware.  Beautiful.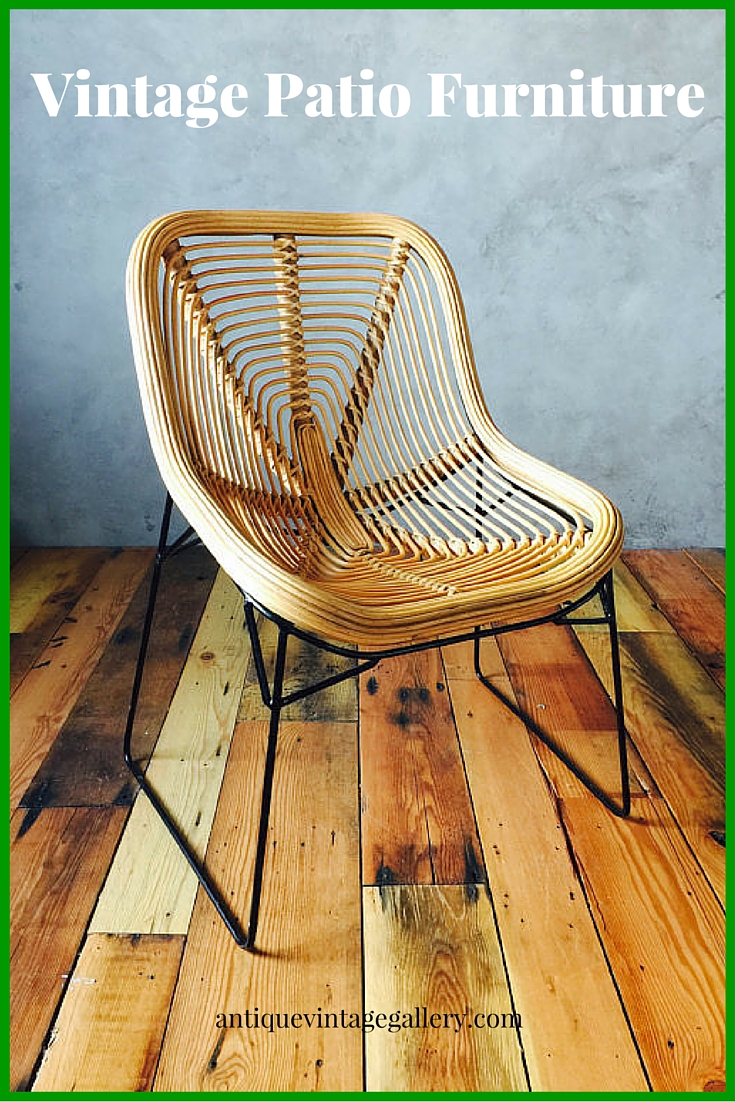 (Visited 750 times, 1 visits today)