Where to Buy Vintage and Retro Christmas Cards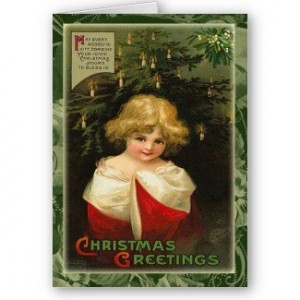 If you are looking for vintage or retro Christmas cards to send to your friends and family this year, for a vintage or retro themed holiday, my favorite place to shop is Zazzle.  Zazzle is a print on demand company that will customize any order that you give them, and ships out quickly.
For party invitations, holiday celebrations, and greeting cards, Zazzle is ideal, because you can buy personalized Christmas greeting cards in any style that you wish on Zazzle.  So if you are searching for special and unique artist designed vintage or retro Christmas cards, Zazzle is by far my very first choice.  I have listed links to the right for both the vintage and retro Christmas card categories, but you can also search for any other Christmas card category that you are thinking of including cartoons (if you love cats try OAT cards), abstract, psychedelic, gothic, pretty much any kind of card that you can think of.
And since customizing is part and parcel of ordering from Zazzle, you don't have to pay extra for it.  The more cards you buy, the less you pay per card, even if you buy several different styles.  The price is predicated on the total card order.
The Best Place to Buy Christmas Cards
Vintage Christmas Cards
This picture to the right is just one of the many choices of vintage cards on Zazzle. It is a lovely vintage image, and you can personalize it with your own words.
If you have never ordered from Zazzle, I can attest that both their customer service and their products are high quality. And if you run into a problem, their customer service people are very, very responsive. Cards are on quality cardstock, and most of their products have choices of paper, print color, and size.
Other Sources for Vintage Christmas Cards
If you are looking to collect authentic vintage Christmas cards for yourself, or another vintage and antique collector, then Ebay is my first choice.  On Ebay, you can find either single collectible vintage Christmas greeting cards or you can buy vintage Christmas cards in lots or groupings. 
Make sure that the seller is selling unused vintage or antique Christmas greeting cards as opposed to reproductions.  You can buy reproductions from Zazzle, as mentioned above.  Ebay sellers will tell you how many they have in their lot, the condition, and should have pictures of all of the cards on their listing.  Most of the vintage cards will come with an evelope in order to mail the card, or to store it in your collection.
[phpbay]Vintage christmas greeting cards unused, 6, "", ""[/phpbay]
Other Sources for Retro Christmas Cards
Unlike vintage or antique Christmas cards, retro cards are just in an older style, usually the 1950's or 1960's, so they are more available and not really collectible.  Retro Christmas greeting cards are more for fun and style, then collecting.
While I think that Zazzle is my first choice for retro cards, you can also find fun retro Christmas cards on Amazon, which would be my personal second choice for Christmas cards.  However, you will have to personalize them completely on your own, which Zazzle will do for you before you even get them.  To the right are a few choices of retro Christmas greeting cards from Amazon.
[phpzon keywords="retro christmas greeting cards" num="5″ country="US" trackingid="antiquevintagegallery-20″ templatename="default" paging="true"]