Adding Ornaments to a Vintage Christmas Tree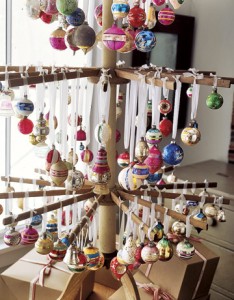 When you decorate a vintage Christmas tree, the basic vintage Christmas ornament is a vintage Christmas ball ornament. Ball ornaments can be simple or ornate, depending on how they are decorated, and where they originate, but they add lots of color to any decorated Christmas tree.
Vintage Christmas ball ornaments come a in a few materials: glass, plastic, satin, and paper mache. Ball ornaments can be shiny, silvered, beaded, or hand painted. Often you can buy them in lots or new in the original box.
Ball ornaments remind me of spacers in the jewelry world.  A spacer is there to fill space between the bigger, more unusual beads.  This is similar to what a collection of vintage ball ornaments can do on a vintage Christmas tree.  They fill in the space, and and color and sparkle to spaces on the tree, and let the other ornaments stand out.
However, you can also find some pretty special vintage ball ornaments for Christmas, including hand painted or hand adorned Christmas ornaments.
Vintage Christmas Shiny Brite Ball Ornaments
Vintage Christmas Satin Ball Ornaments
More Common Vintage Ball Ornaments
The most common of the vintage Christmas ball ornaments are the Shiny Brite glass and the satin ball ornaments.  Many of these two types of ornaments can be purchased by the lot or by the box, some having never been used.  The Shiny Brites are my personal favorite because of the bright shiny colors they add to any tree, and some also have frosted decorations stenciled on them.
Satin ball ornaments are a softer, more subdued addition to a vintage tree, and are usually not quite as brightly colored.  These work well with a more traditional looking tree.
Vintage Plastic Christmas Ball Ornaments
Vintage Ball Christmas Ornaments from Poland
Imported and Mercury Glass Vintage Christmas Ornaments
If you are looking for more unusual vintage ball ornaments to decorate the vintage Christmas tree in your house or office, then one place to start is by searching for imported vintage ornaments from Poland and Germany.  These ball ornaments are much more highly decorated, sometimes painted, beaded, and are usually hand blown ball ornaments which gives the ornaments much more character.
Another option is collecting mercury glass Christmas ornaments.  Mercury glass is a special process of silvering glass.  These mercury ornaments come in more shapes than just ball ornaments, but ball ornaments are the easiest to find.
Vintage Christmas Ball Ornaments from Germany
Vintage Christmas Beaded Ball Ornaments
Vintage Beaded and Sequined Ball Ornaments
Christmas is a holiday of light, and was begun before electricity when the holiday brought light and hope to the dark winter.  Therefore, it is totally appropriate that many of the vintage ball ornaments are hand decorated with rhinestones, beads, and sequins to reflect the lights on the Christmas tree.
These beaded vintage ball ornaments are very special, and finding one in mint condition is a real find, and should be cherished.  If you think about it, beading an ornament would have taken an extremely long time to make by hand.
Vintage Christmas Paper Ball Ornaments
Vintage Christmas Glass Ball Ornaments in a Box
Vintage Paper Mache Christmas Ornaments
One of the most fascinating ball ornament types is the paper mache ball ornament (also spelled papier mache).  These are made essentially out of paper and glue, then dried.  After drying, the paper mache ornaments are decorated, usually painted with a Christmas scene.
Due to their fragility, it would have been much more difficult to maintain a paper mache Christmas ornament over the years in excellent condition, so if you find one on Ebay or elsewhere online, snatch it up immediately.  What a great find, and addition to your vintage Christmas tree.
Vintage and Antique Christmas Decoration Resources
If you need to study up more on types of vintage and antique Christmas decorations before you decide what you want to put in your home or office this Christmas, then you may want to consult the resources that I have listed below.  Or you can also click through to Amazon to search for more.
 Christmas, 1940-1959: A Collector's Guide to Decorations and Customs
 Christmas Memories: Gifts, Activities, Fads, and Fancies, 1920s-1960s
 Have Yourself a Very Vintage Christmas: Crafts, Decorating Tips, and Recipes, 1920s-1960s
 It's a Wonderful Christmas: The Best of the Holidays 1940-1965
 A 1926 Book of Ideas for Vintage Christmas Decorations, Gift Suggestions, Wrapping Gifts
 Christmas Ornaments, Lights and Decorations: A Collector's Identification and Value Guide
Article publié pour la première fois le 15/07/2011
(Visited 149 times, 1 visits today)