Adding Vintage Icicle Ornaments to Your Vintage Christmas Tree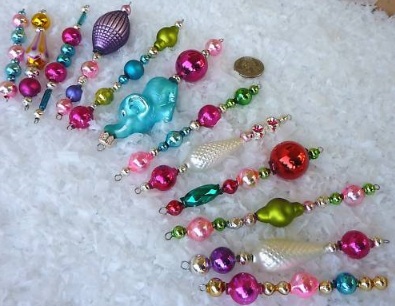 If you are looking for vintage Christmas ornaments, one of the types of vintage ornaments that is somewhat more difficult to find are vintage icicle ornaments. Icicle ornaments are more fragile than other shapes to begin with, and are just less common in general.
However, while I researched this article about vintage icicle Christmas ornaments, I found some very interesting varieties that would look terrific decorating any vintage Christmas tree in your home or office. These vintage icicle ornaments would also be a boost to any vintage Christmas ornament collection. Icicle ornaments have not been made from as many materials as other vintage Christmas ornaments. The main materials are glass, plastic, porcelain, and cotton.
As I have mentioned in other articles, I am predisposed to love glass, but I do have to say in this case, the vintage glass icicle ornaments are much more interesting than the other materials. You will see what I mean with the examples shown in this article.
Vintage icicle ornaments represent the real icicles that hang from our homes in the winter.  Real icicles are shiny, iridescent, and sparkle in the light.  It is only natural that makers of vintage Christmas icicle ornaments would attempt to do the same.
Vintage Christmas Ornament: Icicle Glass
[phpbay]Vintage Christmas Ornament: Icicle glass, 4, "", ""[/phpbay]
Vintage Glass Icicle Christmas Ornaments
Glass is the best representation of what a real icicle looks like.  For those of you who live in warm climates, you will just have to take my word on what a real icicle looks like when it hangs from the edge of your roof in the winter.  We see many real icicles in Cleveland, because we have a lot of snow, and it snows, then melts, then freezes again.  That is what causes icicles to form.
There are some really beautiful vintage glass icicle ornaments made of glass that look quite like the real thing.  These are made of clear, iridescent glass, and can be hung directly on your Christmas tree.  Not surprisingly, my personal favorites are the more colorful glass Christmas icicle ornaments.
When I did my searching, I found some icicle ornaments that I wasn't expecting to find, made our of glass beads.  Some were colored glass, and others were colored mercury glass.  Mercury glass is a silvered glass.  These beaded glass icicle ornaments are simply stunning, and would look great on a vintage decorated Christmas tree.  I might hang them for fun, on a mobile that I make out of them for during the rest of the year, because they are that beautiful.  They remind me a little of the pop bead toys we had when I was a child, where the beads would fit into each other with a popping sound.
Kurt Adler 5-1/4-Inch Glass Icicle Ornament 12-Piece Box Set

Vintage Beaded Icicle Christmas Ornaments
[phpbay]Vintage Christmas Ornament: Icicle beaded, 4, "", ""[/phpbay]
Oriental Trading Company Glass Icicle, Multi Color, 12 Count

Vintage Russian Icicle Christmas Ornaments
[phpbay]Vintage Christmas Ornament: Icicle russian, 4, "", ""[/phpbay]
Russian Vintage Glass Icicle Ornaments
There are also some beautiful glass icicle ornaments that would look good on any Christmas tree that originate from Russia.  These come in various colors, in a more translucent type colored glass. The Russian glass ornaments come in other shapes also, balls, and bells.  These ornaments are one piece, not beaded like the ornaments mentioned above.
Vintage Glow in the Dark Icicle Christmas Ornaments
[phpbay]Vintage Christmas Ornament: Icicle glow dark, 4, "", ""[/phpbay]
Fun Plastic Glow in the Dark Vintage Icicle Ornaments
If you are looking for something a little more fun, and slightly less expensive, you might be interested in the vintage plastic glow in the dark icicle ornaments. These icicles would look great on a Christmas tree, but would also be fun for decorations during Halloween, from the ceiling or around the house.
The glow in the dark icicle ornaments come in different colors, and would be fun to have with younger children.
Department 56 Glass Icicle Ornament, Set of 24

Vintage Metal Icicle Christmas Ornaments
[phpbay]Vintage Christmas Ornament: Icicle metal, 4, "", ""[/phpbay]
Vintage Metal Icicle Ornaments
Another more rare material for vintage icicle ornaments is metal. If you know that your kids won't attack each other with the metal icicles like swords, then it is probably safe to buy these vintage Christmas icicle ornaments. Metal ornaments reflect the lights on the tree like mirrors, so would make any lighting you have in your home look brighter.
The metal icicles are usually made of aluminum so that they are light in weight, and won't weigh down your Christmas tree.
Icicle Ornaments on Amazon
Kurt Adler 12-Piece Glass Icicle Ornament Set

Set of 6 Silver Color Glitter Icicle Shatterproof Christmas Ornaments

Beadery Holiday Beaded Ornament Kit

Cool Nutcracker Icicles Ornament 2015 Hallmark

Midwest CBK Icicle Owl Glass Christmas Ornament

1 Pack of 20 Glitter Snowflakes & 1 Pack of 24 Matching Glitter Icicles

Pack of 36 Burgundy Shatterproof Icicle Christmas Ornaments

Shiny Brite Vintage Metal Diamond Icicles Christmas Ornaments

Glass Icicles Christmas Ornaments Hand Blown Crystal

Need Some More Vintage Christmas Decorating Information?
There are some great resources on Amazon about vintage and antique Christmas decorations, including origin, age, and materials.  You can also find thematic information, and pricing ranges of different types of vintage and antique Christmas decor.
I think that half of the fun is finding the decorations, then the other half is putting them on your tree.
Pictorial Guide To Christmas Ornaments & Collectibles, Identification and Values

Hallmark Keepsake Ornament Value Guide, Second Edition: 1973-2006

Christmas Ornaments, Lights and Decorations: A Collector's Identification and Value Guide

Christmas Ornaments, Lights, and Decorations: Collector's Identification & Value Guide

Christmas: Antiques, Decorations and Traditions

Christmas Through the Decades: A Guide to Christmas Antiques

Have Yourself a Very Vintage Christmas: Crafts, Decorating Tips, and Recipes, 1920s-1960s

(Visited 1,056 times, 1 visits today)