Setting the Christmas Table for Christmas Dinner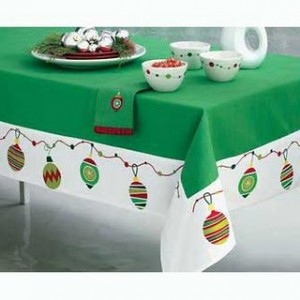 Setting your Christmas table is part of the Christmas family tradition, and if you are creating a vintage Christmas look for your Christmas home decor, then you should set a vintage Christmas table as well. The largest and most influential decoration that is part of a table setting is a Christmas tablecloth, and there are some beautiful, well preserved vintage Christmas tablecloths that are in excellent condition if you do not have one handed down within your family.
This article is part of a series of articles about decorating your home in vintage Christmas decor for the Christmas holiday season.
Besides the Christmas tree, the family dinner table is the one place where all of your family will gather during the Christmas holiday. Therefore, it is important to set your table with festive holiday decorations, including a vintage Christmas tablecloth.
Vintage Christmas Tablecloth: Poinsettia
Christmas is a major holiday around the world, and therefore families have been making Christmas tablecloths for generations. Gathering the family around the Christmas dinner table traditionally is one of the most important times of the year.
Vintage and antique Christmas tablecloths were made from many materials, and textiles available in different parts of the world, using popular Christmas symbols.
One of the most popular is the poinsettia, which has been associated with Christmas since 16th century (Mexico). Vintage and antique tablecloths were embroidered, hand painted, and appliqued with poinsettias in the design. Tables have been many different sizes over the years, and so have tablecloths. Vintage tablecloths may be round, oval, square, or rectangular, so search carefully for the size and shape of vintage tablecloth you need.

Vintage and Antique Lace Christmas Tablecloths
Delicate lace Christmas tablecloths originated in Europe and were brought to the United States by immigrants and passed down from family member to family member. Vintage and antique lace Christmas tablecloths are handmade, and uniquely beautiful and delicate. They may be made of lace throughout the entire Christmas tablecloth or just around the outside edge.
Handmade lace is very time consuming to make, and usually was done by a team of women in a family or town. Expect vintage or antique lace tablecloths to be more costly than many other styles if they are in excellent condition.

Featured: Lenox Holiday Nouveau Tablecloth, 70-Inch Round, Ivory
Vintage and Antique Embroidered Christmas Tablecloth
Embroidery was a well known way to add color and design to any white tablecloth, and was often one of the projects that most women were taught to do, so finding a lovely embroidered vintage or antique Christmas tablecloth is not difficult to do. What is more difficult is finding a vintage or antique Christmas tablecloth that is embroidered with a handmade design as opposed to a stock pattern.
You can search through the lovely embroidered designs on Ebay for truly unique and special vintage Christmas patterned tablecloths, using traditional Christmas symbols of pine boughs, bells, Santa Claus, Christmas trees, and wreaths.

Vintage Christmas Tablecloths: Pine Cones and Holly
Besides poinsettia, other plants are associated with Christmas, namely pine cones and holly berries.  These are recurring themes on vintage and antique Christmas tablecloths as well, and are usually found in patterns colored red, green, white, and gold.  Truly stunning and a great addition to your family's Christmas table.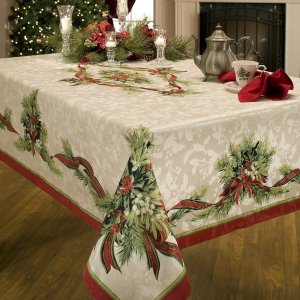 Featured: Benson Mills Christmas Ribbons Engineered Printed Fabric Tablecloth, 60-Inch-by-120 Inch
Fringed Vintage Christmas Tablecloth
Fringe is always a fun addition to a tablecloth.  Children love to feel the fringe, and adults like the way fringe looks.  Vintage tablecloths with fringe that were made for Christmas are more rare than many other styles because they were only made in a few historic eras, but you can find them.  Christmas tablecloths are more likely to be fringed if they are for a side table or small decorative table, and not one that family will eat on.

Beautiful German Christmas Tablecloths
Many of the most beautiful decorated vintage and antique tablecloths come from Germany where stitchery was elevated to an art form, especially in the last century.  You can find some stunning and gorgeous examples of German Christmas tablecloths on Ebay through the links to the right.

Article publié pour la première fois le 07/06/2013
(Visited 1,470 times, 1 visits today)