Vintage Christmas Decorating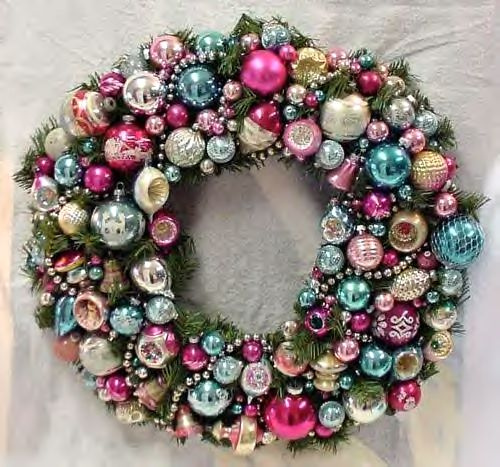 If you are looking for vintage Christmas decorations for your home decor this year, then one of the key vintage Christmas decorations to collect is a vintage Christmas wreath.
Decorating your home or apartment with a vintage Christmas theme creates a very homey atmosphere, and is a great way to display your vintage collection.  Besides the Christmas tree, a wreath is one of the most visible symbols of the Christmas season, being hung on outside and inside doors, over fireplaces, or just as a wall hanging.
Because they are wall hangings, wreaths do not get much wear and tear, which means that you can find beautiful vintage and antique wreaths to collect and display in your own home.  Ebay sellers have a wide variety of vintage wreaths to choose from, and this article will just give you an introduction to the varieties of vintage wreaths available.
Vintage Plastic Christmas Wreaths
One of a Kind Vintage Ornament Wreath
While I was researching this article, I found some absolutely gorgeous one of a kind (OOAK) vintage Christmas ornament wreaths (shown above).  These are truly collector's items, filled with vintage Christmas ornaments all the way around the wreath, and would look good on any interior door or over a fireplace.  I would never put these outside, because they might get wet, and I would want to keep them forever.
If you are looking for small plastic vintage wreaths, these are readily available on Ebay for a very low price, and are great for small spaces, and temporary dwellings like apartments.  Since they are cheap, you do not need to worry about how you store them.
One of a Kind Fabulous Vintage Christmas Wreaths
Vintage Bottle Brush Christmas Wreaths
Bottle brush Christmas wreaths have been a very popular style over the years, with the look of brush bristles, and usually dusted with a snow covering. These vintage Christmas wreaths are very affordable and are available in numerous colors from the more natural forest or pine green to pink, red, and white. Bottle brush wreaths can be found in full size wreaths or small wreath ornaments.
Other vintage wreath styles include cellophane wreaths, which can sparkle, and often come with light bulbs or candles as part of an electric wreath that lights up.  These cellophane Christmas wreaths are also available in several colors.

Vintage Cellophane Christmas Wreaths
Vintage 14" Christmas Wreaths
Vintage 16" Christmas Wreaths
Handmade Fabric Christmas Wreaths
Christmas wreaths have been made out of all sorts of materials that were at hand, and especially in times of financial stress were often made out of materials that could be found in any home.
One of the results of this type of crafting are vintage handmade braided fabric Christmas wreaths, made from scraps of fabrics sewn together, then stuffed, almost like quilting in a tube shape, and then braided together and topped with a big red Christmas bow.  These types of handmade wreaths carry a lot of personal history of the craftswomen who created the wreath.  Many times they were created out of leftover fabric from clothing, curtains, or Christmas tablecloths.
Vintage Handmade Christmas Wreaths
Vintage Christmas Wreath Ornament
Christmas Wreath Sizes
Christmas wreaths are sized by the measurement of the wreath diameter.  So if you know what space you need to fill, measure the width of your space, then look for a Christmas wreath that is about 1 inch smaller in diameter to hang there.  You want to leave room for space on either side of the wreath so that it will hand properly and not get in the way of other decorations or door function.
Most wreaths can be hung from a single hook or nail on the upper center of the back of the wreath.  As long as the wreath is not heavy, this should be enough to hold your wreath up.
Vintage Christmas Wreath Ornaments and Brooches
Besides actual vintage Christmas wreaths, there is an entire collection of vintage and antique Christmas wreath ornaments and beautiful Christmas wreath brooches on Ebay.  Some of the ornaments are just miniature wreaths that can be hung from your Christmas tree, but others are actually depiction of Christmas wreaths in scenes that are painted on ornaments made of glass, porcelain, or paper.
Ebay sellers also have an entire collection of antique and vintage wreath jewelry that  is collectible and a lot of fun to search through. Most of the vintage and antique Christmas wreath jewelry are a collection of Christmas wreath brooches made out of a variety of materials.  Great to pick up to wear leading up to Christmas, on Christmas Eve or Christmas Day.  Many of the brooches are under $10, so they are something that you can collect for each Christmas and buy for friends and relatives as a stocking stuffer.
Vintage 18" Christmas Wreaths
Step-By-Step Illustrated Instructions for Christmas Decorations That You Can Make

Article publié pour la première fois le 27/07/2011
(Visited 1,167 times, 1 visits today)