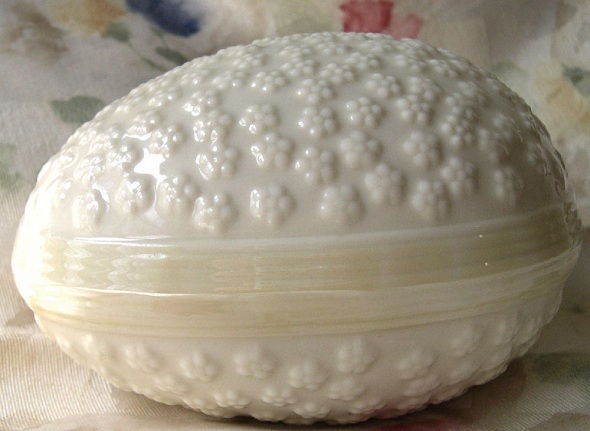 If you are a vintage hunter like myself, one of the things you are looking for this time of year is vintage Easter decorations. It is so much more fun to decorate your home for the Easter holiday with vintage finds instead of the boring cheap decorations that you can find in the drug store these days.
That doesn't mean that you have to spend a lot of money though. You can find some really interesting antique or vintage Easter decor if you search hard enough.
Vintage Easter decorations are much harder to find than vintage Christmas decorations. Most likely due to the fact that not as many people decorate for Easter. Depending on what type of item you are looking for, and what era you would like the item to be from, it may take some time to find it.
&
Spring Easter Decor Vintage Bunny Rabbit Rocking
Spring Easter Decor Vintage Rolling Bunny Rabbit
&
You might be surprised at what you can find in your parents' or grandparents' homes, stored away in the attic or basement. Many times couples do not unpack all of their holiday decorations, and over time many do not get used. Or they might be considered too fragile to take out unless the occasion warrants it, but then they get forgotten.
Ask your family and friends if they know anyone who might have a collection of the Easter decor that you are looking for. Certainly many families have Easter figurines, salt and pepper shaker sets, and possibly children's items that they are no longer using, but can't bear to throw away. This is a great place to start.
The next step is to search the local vintage shops. Vintage stores, if they are run well, can house some great finds, but only if the manager keeps a good inventory. A well run vintage shop will have their products well organized, and the staff should be able to tell you immediately if they have any vintage Easter products at all.
Searching online can net you some fabulous vintage finds. Etsy is the best starting point online, because you can see a wide variety of what is on hand, and the inventory changes constantly. Also, many of the sellers are just people selling their own household goods, so the prices are phenomenal.
If you are searching on Etsy, check the history of the seller, and if it is an expensive item, make sure to get proof of authenticity. The best way to search is to really refine the search terms, for instance, vintage Easter hat, vintage Easter bonnet, vintage Easter tablecloth, vintage Easter table cloth. Keep putting in related terms until you have exhausted the search.
Then if you still can't find what you want, then you can look through the listings on Google or another search engine, to broaden the search to vintage and antique dealers that are not on Etsy. Take your time, and wait until you find just the right piece, before you buy. Then you will be truly happy with your collectible.
Image credit: Le Petit Poulailler
(Visited 2,299 times, 1 visits today)