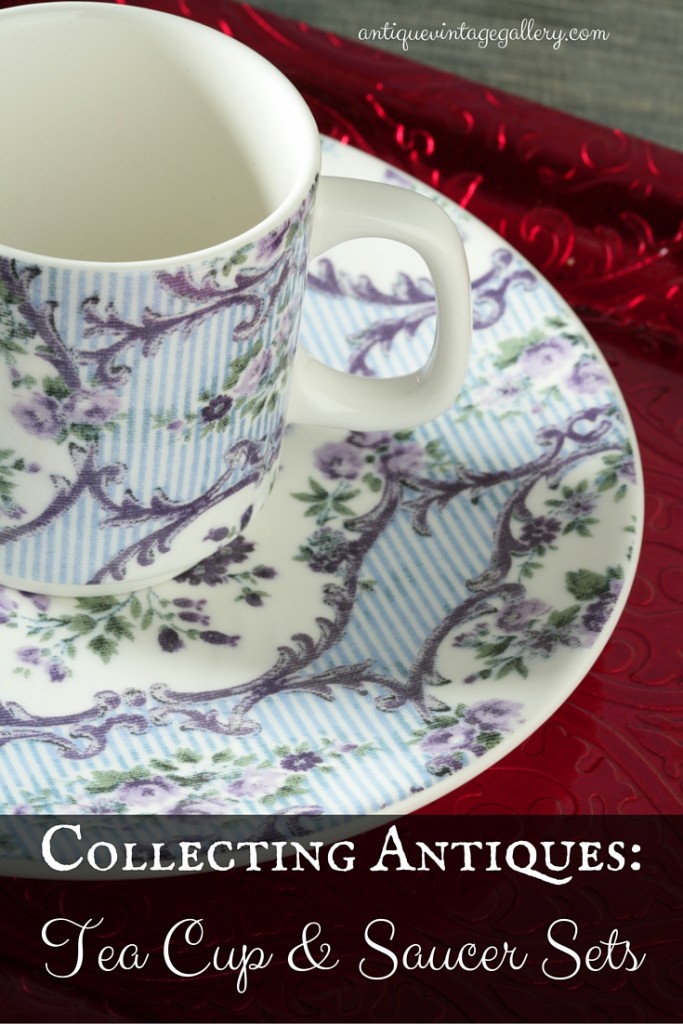 Collectible Antique Tea Cups and Saucers Double as Decorations and Collectible Tableware
If you are an antique collector, or want to be one, one of most fun and affordable items to collect are antique tea cup and saucer sets. Most people like to collect these one at a time, one cup and saucer set together, and mix them up in their collection.
There are several ways to collect antique tea cups and saucers. You can collect the ones you like purely on the design, and shape of the cup, or you can collect them by the style. Another way to collect is to look for all of the tea cups made by a specific manufacturer like Spode.
Or you might want all art deco style cups.
Tea cups do not take up a lot of room in your home, so they are much easier to collect than antique furniture. All you need is a cabinet to display them in with a glass front to be able to see them every day. And best of all, you can use them for special occasions or all the time, because tea cups are so very practical. (And just because they are tea cups, doesn't mean that you can't have coffee in them too.)
Here is a list of just a few types of antique tea cups to help get you started. To search for more, just click on any of the links listed here, and you will be able to change the search parameters, or find more under the same search terms that I used here.
Antique Hand Painted Tea Cups and Saucers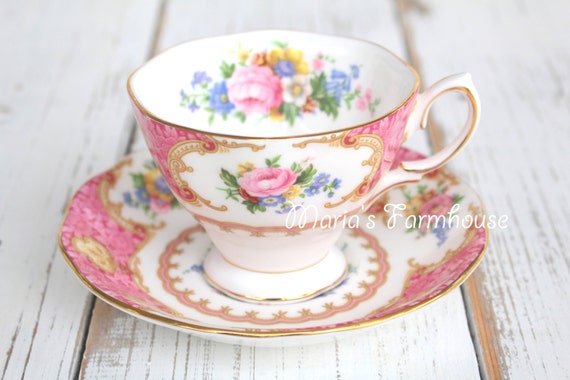 Vintage English Bone China by Royal Albert, Lady Carlyle Pattern

This tea cup pictures above comes from Etsy via the MariasFarmhouse, a seller on Etsy that specializes in antique and vintage tea cups and saucers. This particular cup is from circa 1940, is hand painted with a delicate floral design. This cup comes with the saucer that matches.
The best bet when collecting antique tea cups and saucers is to make sure that you buy them in matching sets, if you want to retain the value of the tea cup, and then you need to decide exactly how you want to collect.
Questions to ask yourself are:
What am I looking for? Color, style, time period, design specifics?
Do I want all my tea cups from a specific time period or manufacturer?
Do I want a set for serving, or am I just collecting them to display?
What Makes Hand Painted Items Special and Collectible?
Hand-painted items are not the norm today. That is because it is very labor intensive to make handmade materials. A china maker has to make the cup and saucer first, then spend numerous hours painting the design on the cup and saucer, and when these are made, they would be made into a set. So that would be at least 8 or 12 cups and saucers to paint by hand. You can see how that would take a lot of time.
In today's job market, a skilled craftsman would be paid a very high price for this type of work, which makes the cost of the hand painted item out of reach for most people. In addition, the actual painting materials–paint, brushes, glaze, all are quite expensive. These costs add up quickly.
During the time when hand painted antiques were new, hand painting was the only way that they could be made. There were no factories that could manufacture cheap imitations. So that means that any of the antique china that remains in mint conditions is very sought after, and collectible.
Collecting Antique Tea Cups and Saucers by Manufacturer
If you love the work of a specific manufacturer or designer, then you can research the entire collection of tea cups made by that manufacturer, then look specifically for those cups. Below I have selected Minton as the manufacturer whose tea cups I want to collect. As you can see, there are a lot of beautiful tea cup and saucer sets made by Minton, and after I complete my set, I will find a Minton teapot and other accessories to add to my collection.
Minton's Ltd was a large ceramics manufacturing company started by Thomas Minton who established his pottery factory in Stoke-upon-Trent, Staffordshire, England, in 1793. They are known for producing earthenware and and after 1798 bone china. From circa 1800 Minton's produced fine ornamental chinaware, which was topped circa 1816, and started up again circa 1822.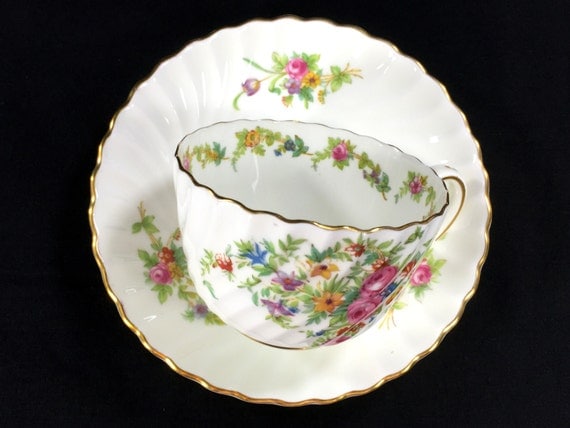 c1930s Minton Lorraine Teacup and Saucer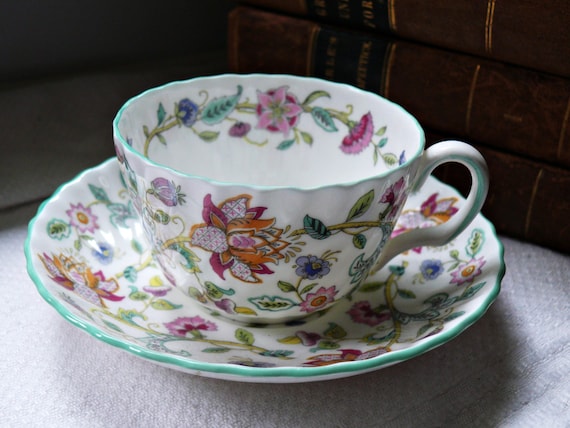 Minton Haddon Hall Vintage Tea Cup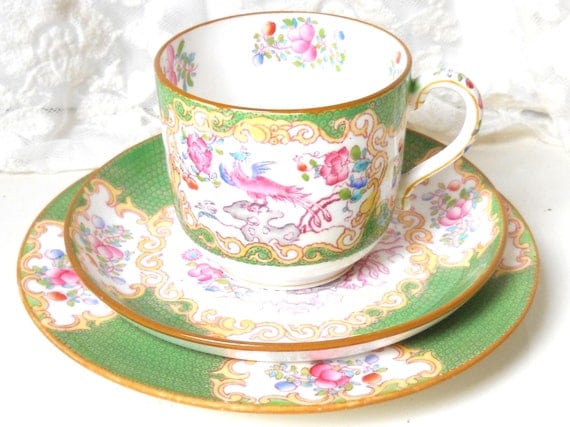 Mintons teacup trio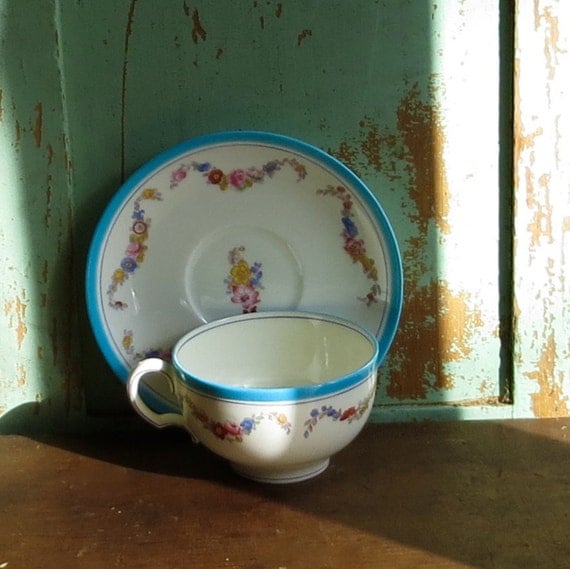 Mintons Tea Cup and Saucer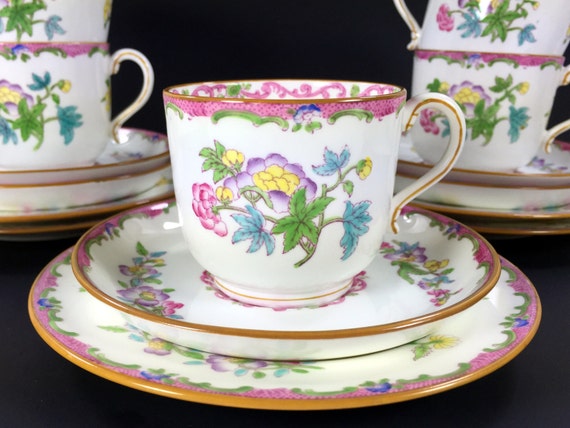 Teacup Trios Lot of Five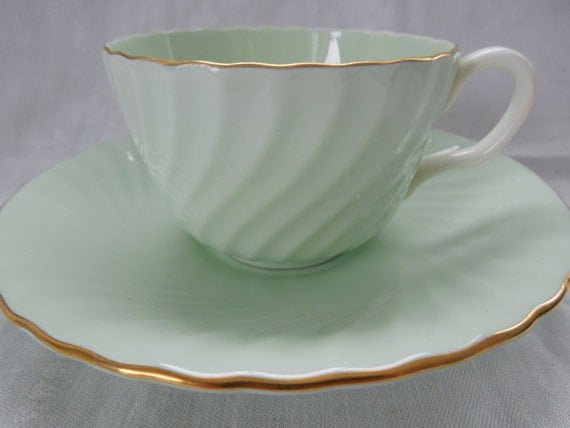 Minton England Beryl Green Clifton

&
I want to have enough to use for a medium sized party, so I need to continue searching for what I want over time, and add to my collection as I find the Minton pieces that I want.
What is a Fair Price for Antique Tea Cup and Saucer Collectibles?
In order to determine what is a fair price for the tea cup and saucer that you want to buy, you can consult the price guides that are available for that manufacturer and style. Some of the factors that affect price are the condition of the antique, the rarity of the style, the uniqueness of the manufacturer, and how many people want them.
Price guides are well worth the time to look through if you are a serious collector. Amazon has a full selection of updated price guides on tea cups and saucers.
Antique Aynsley Tea Cup and Saucer
The Aynsley brand known for its bone china, was established by John Aynsley in 1775 in Staffordshire.
From the Aynsley website:
The early production was of decorative china 'tea wares' and soon progressed to 'breakfast services' and 'dessert wares' hand painted and gilded.
To this day, Aynsley manufactures in Longton, Staffordshire fine bone china tableware and tea ware with luxurious decoration and hand gilding in gold and platinum.
&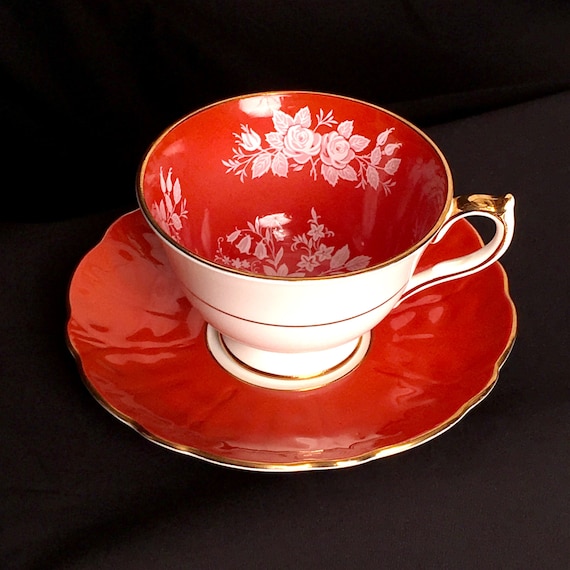 Aynsley Teacup and Saucer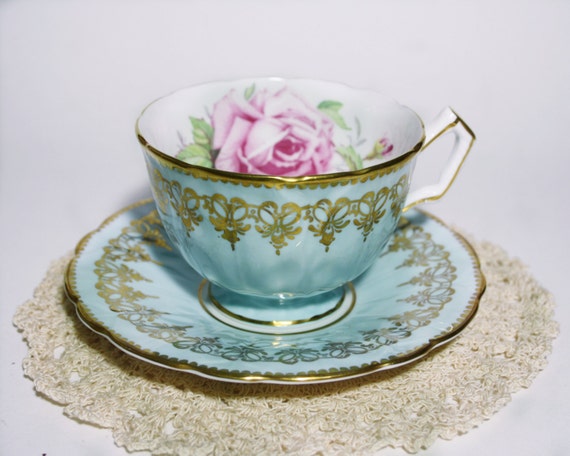 Vintage Aynsley Tea Cup Crocus Shape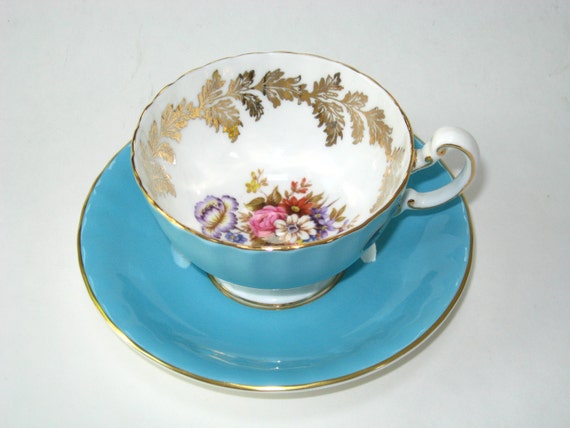 AYNSLEY Tea Cup & Saucer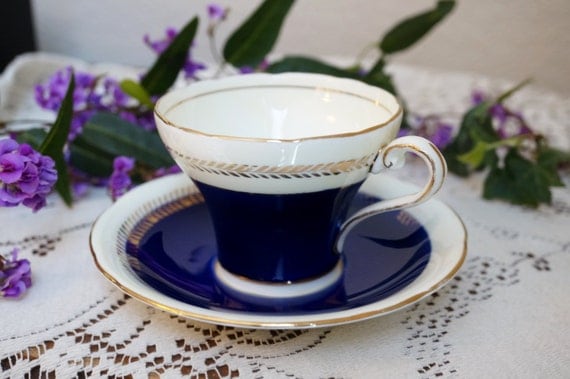 Aynsley Tea Cup and Saucer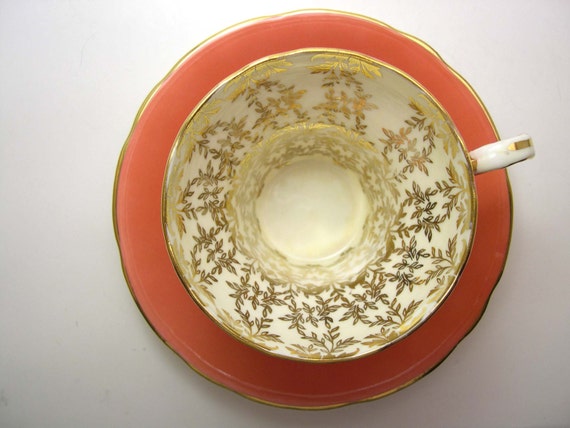 Aynsley Tea Cup and Saucer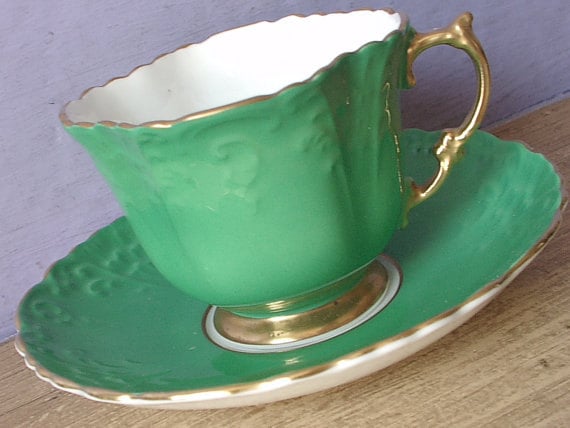 Antique 1930's Kelly Green tea cup and saucer

&
Aynsley tableware continues to be made in the traditional way. Plates and cups are formed onto molds, vegetable dishes , soup tureens, tea pots and bowls are hand cast using liquid clay or 'slip'. Handles are hand cast and applied. Decoration is by hand applied lithographic transfers or hand enameling and hand gilding .
Antique English Bone China Tea Cup and Saucer Sets
&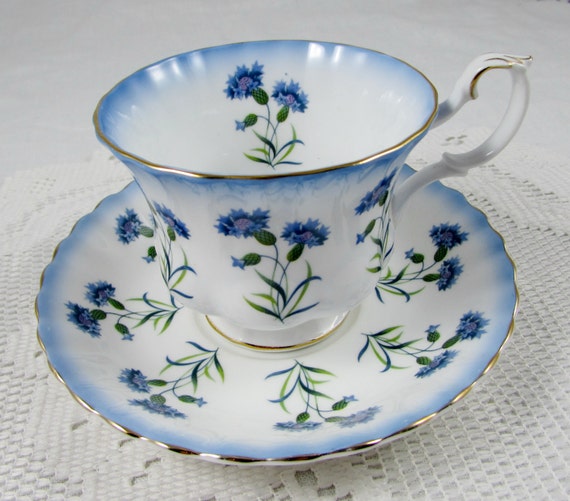 Royal Albert Blue Thistle Tea Cup and Saucer Bone China

&
Some of the most beautiful bone china tea cup and saucers were made in England by companies like the Aynsley set pictured here. This set is for sale on Etsy by TheAcreage. Isn't this tea cup set just simply gorgeous with the delicate and intricate coloration, and how the cup and saucer pair up?
&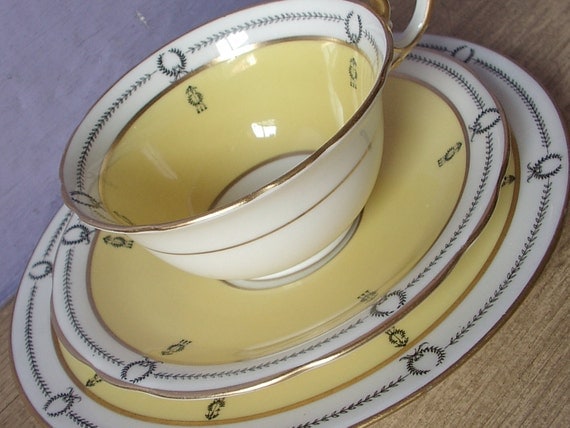 Antique Aynsley cup and saucer plate set

&
This is a trio which means that you get a cup, saucer, and dessert plate as a set. This set is unique in the colors and designs portrayed. Lovely if you like to collect Aynsley or just vividly colored sets.
For the English during Victorian times, tea was more than just a drink. Tea time was a very important social time for all the classes. The way tea was brewed, poured, and served became a ritual in many households. Families handed down special tea serving sets which may still survive today. Tea time in Britain and countries that Britain once ruled is still important today. You can read more about the tea ritual in a wonderful book, A Necessary Luxury: Tea in Victorian England.
&
A Necessary Luxury: Tea in Victorian England

&
Antique Bone China Tea Cup and Saucer
Bone china is a type of porcelain that is composed of bone ash, feldspathic material and kaolin. Bone china is valued for its white translucent color and chip resistance. Because it uses actual animal bone in its mix, it is slowly being made obsolete by many companies.
Spode China Origins
Spode is a Stoke-on-Trent company that was founded by Josiah Spode in 1770. Josiah Spode became known for perfecting under-glaze blue transfer printing which led to the launch in 1816 of Spode's Blue Italian design which the company still makes today. Spode also has been given credit for formulating fine bone china.
&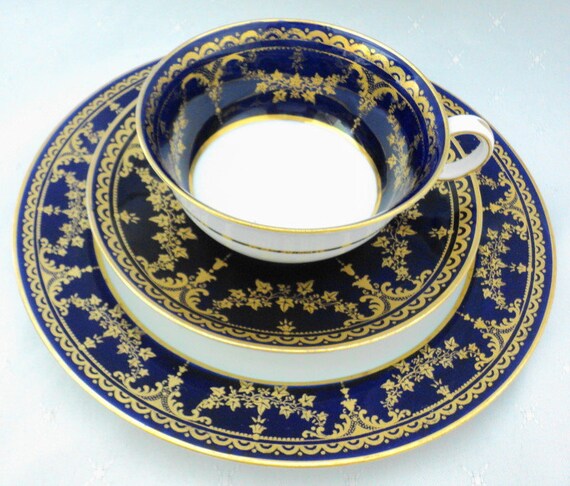 Spode copelands cobalt blue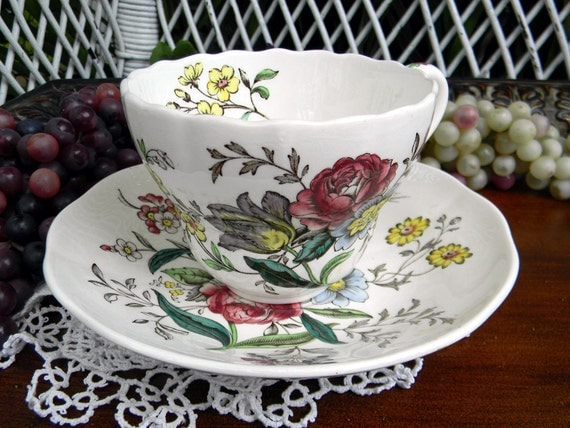 Copeland Spode Great Britain Gainsborough Tea Cup and Saucer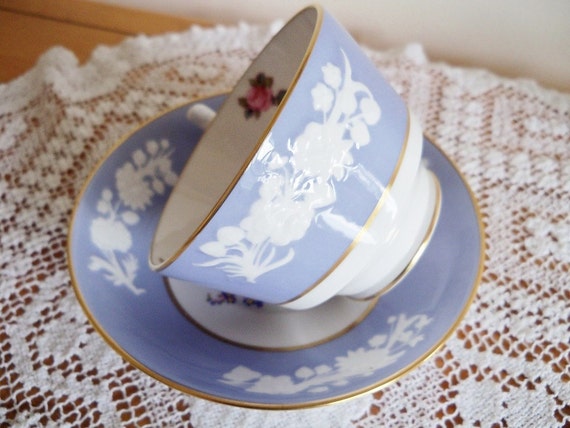 Spode Maritime Rose teacup and saucer set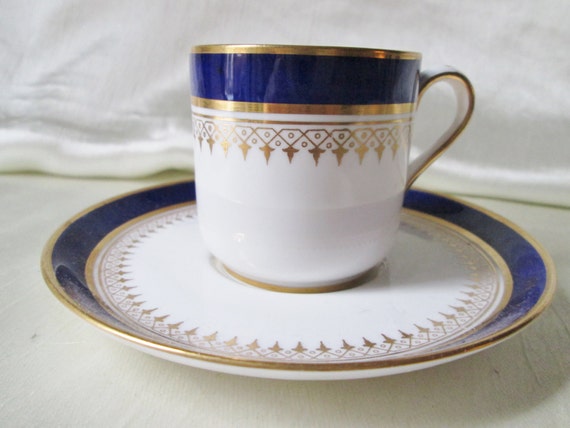 Spode Copeland China Classic Cobaslt Blue and Gold

&
Spode is still in production today. They still make Blue Italian and Woodland designs in Stoke-on-Trent.
Feeling Confident in Ebay Sellers
Finding reputable sellers
If you are new to Etsy, and not sure how reputable a seller is, you can check their selling history by their rating. A good seller of antiques will have proof of authenticity, and be willing to take a lot of pictures to show their offering. Most of them already have the pictures right up on their listing for you to see various views of the item that they are selling.
If you have more questions, sellers can be contacted directly and should get back to you within 24 hours depending on their time zone in relation to yours. Most Etsy sellers are quite reputable, or they would not still be selling. If you are still not sure, start by buying something that is not expensive, then you can see how well they respond to that item before you spend a lot of money.
Etsy is a wonderful place to shop for antique cups and saucers. They are easy to ship, and there are some great bargains. Items are constantly changing, so if you don't find something today, keep looking. It will come up as a listing sooner or later.
How to make soy candles in vintage tea cups
Vintage Tea Cups and Saucers
(Visited 1,457 times, 1 visits today)