Brighten Your Kitchen with Collectible Fiestaware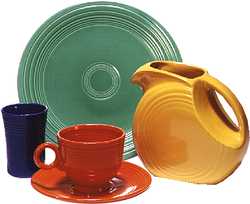 Vintage Fiestaware or Fiesta Dinnerware is one of the brightest, most cheerful and highly collectible dinnerware for your kitchen or dining room. I have a friend who collects Fiestaware, and her kitchen is one of my favorite places to linger, because of the bright colors. Because Fiesta Ware is so popular, it is still highly collectible, and can be found if you know where to look. My favorite place to shop for collectibles is Etsy, because you never know exactly what you will find, and sometimes, you can find the one part of your collection that has been evading your searches.
Most people who collect vintage Fiestaware, actually plan to use it in their own kitchen. So that means that they are looking for either Fiestaware serving pieces, or sets of dishes, bowls, and mugs to use. And just like anything else that gets used in the kitchen, it is likely that some of the Fiestaware pieces will get broken, so it is a good idea to buy a few extra pieces.
Vintage Fiestaware Salt and Pepper Shakers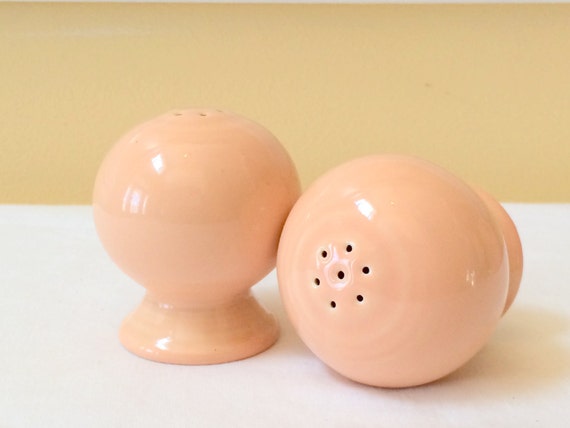 Salt & Pepper Shakers Apricot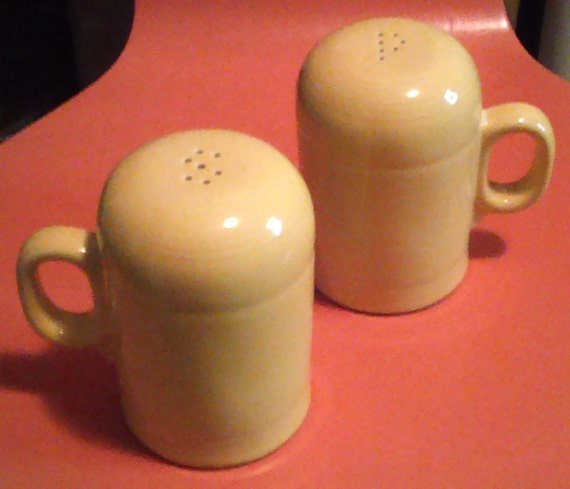 1987 Yellow Fiestaware Salt & Pepper Set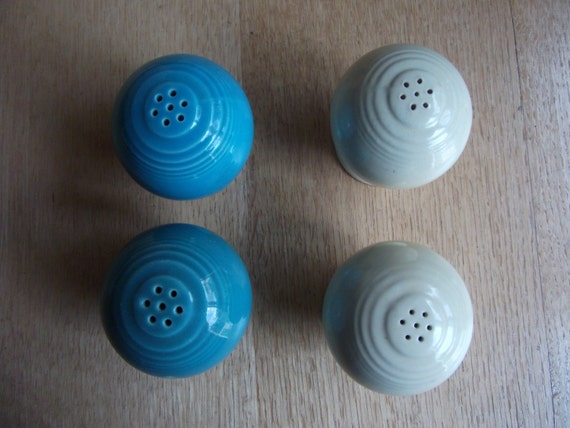 Fiestaware salt and pepper shakers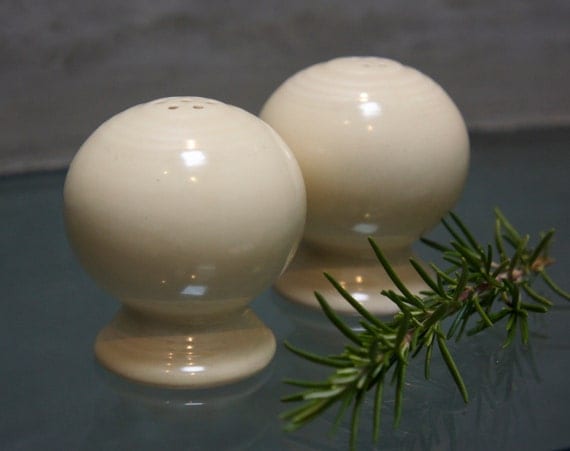 Salt & Pepper Shakers

Fiestaware Pitcher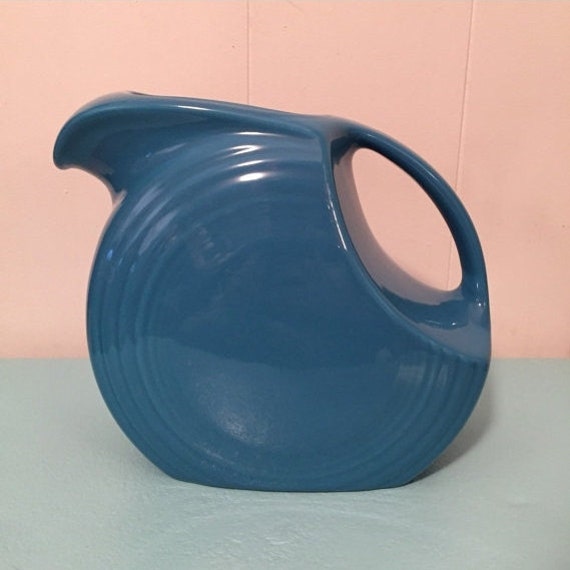 Fiestaware Peacock Disc Pitcher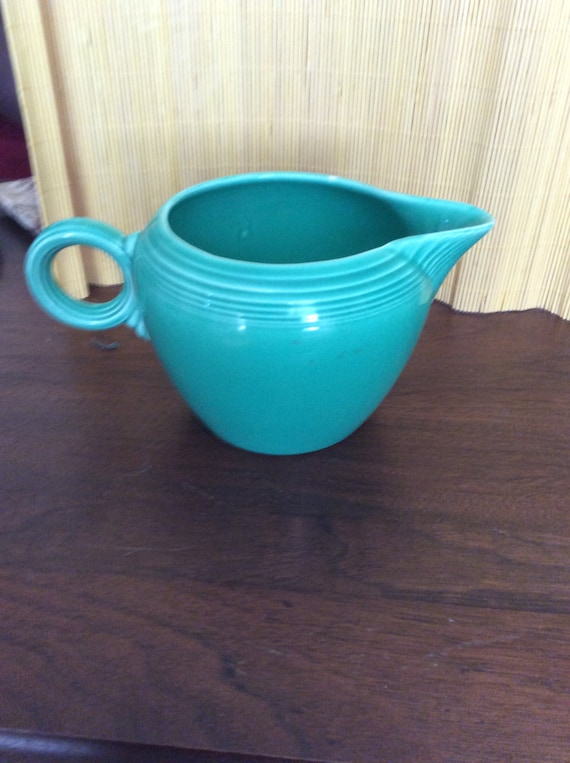 Light Green Fiestaware pitcher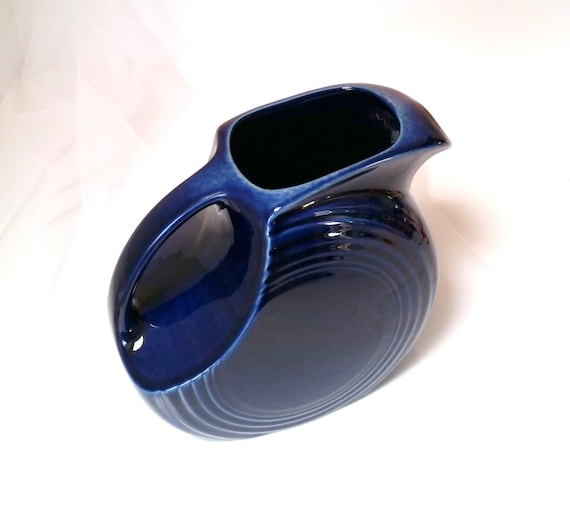 Cobalt Blue Fiestaware Pitcher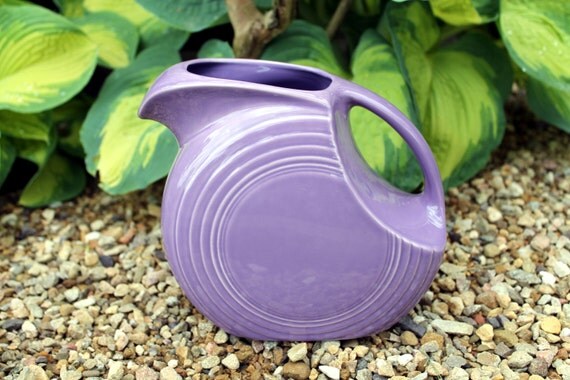 Lilac FiestaWare Pitcher

Fiestaware Bowls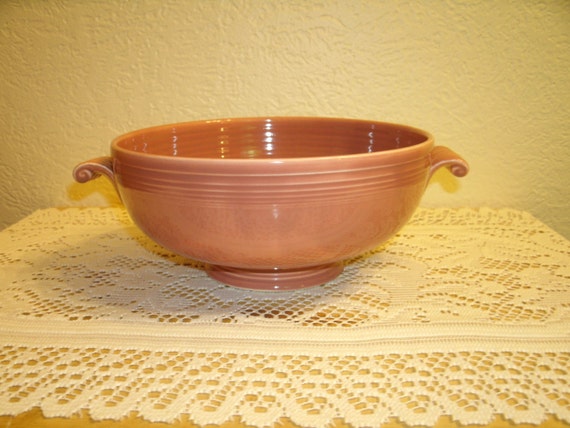 Fiesta Rose Footed Serving Bowl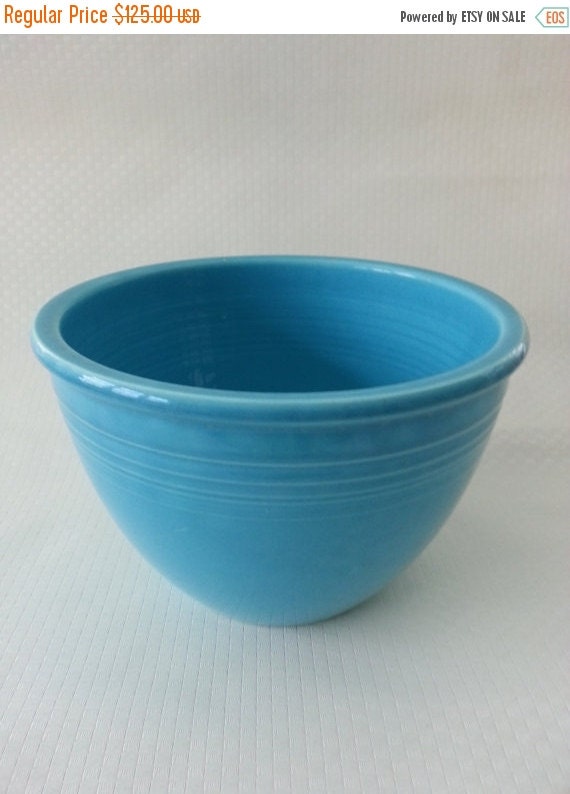 Turquoise Fiesta Mixing Bowl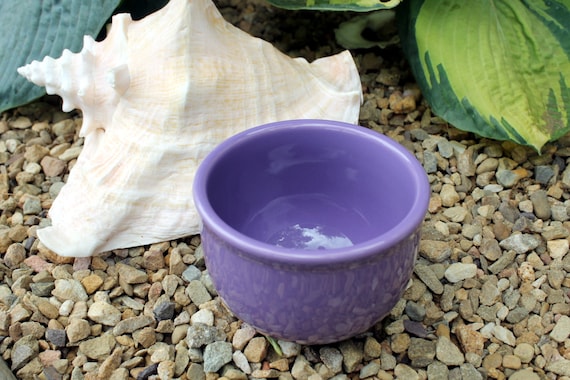 Vintage Fiestaware Chili Bowl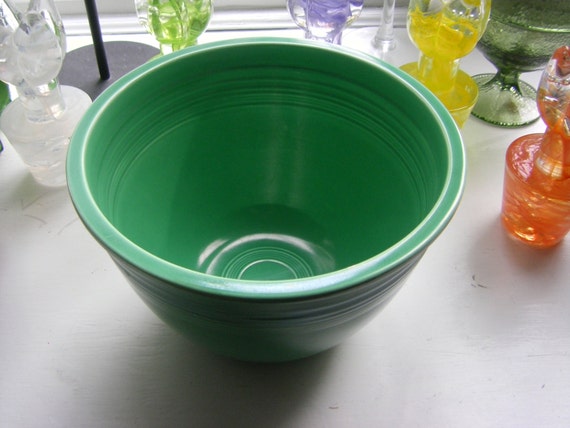 Original Green Fiestaware #5 Mixing Bowl 1938-1942

Homer Laughlin China Company
When Homer Laughlin China Company came out with Fiesta dinnerware in the 1940's, it was a popular dinnerware choice, even though most people were barely getting by due to the Great Depression. Families often scrimped and saved just to buy one piece of Fiestaware at a time. The dinnerware stood out with its bright, highly colorful plates, bowls, cups and saucers, and other serving pieces. After all, everyone needed a shot in the arm during the Depression, and this tableware made people smile.
Although we are not currently in a situation nearly as dire as the Great Depression, having another reason to smile every day is always good.
Warman's Fiesta: Identification and Price Guide
Collectors Encyclopedia of Fiesta
Collector's Encyclopedia of Fiesta, 10th Edition
Fiesta, Harlequin, & Kitchen Kraft Dinnerwares
Fiesta: The Homer Laughlin China Company's Colorful Dinnerware
Here is how Homer Laughlin China Company describes Fiesta:
"Fiesta® Dinnerware was designed by Frederick Hurten Rhead in 1936 and is now among the most collected china products in the world. As originally designed, the line featured art deco styling and bold, bright colors. The product was discontinued in 1973 and reissued in 1986 with new contemporary colors to mark its 50th anniversary."
Fiestaware Sauce Boat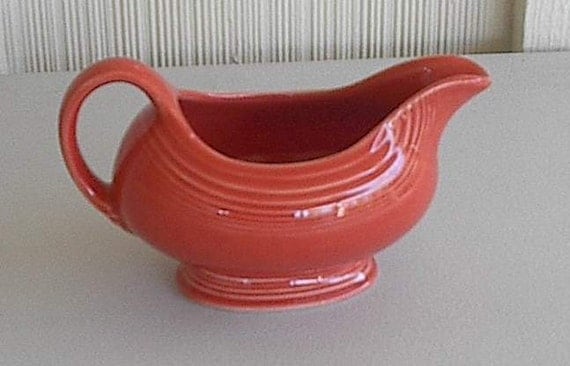 Fiestaware Persimmon sauce/gravy boat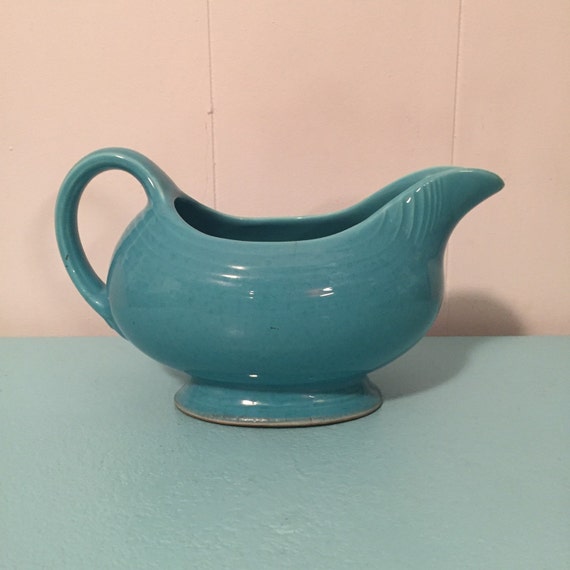 Fiestaware Gravy Boat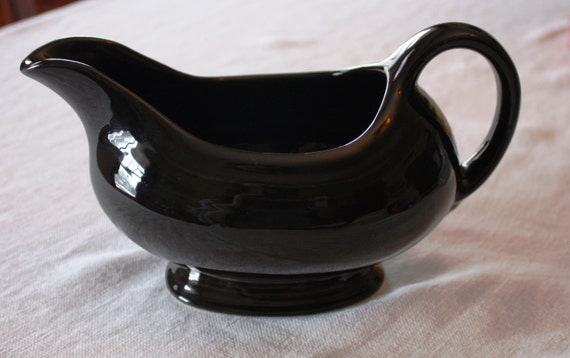 Fiestaware gravy or sauce boat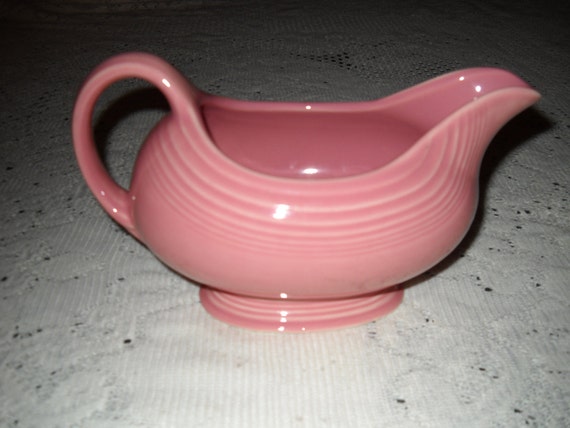 Fiestaware Gravy Boat

Fiestaware Sugar Bowl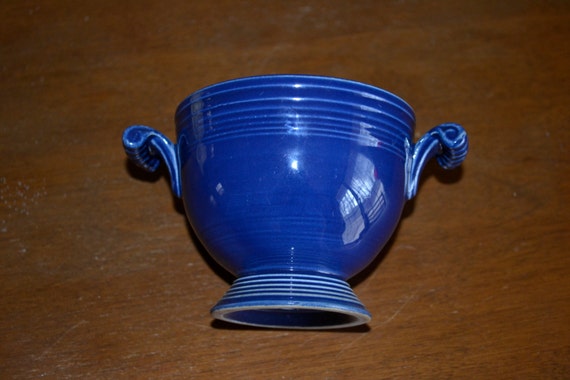 Fiesta sugar bowl…Royal blue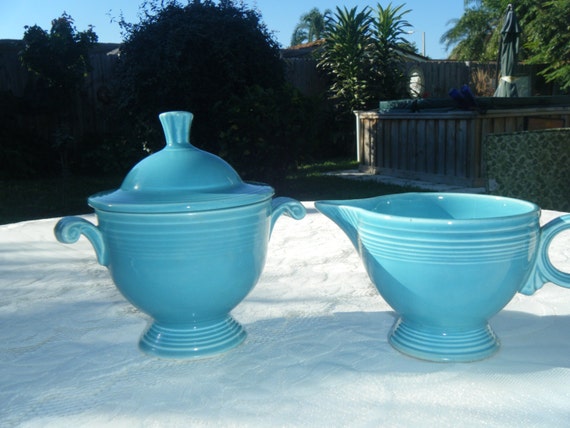 Vintage Turquoise Fiestaware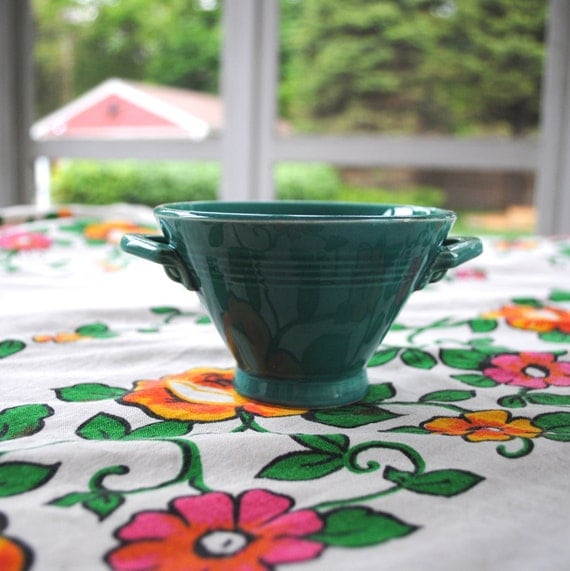 Fiestaware Harlequin Turquoise Sugar Bowl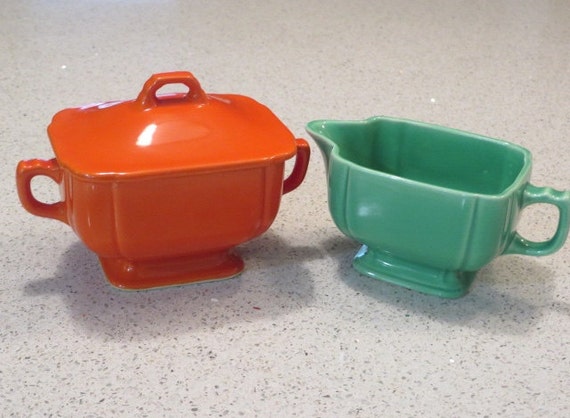 Fiesta creamer and sugar

Bright Vibrant Colors
Fiesta dinnerware is known for the unusual bright, vibrant colors of the plates, dishes, bowls, mugs, glasses, and dessert plates.  Depending on your druthers, you can look for place settings of all one color or you can mix and match, which is what many people do.
There are so many terrific options for mixing and matching the beautiful colors of Fiesta.  You can make a rainbow mixture of yellow, cobalt, red, and turquoise, or a blue mix of cobalt, royal, and turquoise.  There literally are hundreds of combinations of color.
Fiestaware Cups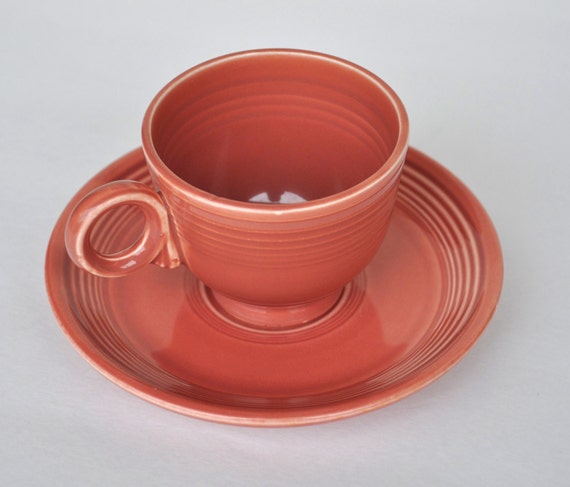 Fiestaware Cup / Saucer 50's Rose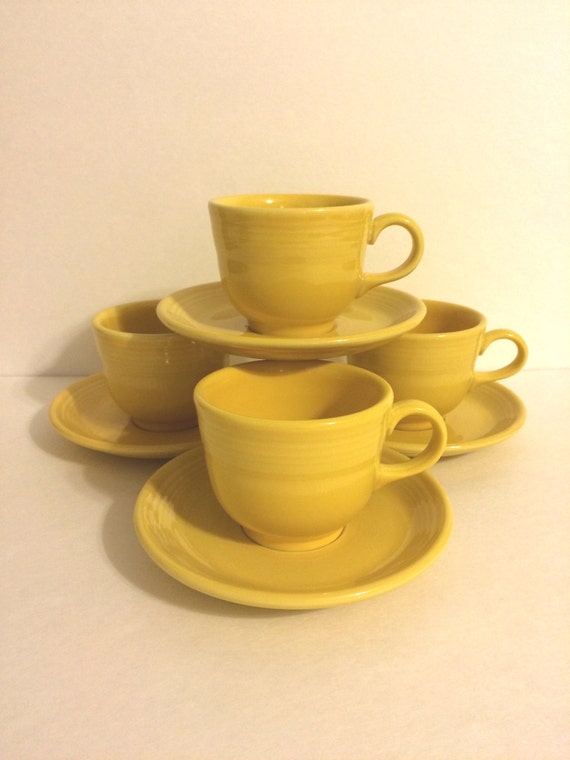 Vintage Yellow Fiestaware Cups & Saucers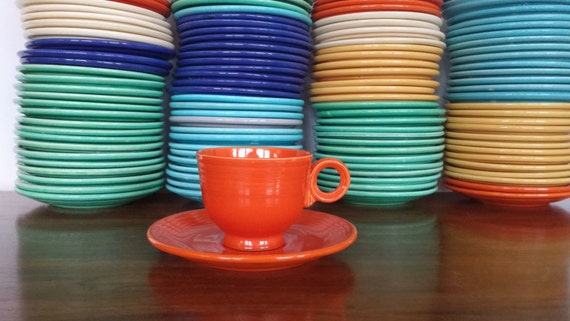 Radioactive Red Fiestaware Cup & Saucer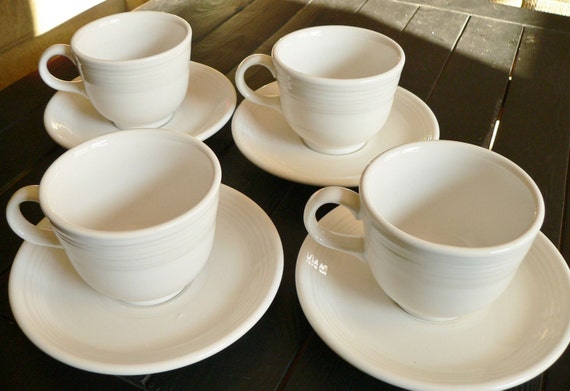 FIESTA CUPS & SAUCERS Set of Four: White

Fiesta Serving Pieces
Fiesta ware has several elegant serving pieces including a sugar bowl, salt and pepper shakers, and cream and water pitchers.  There are also large nesting bowls, and other serving bowls.  In addition, there are serving bowls of varying sizes.
You can also collect Fiesta dinnerware by decade of manufacture.  There are numerous ways to collect.
However, if you are just getting started, I recommend collecting at least one serving piece, because the Fiesta serving pieces will stand out on your table due to their color, no matter what holiday, or occasion you are celebrating.
Fiesta Art Deco Design
Vintage Fiestaware was made with an avant garde art deco design that was bold and different when it was conceived.  Its bold colors and styling were shocking in a pleasant way during an era when many things seemed hopelessly dim and grey.
Fiesta was a small way to brighten up a dismal era, became popular and still is to this day.  Some of the original styling and colors were discontinued in Fiestaware's current incarnation, but can still be found on Etsy, and replacement china companies.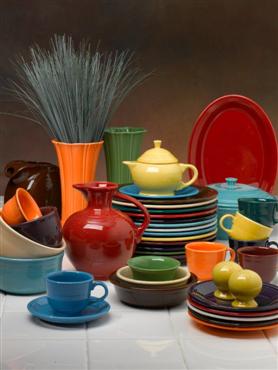 (Visited 1,322 times, 1 visits today)