Antique Vintage Authentic Tiffany Lamps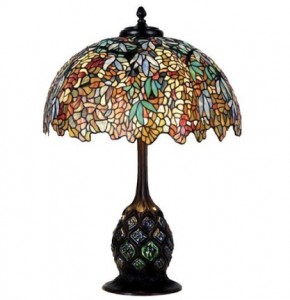 Tiffany lamps have come to mean any stained glass lamp whether it is actually a Tiffany lamp or not. The authentic Tiffany lamps are antiques that were made by the Tiffany Company owned by Louis Comfort Tiffany. For many years, it was thought that Louis Comfort Tiffany designed all of the Tiffany lamps that Tiffany Company created and shipped, but it was discovered through circumstance just a few years ago, that many of the lamps were actually designed by a woman in the Tiffany Company, Clara Driscoll.
The original Tiffany lamps were created using the copper foil method of stained glass craftsmanship. A team of skilled stained glass workers hand made each lamp, a very labor intensive process. Both the materials and the labor to make stained glass lamps are expensive, and an authentic antique Tiffany lamp can be extremely expensive. Tiffany made several stained glass patterns, and several styles of glass lamps. They were all quite beautifully made, and still are an antique treasure to own.

Tiffany Style Lamps (Tiffany Reproductions)
For most people, the cost of the original Tiffany lamps makes them prohibitive to own, however you can find very beautiful reproductions for a much more reasonable price. Below are just a few selections of Tiffany reproductions. Tiffany lamp reproductions are listed as Tiffany style lamps.

Article publié pour la première fois le 22/11/2011
(Visited 405 times, 1 visits today)