Vintage Church Hat Tradition
Wearing a hat to church on Sundays has a long tradition, and Easter Sunday is no exception. Easter church hats are often the first sign of spring fashion. As a matter of fact, because Easter has been a holiday that women wear beautiful and stylish hats for so many years, vintage Easter church hats are a great way to add to your Easter hat collection. Most women keep their Easter hats boxed up carefully to preserve them, so vintage hats are in excellent condition, almost brand new in most cases. Hat styles have changed over the years, so if you are looking for a specific era or style, you can search for that style specifically.
Etsy is a wonderful place to search for a vintage Easter hat. When I started looking, I found a lot of lovely hats in numerous hat styles. This article is only the tip of the iceberg of what you can find on Etsy, but you can get a great idea by looking through the links connected with the article. I searched by entering styles, colors, materials, into the search box for vintage hats. An example is "vintage straw pillbox hat." You can do the same when you search to find a myriad of very affordable vintage Easter hats on Etsy.
This lovely blue vintage straw hat has a wide brim and is filled with the signs of spring, showing lovely pale pastel colors, ribbon, and flowers on the bowl of the hat. This vintage hat is a wide brimmed hat made of straw. Straw hats are cooler to wear in the spring as summer, are more porous, and also let some light through while guarding against the harsh rays of the sun.
&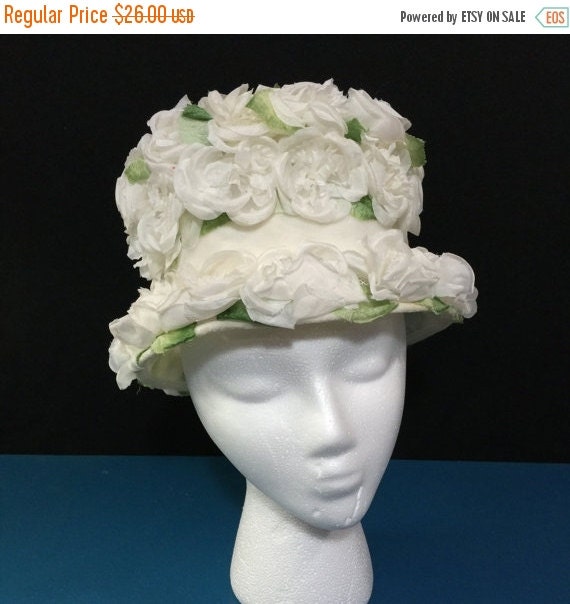 Floral Covered Easter Bonnet 1960s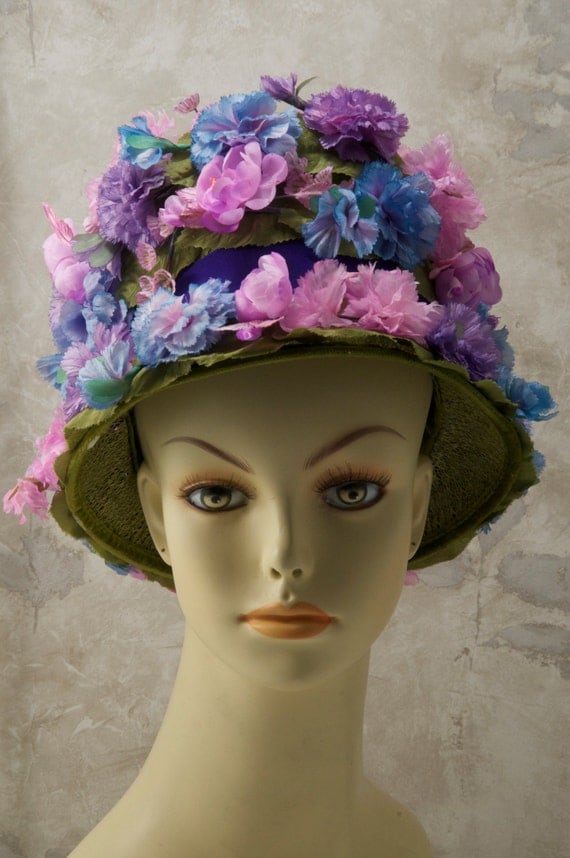 blue floral hat. 1970s, or 60s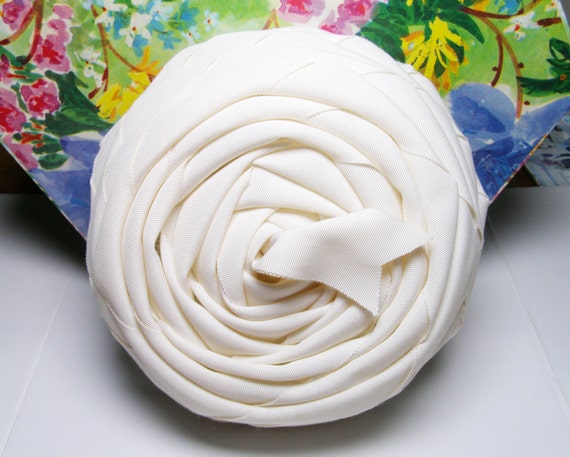 Spring Easter Bonnet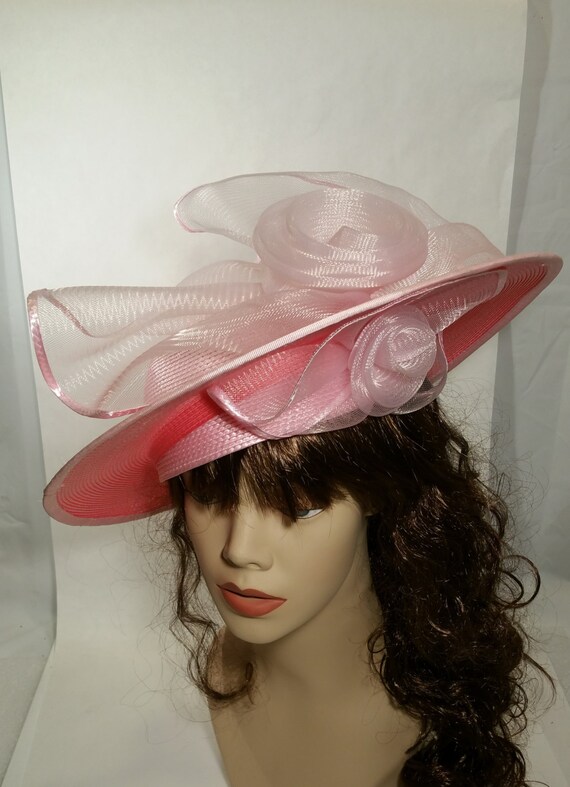 Pink Straw Hat

&
Wide Brim Easter Hats
Besides the introduction of spring fashion and style at Easter, Easter hats serve the purpose of keeping delicate women's skin from being exposed to sunlight in the spring. Porcelain skin was the height of fashion in the first half of the 1900's and vintage Easter hats styles reflect this fact.
Hats were much more widely worn in general, and when Easter came around, ladies had the opportunity to show off their boldest, and most fashionable hats. Easter hats came loaded with ribbons, flowers, and birds to show off the spring, and to celebrate the end of winter.
Subtle and not so subtle competitions were had by many Easter bonnet wearers; their Easter hats showing their status in the community and the church.
&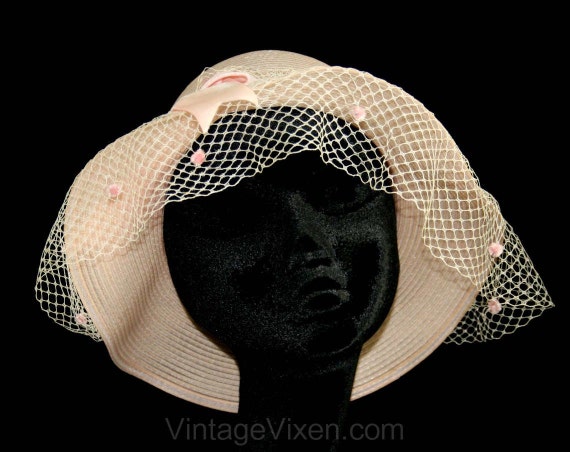 Easter Bonnet – 1960s Hat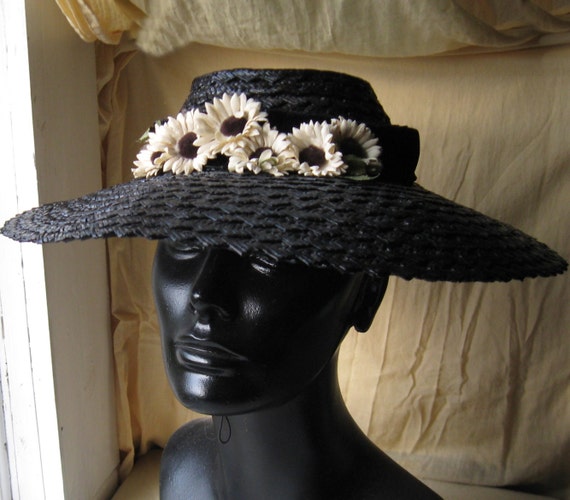 1940s Spring Hat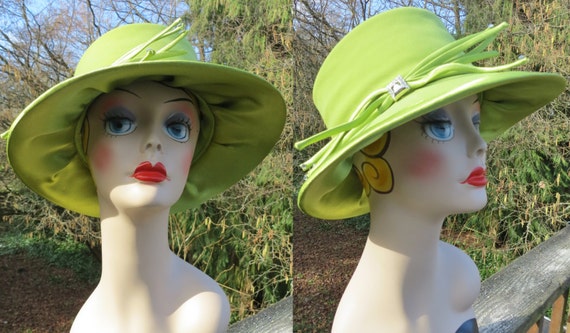 1980s green fedora style hat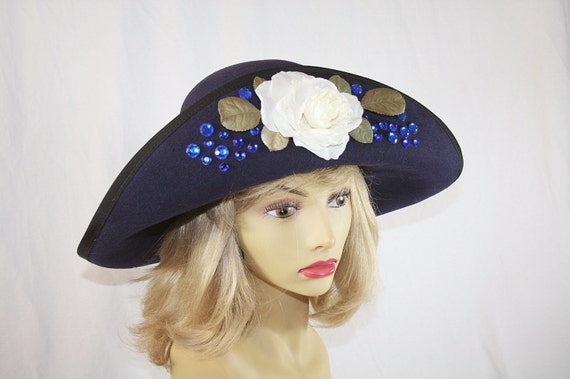 Navy Blue Wide Brim Hat

&
Vintage Easter Hat Materials
Materials in vintage Easter church hats varied depending on the temperature of the region the hats were being worn in. Fashion styles went in and out over the years. However, typical spring fashionable hats would contain fabrics like cotton, linen, and were often woven of straw.
Lace, organza, and taffeta would often cover or drape over the hat to provide shade and depth to the hat's design. Flowers, both real and fake, greens, ribbons, and birds were added for decoration and embellishment. Generally Easter hats were made from pastel colors to signify the beginnings of spring.
Silk Easter Hats
In the early part of the 1900's, silk was used much more than it is now for both clothing and hats. Silk was not nearly as expensive as it is now, and although it had to be hand washed, there were no washing machines at the time anyway.
Silk has the advantage of being a natural fiber that allows the skin to breathe while being worn. So it was the perfect fabric for both men's shirts, women's dresses, and hats in both hot and cold weather.
Silk is very comfortable to wear against the skin, and therefore there are many beautiful vintage Easter hats that are made with silk.
&
&
Black Vintage Easter Hats
Although black is a very stylish color now, in the past it was much more likely to be used for funerals, and evening wear. Women did not usually wear black Easter hats to church. However, if you look carefully, you may still find some black vintage hats that can be used for Easter.
Most vintage Easter hats are in the lighter end of the color spectrum, white, pink, yellow, pale blue, mint green.
&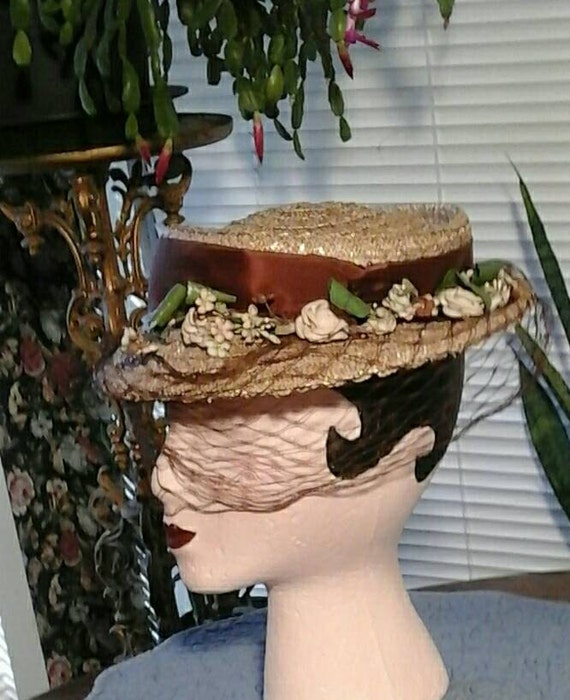 Vintage Ladys Hat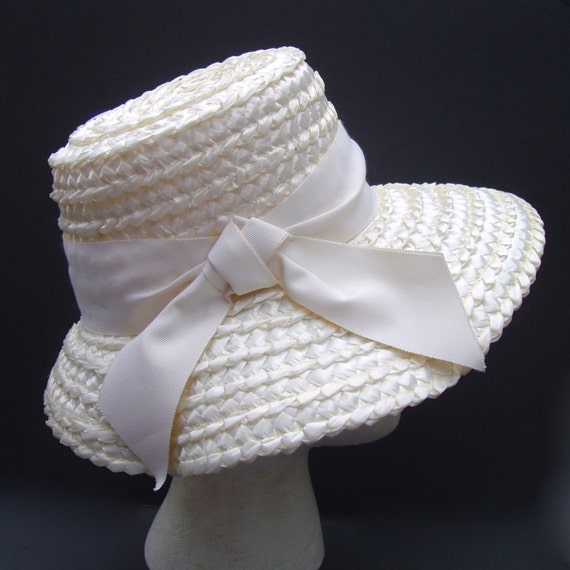 VINTAGE 60s Raffia Hat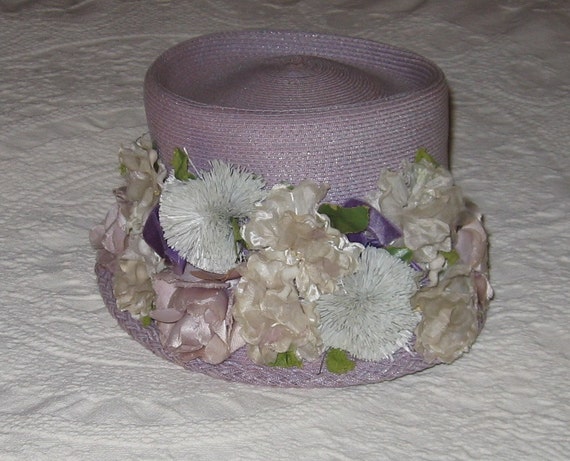 Vintage Lavender Straw Hat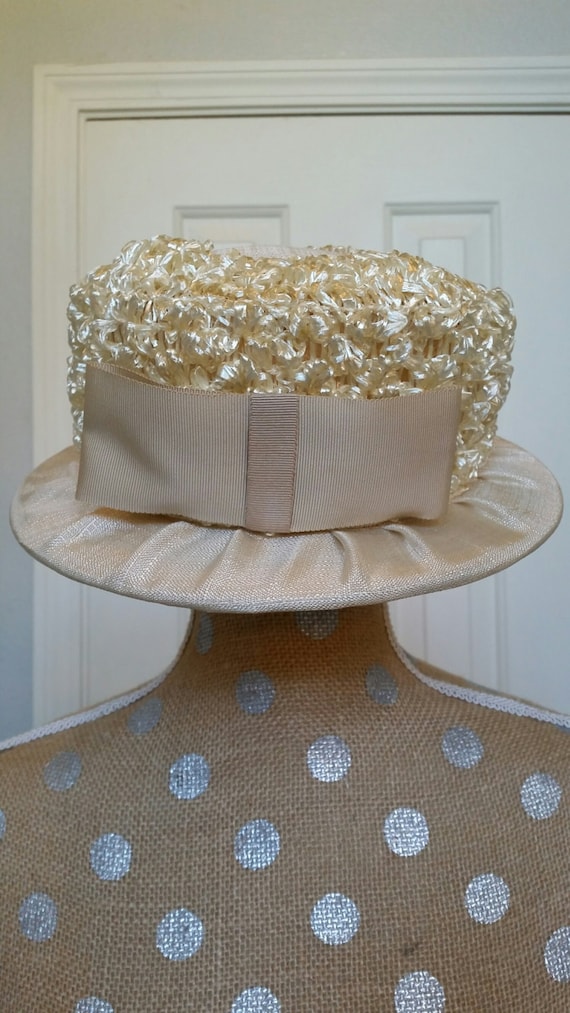 Vintage hat

&
Vintage Ladies Hats | Society Hats
If you can't find the perfect vintage Easter hat by looking for vintage Easter hats on Etsy, try looking for other vintage spring hats. Some other hats that are still worn today by some women, are society hats, garden party hats, and in the summer Kentucky Derby hats. Many of those can also double as Easter church hats.
All of these categories also have a rich history, and there are many, many gorgeous vintage hats to be had. After all, why start from scratch with a brand new hat, when you can buy a perfectly good vintage Easter hat for much less, and it is still in new condition.
&
&
(Visited 675 times, 1 visits today)