Do You Collect 1940s Furniture and Accessories?
Furniture and decorating styles in the 1940s were in many ways both a reaction to, and a result of, world events. The world-wide economic event known as The Great Depression was loosening its grip on the lives and livelihoods of many; at the same time, various countries were ramping up for war. Many strove to capture both the patriotism and sacrifice of the times in their daily lives, including in their home decorating and furnishings. Furniture designers in the 1940s used ingenuity and innovative ideas to capture the spirit of the times. Many of the 1940s designs and materials most coveted today were born of the desire to embody the sense of community and sacrifice, hope for the future and the challenge of creating beauty out of necessity.
&
1940s Vintage Furniture Styles
No one furniture style perfectly encapsulates the 1940s, which is a boon for vintage furniture collectors. The styles range from frilly and froufrou, to sleek and stark, to heavy and solid enough, it seemed, to last a lifetime. If you are thinking of decorating a room, or even your entire home, in 40s vintage, you have a wide range of looks and styles to choose from. Add in period colors and fabrics, and you can recreate just the 1940s vintage look that strikes your fancy.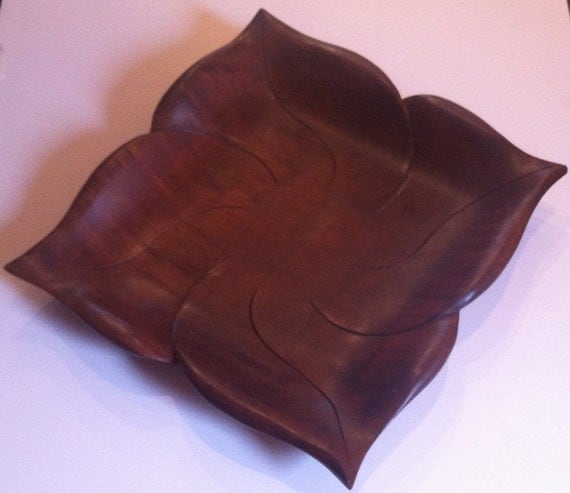 Art Moderne Dan Karner Signed Mahoghany Bowl

&
Art Moderne
Art Deco had new life breathed into it by the emergence of the Art Moderne style. Primarily a creation of United States designers, Art Moderne took parts of the classic Art Deco design styles and both streamlined and emboldened them, bringing out the geometric patterns in many pieces.Where Art Deco was, to many, the province of the wealthy and cosmopolitan, Art Moderne found its way into the homes of the less well-off. Some of the more prominent Art Moderne designers included Norman Bel Geddes, Paul Fuller, Russell Wright and Paul Frankl.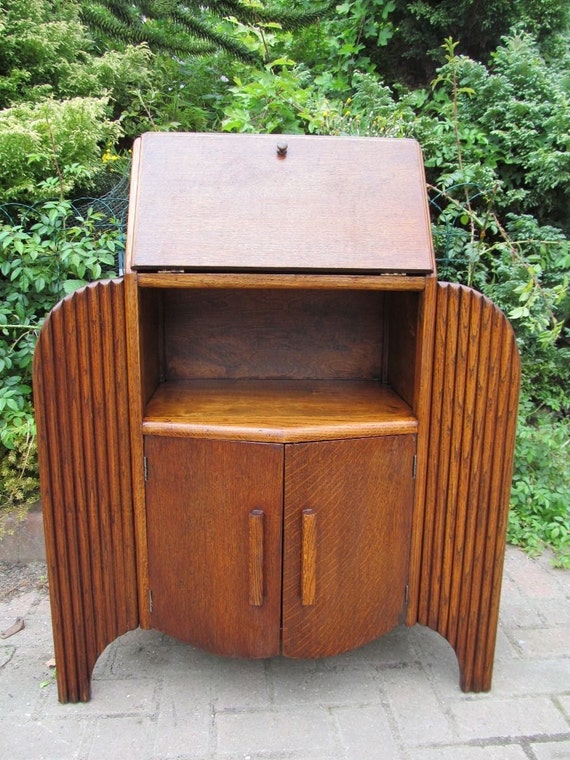 Art Deco 1940's Oak Writing Desk

&
French Provincial
Though sometimes mistaken for antique furniture by casual observers, a lot antique-looking French Provincial is from later eras, such as the 1940s. The sometimes dressy, sometimes casual, always elegant look to the style made it a popular choice for those decorating country homes or city apartments. These days you'll likely hear the look of some French Provincial furniture referred to as "shabby chic." French Provincial style has long been a favorite for decorating bedrooms, and providing that sought after romantic look.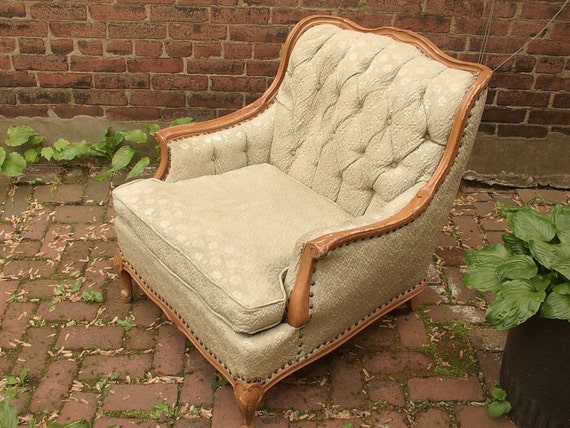 1940's French Provincial arm chair

&
Colonial
In the 1940s and 50s, reaching back to an earlier era for design inspiration and vintage furniture was popular, same as today. Colonial, or Early American, style furniture allowed people a sense of reaching back to a simpler time, when things were different. Or, at least, when they could imagine they were. As with French provincial furniture, some Colonial style pieces are often mistaken for antiques, but are not. This doesn't lessen their popularity, even today, as living room furniture pieces, or dining furniture that sets a certain tone.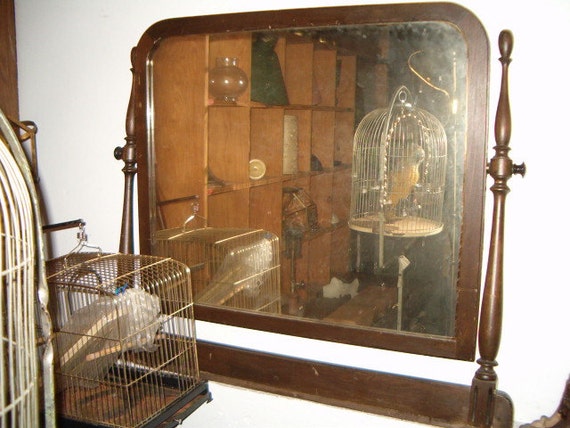 COLONIAL Replica MIRROR-1940's Vintage

&
Danish Modern
The clean lines and innovative shapes of Danish Modern furniture have kept it popular throughout the years. Kaare Klint is considered to have encouraged young Danish designers and furniture makers to look beyond the conventional and create furniture suitable and adaptable for the modern way of life. The resulting pieces were imaginative, made good use of space and materials and gave buyers something new and interesting to go with all the innovations and new creations that resulted from the war effort. Some of the major Danish modern designers include Mogens Lassen, Finn Juhl, Ole Wanscher and Hans Wegner.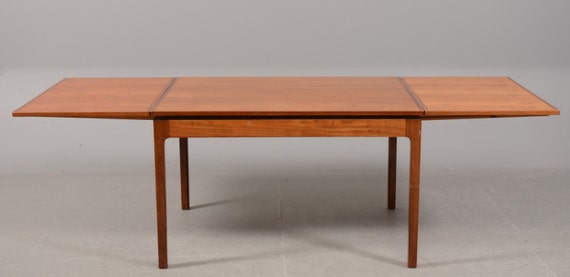 Danish 1940s Extending Mahogany Dining Table by Jacob Kjaer

&
Decorating 1940s Style
Color and fabric are one of the primary keys to setting the tone of your 1940s vintage look. The Art Deco and Art Moderne styles came to be associated with deep-toned colors–various hues of blue, green, red and gold. Though not all the fabric used in decorating in this style contained geometric patterns, they did dominate. Any florals were usually small, elegant, and themselves geometrically placed. The Art Moderne style of vintage decorating tends to emphasize affordable beauty and elegance, rich with color and patterns.
On the other hand, for the Colonial and French Provincial styles, big, blowsy florals and muted colors were fabric standards. Wall color choices tended toward deeper hues, dramatically setting off both the furnishings and the fabric choices. Kitchens decorated in these vintage 1940s looks often contain a lot of wood, with muted reds and golds as the dominating fabric colors. Home, comfort and beauty are some of the feelings that decorators in these styles wanted to bring out.
Creating a vintage Danish Modern look offers any number of possibilities. The streamlined and creative look to vintage 1940s furniture lends itself to many looks. Colors usually stayed in the muted range, though it was possible to find bright reds and golds setting off the blond wood or veneer. The Danish Modern style of the 40s emphasized innovative design, but it was symbolic of a society in flux, changed by war and deprivation and looking forward to creating something new.
Resources on Art Deco Furniture
Art Deco Furniture: The French Designers
The Furniture Bible: Everything You Need to Know to Identify, Restore & Care for Furniture
Art Deco: The Golden Age of Graphic Art & Illustration (Masterworks)
Art Deco (DK Collector's Guides)
American Art Deco: Architecture and Regionalism
French Furniture : From Louis XIII to Art Deco
&
Resources on French Provincial Furniture
Authentic French Provincial Furniture from Provence, Normandy and Brittany: 124 Photographic Plates
A Directory of Antique French Furniture, 1735-1800: Over 300 Illustrations of Provincial, Parisian, and other European Antique Furniture
The Encyclopedia of Furniture: Third Edition – Completely Revised
&
Resources on Danish Modern Furniture
Danish Modern
Making Modern Danish Furniture
Scandinavian Modern
Scandinavian Home: A Comprehensive Guide to Mid Century Modern Scandinavian Designers
Mid-Century Modern: Interiors, Furniture, Design Details (Conran Octopus Interiors)
Mid-Century Modern Furniture: Shop Drawings & Techniques for Making 29 Projects
Danish Modern and Beyond: Scandinavian Inspired Furniture from Heywood-Wakefield
&
House Sales and Garage Sales
Summer is a good time to visit house sales and garage sales to see if you can add to your vintage furniture collection. Often a lot of hidden gems surface when people are moving or selling off furniture and accessories.
(Visited 1,562 times, 1 visits today)