I Love the Color Cobalt Blue When Combined with Glassware
Cobalt is my favorite color especially in glassware. I am a glass lover to begin with because of the way any color is so vibrant in glass. But when it comes down to it, I just love cobalt. Cobalt blue glassware is so distinctive and elegant in color, and is a perfect setting for fine dining.
I like to collect cobalt glassware of all types, but lately I have been investigating cobalt depression glassware, and other cobalt antique glassware.
 Bormioli Rocco Murano 9-Ounce Cobalt Blue Beverage Glass, Set of 4
 Bormioli Rocco Murano Blue Marbled Glass Dessert Plate, Set of 6
 Bormioli Rocco Murano Salad Bowls, Blue, Set of 12
&
Just to take a sidestep for a minute, if you look at the picture above, you can see why cobalt is so distinctive in glass. The color really shows up well and looks great. This glass above is a Bormioli Rocco Murano Beverage Glass which is a modern glass made with cobalt. It shows the color flowing through the glass well. Modern glassware stylistically is very different from vintage and antique glassware, but many of the techniques to make glass are still the same. Glass has very unique qualities because it is a solid and a liquid, so it means that the methods to form glass have not changed much over the centuries.
In this article, I am going to share what I like about cobalt blue glassware. I do not want you to think that I am a glassware expert, just that I am sharing my love of cobalt glassware.
Cobalt Blue Pigment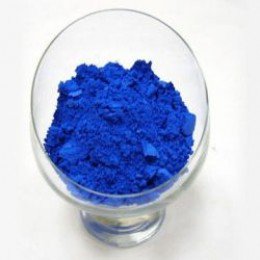 Cobalt blue is a very costly and extraordinary stable pigment of pure blue color discovered by Thénard in 1802. It is now the most important of the cobalt pigments. It has been used in glassware throughout history to this day, and you can see why, it is just striking.
Cobalt blue glassware was one of the colors used during the making of depression glassware in the 1930s and 1940s. Glassware was made differently back then, with molds and pressing the glass into the molds. Many of the designs famous in depression glass cannot be made today.
If you are looking for cobalt depression glassware, it is very hard to find in antique shops. Other colors of depression glass are more available, but you can still find in on the internet. Etsy is a great place to look. I have listed some findings on this article. Much of the popular collectible pieces of cobalt depression glassware were made by the Hazel Atlas Glass Company.
 Cobalt Blue Glass Edition (Schiffer Book for Collectors)
 Bristol Blue: The story of a remarkable cobalt blue glassware
 Cobalt Blue Glass (Schiffer Book for Collectors) by Monica L. Clements (1999-01-03)
&
Bristol Blue Glass
Bristol Blue Glass is both a style and a manufacturer. Bristol blue glass comes from Bristol in Britain from the time of the 1600's. Cobalt was imported from Saxony, and blown into medicine bottles. At the time, the color blue was associated with wealth, so the Bristol Merchant Venturers adopted it as their symbol. That was the beginning of the name, "Bristol Blue."
When lead crystal was patented, glass makers combined the new lead crystal with cobalt, to perfect a high quality blue glass. This became known as Bristol Blue no matter where it was made.
Signed pieces of the Bristol Blue glass are now considered valuable by collectors.
Cobalt Blue Sea Glass
Cobalt blue sea glass primarily comes from old medicine bottles which were made in dark glass to help keep medicines from deteriorating due to sunlight. Phillips Milk of Magnesia, Noxema, Bromo Seltzer, even Alka Seltzer used to come in a tall blue glass tube. Many medicines and even poisons were bottled in cobalt blue glass. One of the more rare colors of sea glass colors is very hard to find on beaches now.
1 In 200 – 300 Sea Glass Pieces Found Will Be Cobalt Blue.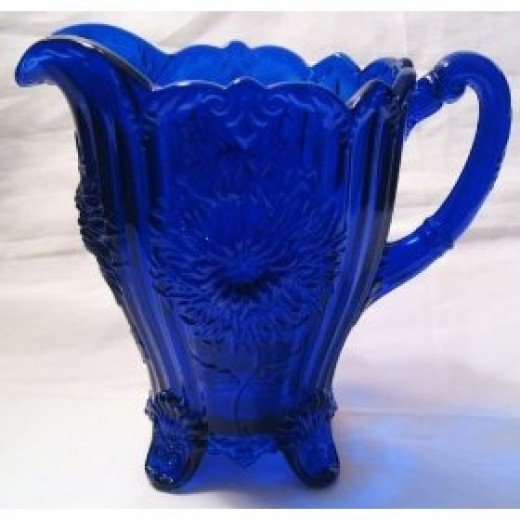 The Footed Pitcher above measures 8 inches tall and 9 inches wide. It is very detailed and heavy. This pitcher was hand made in the USA by Mosser Glass. Less than 100 were made in Cobalt Blue Glass.
I hope that have enjoyed this eclectic collection of some of my favorite cobalt glassware. I will be adding to it as I find more information and items, so keep checking back. Which ones are your favorites?
History of the Color Cobalt Blue
Cobalt blue is a beautiful, cool blue colored pigment that is made by using cobalt salts of alumina. It is a cobalt oxide-aluminum oxide whose chemical name is Cobalt(II) oxide-aluminum oxide.. Cobalt blue pigment is made by a process called sintering where the cobalt salts of alumina are heated to a temperature of 1200 degrees Celsius.
Cobalt Blue Used As A Pigment
The cobalt blue pigment is known for being an extremely stable pigment and is often used as coloring agents for ceramics, paint, and jewelry. It is also a very costly pigment and the most valuable of all cobalt pigments. When used on glass, transparent glass is tinted using a cobalt pigment smalt that is silica based. When used in coloring glass, very little of the cobalt blue is required to create intense color.
Cobalt Blue In History
The history of cobalt blue dates back to the Tang Dynasty in China, and has long been used in the making of Chinese porcelain. The earliest example of cobalt aluminate glass dates back to 2000BC and was discovered in ancient Mesopotamia. Cobalt oxide smalt has also been found in pottery from ancient Egypt. Cobalt blue first became used as the name of a color in the English language back in the year 1777. Cobalt blue can actually be toxic when inhaled or ingested, so people making pottery need to take the necessary precautions when working with the material.
Uses For Cobalt Blue
Aside from uses in the art world for paints, ceramics, and jewelry, cobalt blue is also used as a pigment in blue concrete because of its superior chemical stability in the presence of alkali. It is also used in the field of ophthalmology as a filter in an instrument called an ophthalmoscope which illuminates the cornea of the eye after flourescein dye is used, to help the doctor detect such issues as ulcers or scratches on the cornea
Collecting Glass
Many people collect antique or vintage glass as a specialty. You can collect in many different ways including color.
(Visited 819 times, 1 visits today)