Metal and Vinyl Vintage Lunch Boxes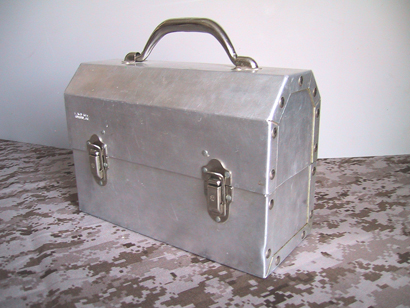 Are you old enough to remember this lunch box on the left? My father carried a lunch box just like this one to work for over 30 years. The lid is rounded to allow room for a thermos, and that left the rectangular bottom for an ice pack and a real man's lunch.
Vintage lunch boxes that were made in the 1940s through the 1960s were very durable, most often made of aluminum or tin, and sometimes made of vinyl. Many vintage lunch boxes came with a matching thermos that would hold a drink hot or cold for hours.
Men would carry plain heavy duty lunch boxes like the one pictured above to work whether they worked in a factory, in construction, or in an office. Women, of course, primarily stayed at home raising their families, so there wasn't a lot of lunch box designs for women.
Children's lunch boxes were usually square, with a metal or plastic handle, and a cartoon or TV show design on the front and back of the lunch box, that was embossed right into the metal.  Advantages of a metal lunch box were the durability.  You can bang your lunch box, drop your lunch box, and throw it in your school locker without doing much harm other than dinging the metal.
Unfortunately the thermoses were another story.  Thermoses were lined in glass, and much more easy to break.  The thermos lids were made of thin plastic, shaped like a cup so that you could pour your drink into the cap, and those also broke easily. Keeping a set of lunch box and thermos together undamaged was actually pretty difficult.
Vintage Lunch Boxes from the 1950s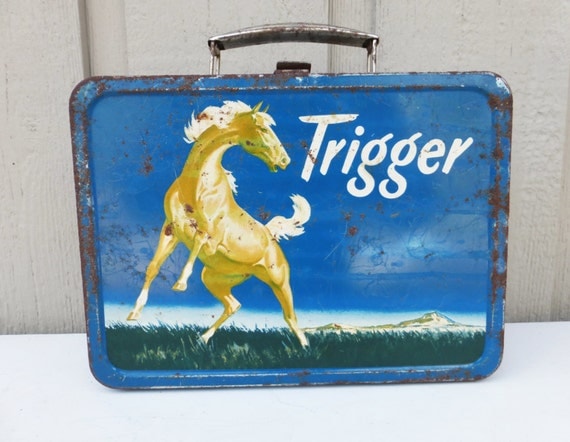 Trigger Lunch Box, 1950s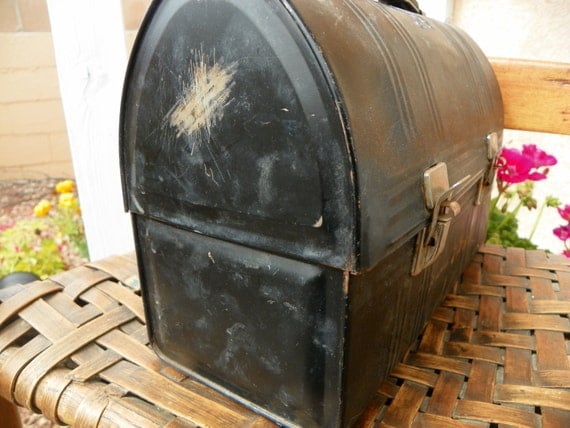 Black metal lunch box 1950s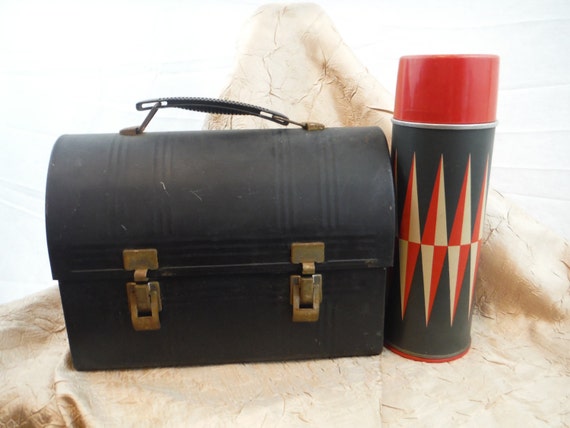 1950s J.C. Higgins Thermos/Aladdin Lunch Box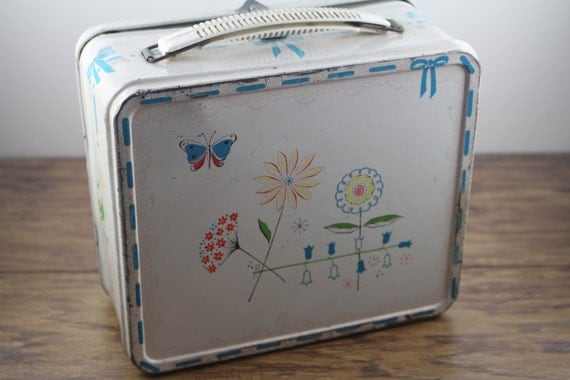 1956 Junior Miss Metal Lunch Box

Western Lunch Boxes
Popular themes for boys lunch boxes in the 1940s, 1950s, and 1960s were not that far from what boys like today. Lots of TV show characters, at the time westerns were very popular, and cowboys.
There weren't as many cartoon characters as there are today, but the cowboys were widely popular. Who wouldn't want to be a hero like Hopalong Cassidy, Daniel Boone, Davy Crockett, or the characters from Bonanza?  The Lone Ranger with his horse, Silver were also on television.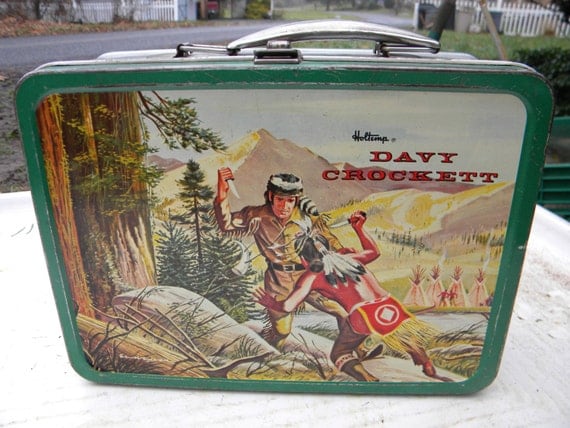 DAVY CROCKETT metal LUNCH box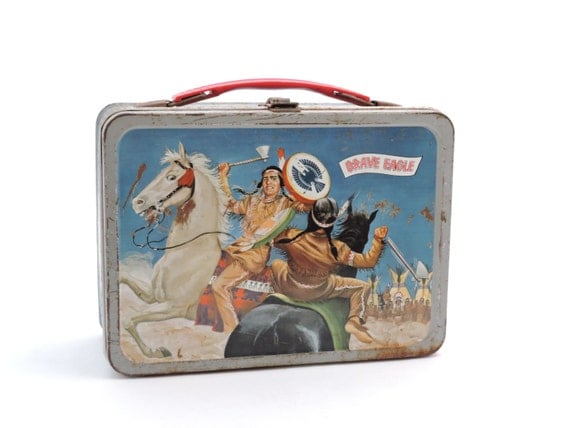 Vintage 1950's Brave Eagle Metal Lunchbox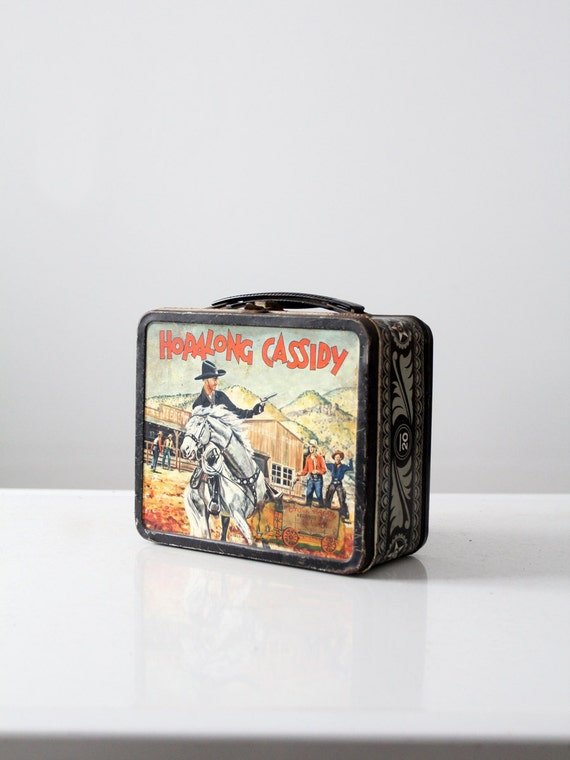 Hopalong Cassidy lunch box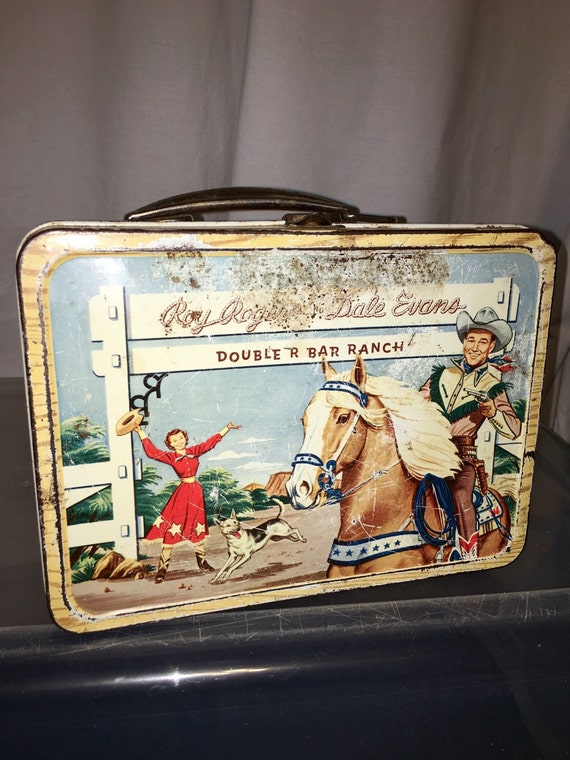 1950's Western Roy Rogers and Dale Evans

Another popular tv show is still in reruns today, The Munsters, who were great favorites to appear on lunch boxes.  The Munsters were a lovable family of monsters, who were fun and scary at the same time.
Barbie was Popular Too
Barbie has been a girls' favorite character for decades, and she was already appearing on girls' lunch boxes during the era of the 1940s to the 1960s. Barbie's signature color pink had not yet been discovered, and most of her designs were on a black background.  Lunch boxes were made with Barbie and several of the other Barbie characters, like Skipper and Midge.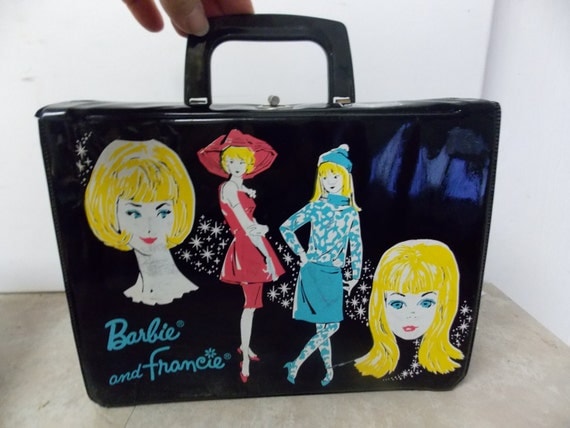 Barbie and Francie Mattel 1965 Vinyl Lunch Box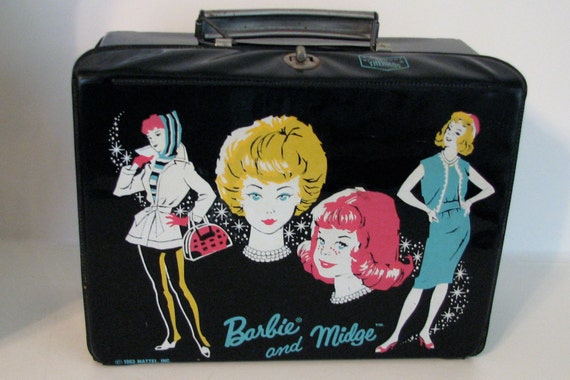 Vintage Barbie and Midge Lunch Box 1963

Generic designs covered many lunch boxes during the 1940s, 1950s, and 1960s. Lunch boxes often had designs like checkerboard, plaid, tweed, and simple patterns embossed into the metal. Some of these designs were colorful, while others were just a texture pressed into the metal.
Vintage Cartoon Character Lunch Boxes
Although there were fewer cartoons on TVs in the 1940s – 1960s, and fewer television stations, the cartoons that played were highly popular.
Rocky and Bullwinkle were huge favorites, and have become highly collectible today. They were popular with both adults and children.
Another favorite cartoon was Popeye the Sailor Man, with his girlfriend Olive Oil, and his nemesis Bluto. "I fight to the finish cause I eat my spinach" was quoted over and over as the reason that Popeye was so strong.
Both the cartoons The Flintstones, and The Jetsons were born during this era as well, and made their way onto lunch boxes of the time.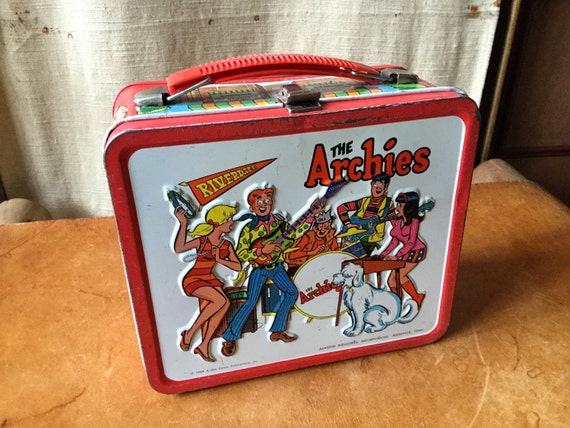 Vintage Archies Riverdale High Lunch Box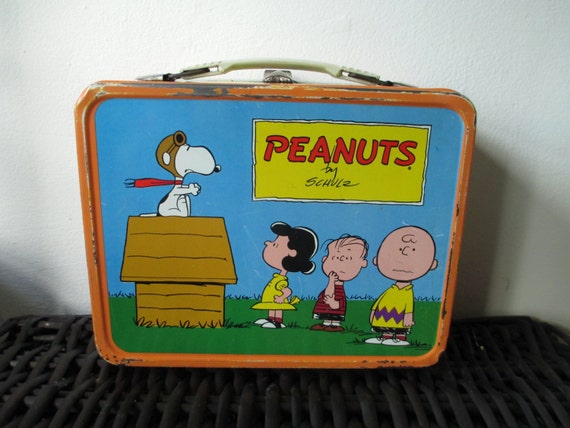 Vintage 1950 Peanuts Metal Lunch Box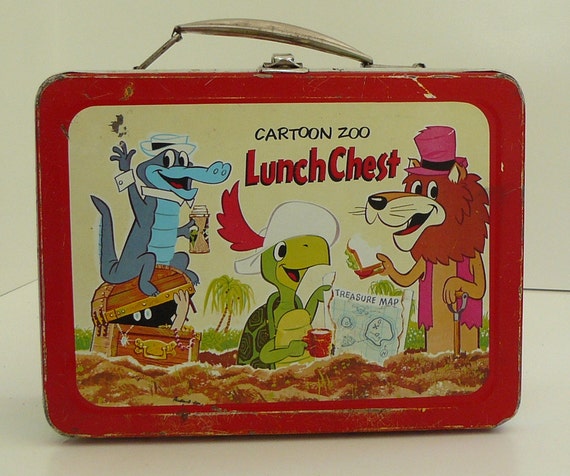 1962 Cartoon Zoo Lunch Chest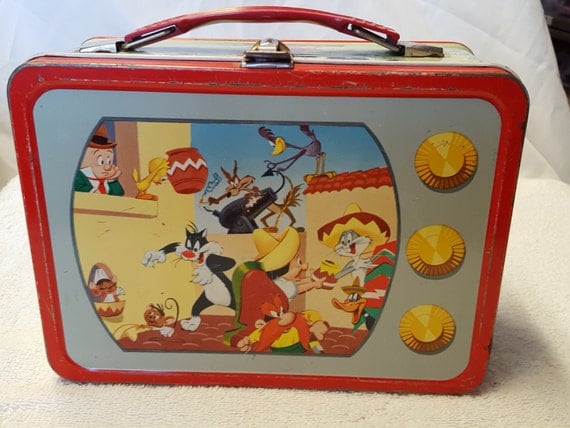 1959 Warner Bros. Looney Toons

Astronaut Lunch Boxes
Although Neil Armstrong did not actually walk on the moon until 1969, astronaut voyages were well documented during the 1960s.
Many small boys dreamed of one day becoming an astronaut when they grew up, and those dreams found their way onto many vintage lunch boxes during the 1960s. The themes of space travel, rocket ships, astronauts, and what astronauts might find once they traveled into space was a popular lunch box theme.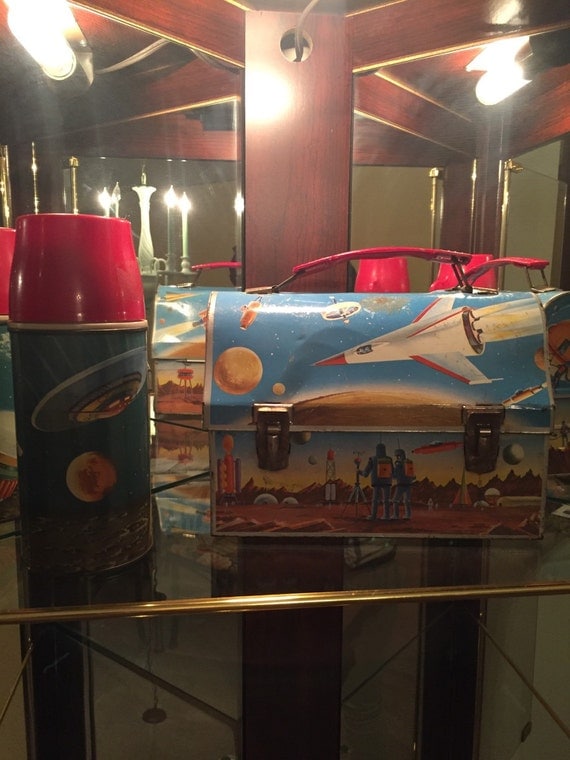 1960 Outer Space, Galaxy Metal Lunch Box

The lunch box shape pictured above with the domed lid, became less popular for children as time went on, and mostly used for adult lunch boxes.  I think that they were just too unwieldy and too heavy for children to carry.  Children's lunch boxes primarily were the square type of metal box that fit a smaller thermos inside.
Vintage Lunch Boxes from the 1940s
[phpbay]Vintage Lunch Box 1940's, 4, "", ""[/phpbay]

(Visited 5,474 times, 1 visits today)