Collectible Vintage Stemware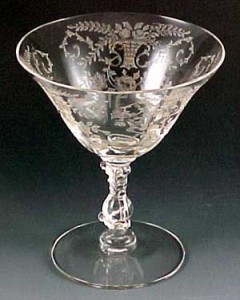 Are you a collector of vintage stemware? Or would you just like to get some beautiful wine glasses or crystal stemware for a great price? If so, searching Etsy's treasure trove of antique and vintage wine glasses and stemware is the best way to find great vintage glassware at terrific prices.
For most people, wine glasses and crystal stemware is something that rarely gets used at home. What that means is that they end up sitting on shelves gathering dust and staying in excellent condition. For the buyer, that is excellent news because you can find entire sets of vintage and antique crystal stemware for cheap, cheap prices on Etsy in perfect condition.
Why should you settle for the crystal stemware that you got when you were married 15 years later? Or if you are not married, why wait? Having a party for two or more deserves some special wine glasses, and there are so many beautiful vintage wine glasses waiting to be used. And everyone knows that wine always tastes better when it is in the proper glass.
Vintage Crystal Stemware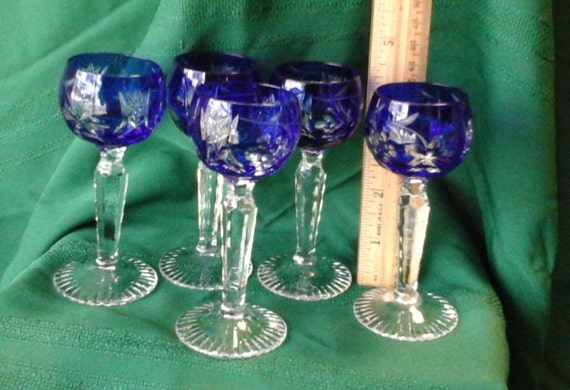 Cobalt Blue Stemware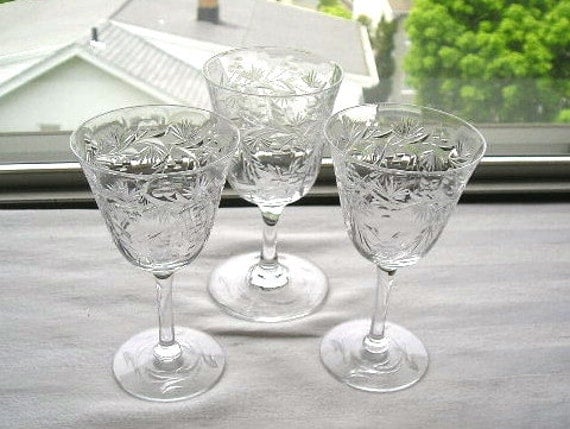 Crystal Wine Glasses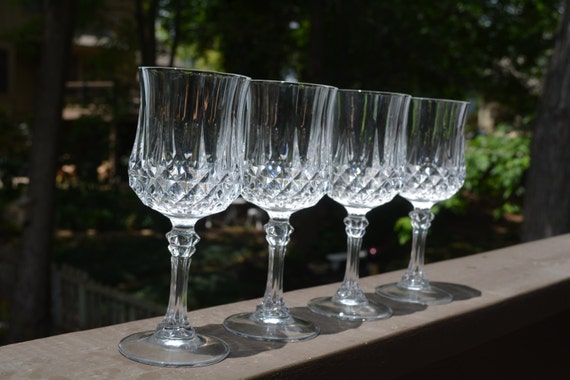 Long Champ Stemware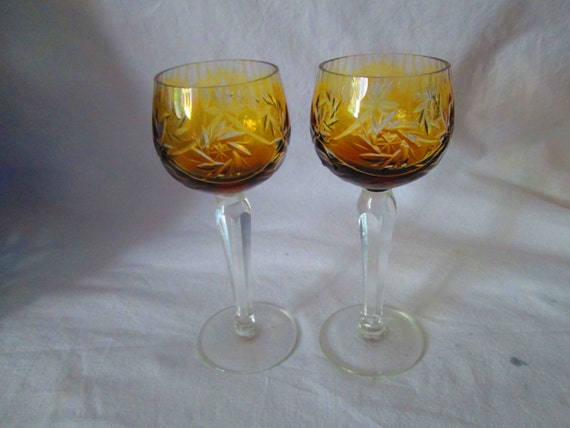 Amber Bohemian Cut Stemware

Beautiful Etched Stemware
Etched crystal stemware is really lovely for a more formal party like an engagement party or wedding shower.  The etching on crystal stemware gives it a delicate look, and is available on many crystal stemware patterns that are obsolete now.
Stemware can included wine glasses, cordial glasses, or water goblets.  Often you can find matched sets on Etsy that will complement each other.  But if that is not possible all at one time, you can start a collection of etched crystal stemware, and continue searching for other pieces as they come up on Etsy.
I recently heard a story from a friend of mine who picked a crystal pattern when she got married, then promptly after her wedding, the pattern became obsolete.  She has been able to fill in all the missing pieces from her crystal stemware set from sellers on Etsy within a few years.  My friend is thrilled.
Vintage Etched Crystal Stemware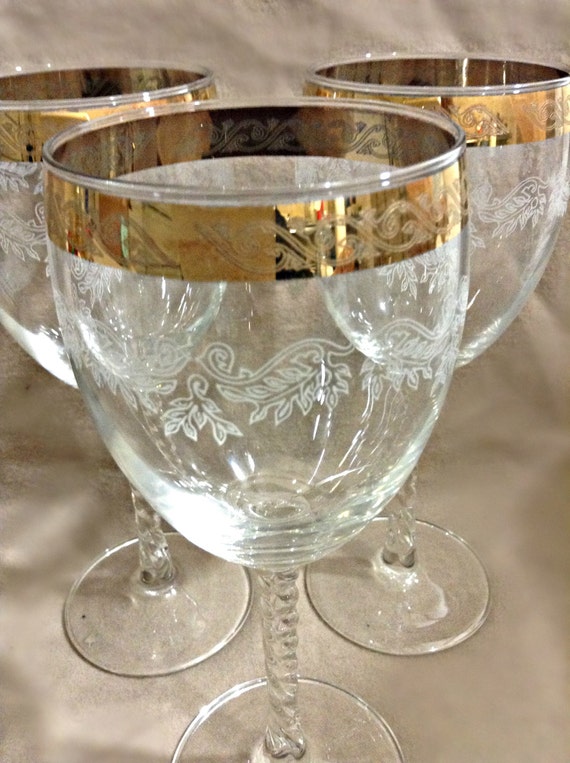 Gold Rim Stemware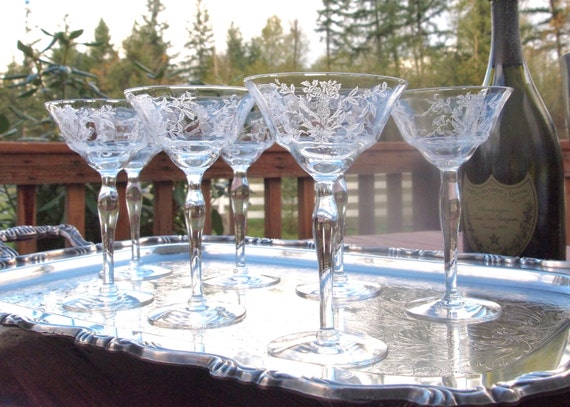 Champagne Saucers Coupe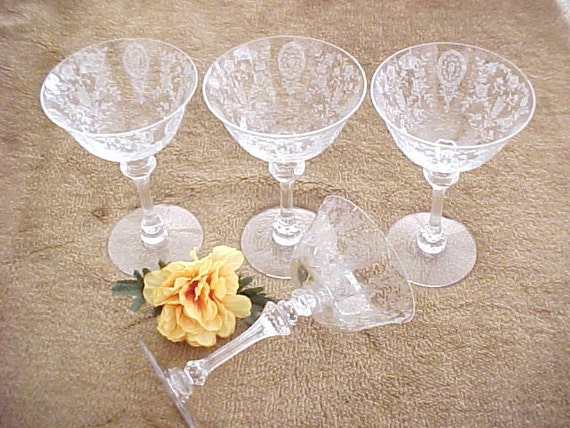 Tiffin June Night Champagnes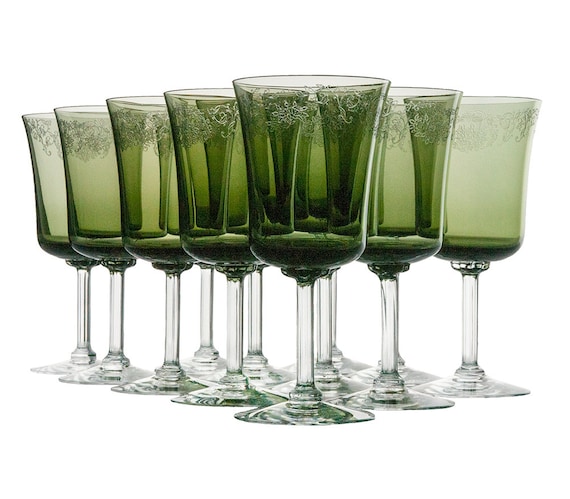 Fostoria Cameo Goblets

Colored Glass Stemware
Many of the most beautiful handmade vintage glassware and stemware is made of colored glass with several popular colors like cobalt blue, ruby red, and varying shades of green glass. The vintage glass colors are stunning, and the color is actually part of the glass, not coated like some glassware is today.
You may even find the same glassware in different colors to mix and match. Finding whole sets of vintage colored glass is more rare some colors and patterns than others, but if you search carefully, you can collect them over time.
Another quality to look for is opaque colored glass.  Glass can be either transparent or opaque in the nature of the glass and some of the opaques are unusually beautiful.
Vintage Green Wine Glasses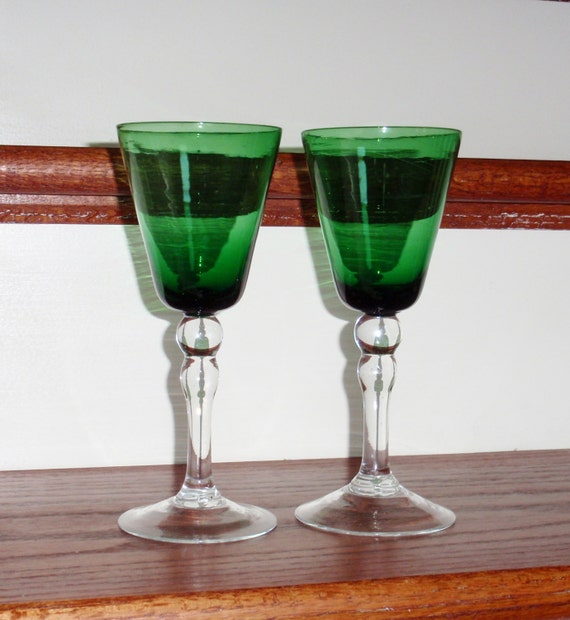 GREEN CRYSTAL WINE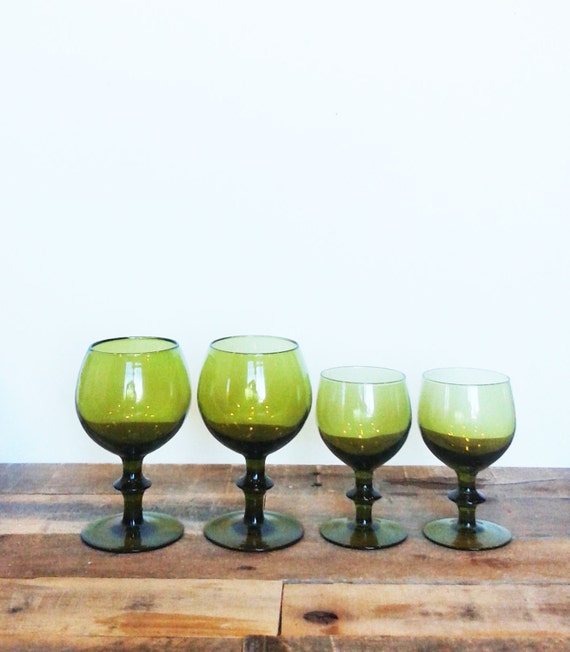 Green Wine Glasses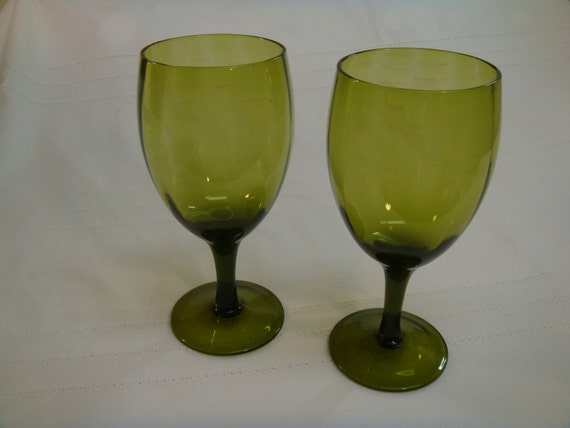 Wine Glasses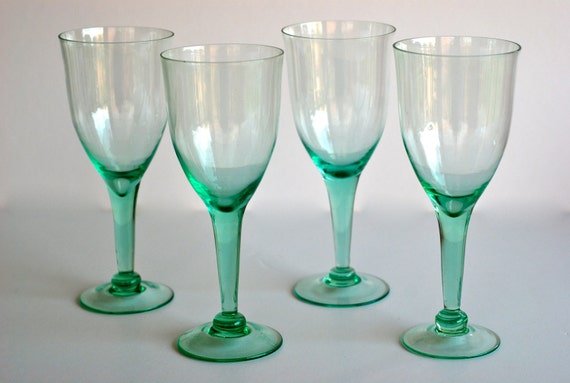 Wine Glasses Green

Cobalt Blue Stemware
Cobalt blue stemware is one of the more popular glassware colors. Even today, you can find some modern patterns with cobalt blue glass. However the vintage cobalt stemware is simply stunning, and is available in many different glassware and stemware patterns. Most cobalt glassware is transparent, although cobalt is a very dark color so hard to see through. You may be able to find some opaque cobalt blue stemware from time to time.
Another very beautiful color is pink glassware. Pink was a popular color during the Depression and stemware can be found from several Depression glass patterns. Some of the pink glass is etched, and very ethereal looking.
Vintage Ruby Red Wine Glasses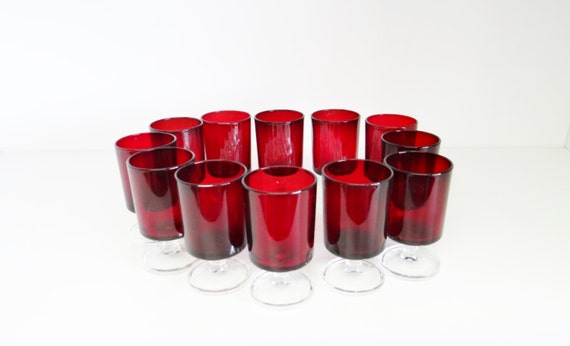 Wine Cordial Liquor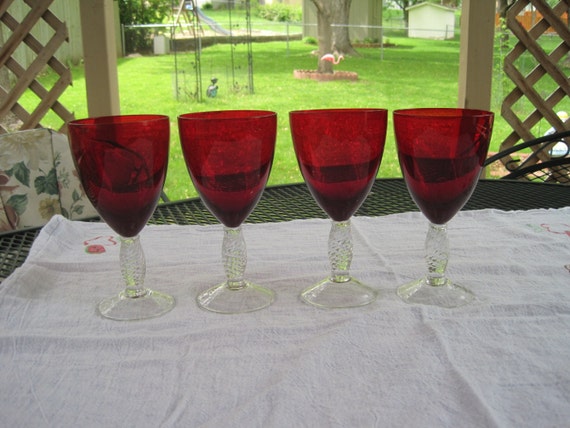 Ruby Red Wine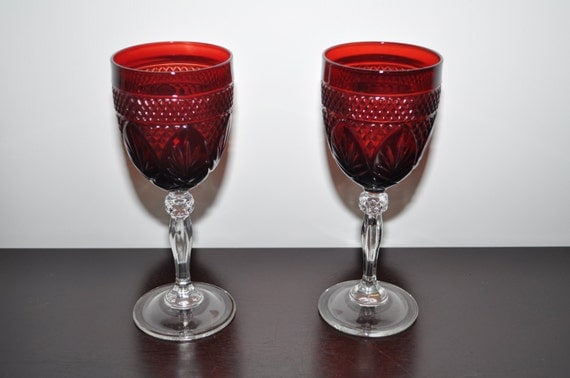 Vintage Red Wine Glasses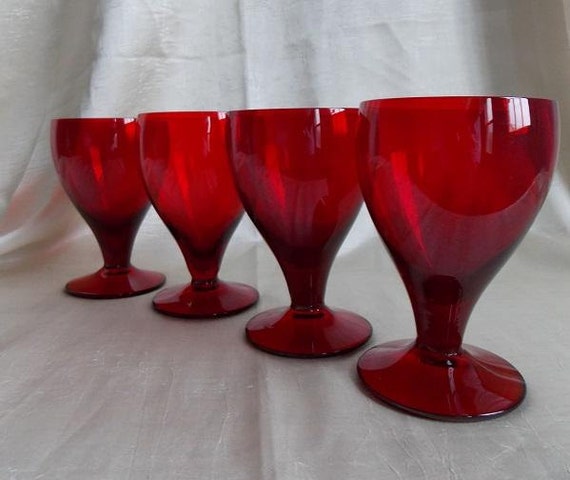 Anchor Hocking Royal Ruby Red

Vintage Cobalt Stemware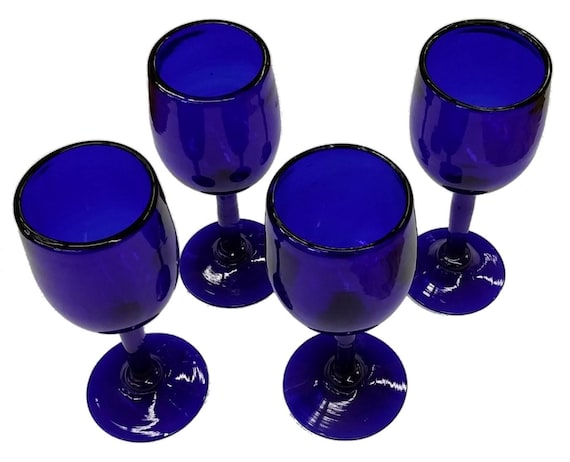 Cobalt Blue Wine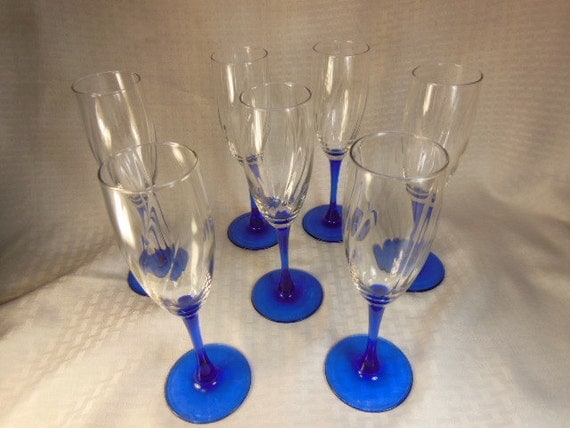 Twist Crystal Champagne

Blue Sparkling Wine Glasses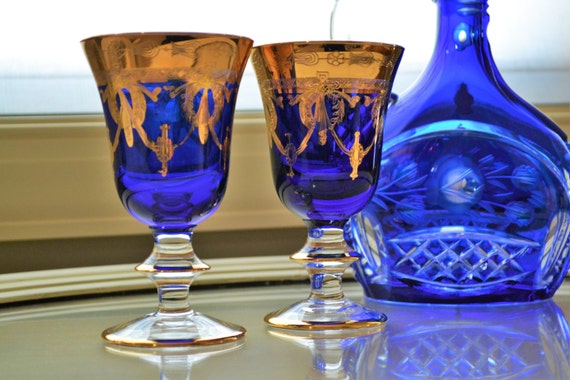 Arte Italica Medici Goblets

Vintage and Antique Crystal Stemware
Cut crystal stemware is some of the most beautiful stemware available and has been for for many generations.  You can find some beautiful cut crystal stemware on Etsy.  Most of the vintage and antique cut crystal stemware is reasonably priced and you can pick up a set of 6 for under $50.  However, if you come across some very rare antique cut crystal stemware, you may have to shell out more money.
The trick is collecting enough stemware to be a full set for your dining room table.  Because what good would all the beautiful cut crystal stemware be if you didn't use it for entertaining.
(Visited 4,445 times, 1 visits today)