What Exactly is a Cocktail Dress?
A cocktail dress came officially on the scene in the 1920's, when designer Coco Channel designed "the little black dress," and you can still buy an authentic vintage cocktail dress online or a replica.  It was calf-length, straight, and decorated only by a few diagonal lines.  This dress became the pattern for cocktail dresses of all sorts for decades to come, bringing the color black out of the mourning niche and into high fashion.
Glamorous Red 1950's Dress Vintage Style Full Circle Party Cocktail Prom

The little black dress was the epitome of style that could be worn by women of all ages, and incomes.  This dress could be dressed up or down depending on the accessories that were worn with it.  Designer Christian Dior was the first to use the term "cocktail dress" to refer to early evening wear, in the late 1940s.
After the Great Depression, fashion began to push the envelope, with cocktail dresses breaking out of the mold.  Dresses became both longer and shorter, and much more colorful.  Different fabrics were experimented with introducing new sheer versions of the cocktail dress, and much more elaborate versions of the cocktail dress.
Over the years the definition of the cocktail dress has evolved to the current definition–a cocktail dress or cocktail gown is a woman's dress worn at cocktail parties, and semi-formal occasions.  The length ranges from just above the knee to touching the ankle. When it is about 2 inches above the ankle it is called tea length and when it is almost touching the ankle it is called ballerina length.
1950'S Retro Cocktail Dress

50s 60s Vintage Cocktail Dress

Vintage Dress

Vintage Floral Swing Dress

Vintage 50s 60s Swing Dress

50 60s Vintage Cocktail Dress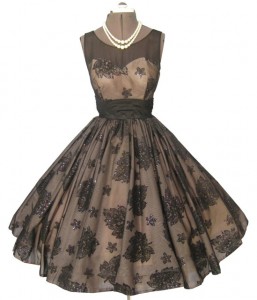 Cocktail Dresses Versatile
One of the things that makes the cocktail dress such a great fashion find is that cocktail dresses are very versatile. If you take a basic cocktail dress and add a jacket and a clutch purse, you have the perfect outfit for an office party. But if you take the same dress and add a string of pearls, a beaded bag, and party shoes, you have an evening dress.
Cocktail dresses have been taking the fashion world by storm since the invention of the little black dress. Women can buy one or two cocktail dresses, and with a few accessories create several outfits that could take them through two weeks of parties. This idea is not new at all, but now in the era of eco-chic, where women are looking for ways to recycle including recycling fashion, it only makes sense to look for authentic vintage cocktail dresses from the last few decades, and alter them or wear them as is, to cut down on dresses being manufactured.
And what is healthy for our earth is doubly healthy for our pocketbook. Buying used vintage cocktail dresses is much cheaper than buying them new. And being party dresses, most vintage cocktail dresses are still in excellent condition.
Vintage Black Cocktail Dress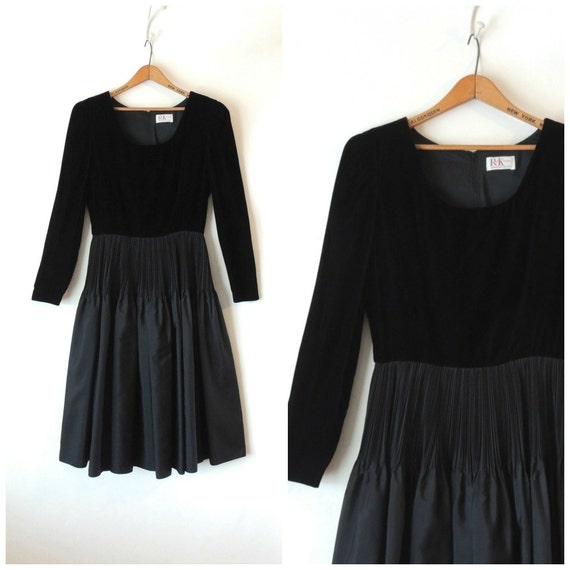 50s 60s Black Velvet Cocktail Dress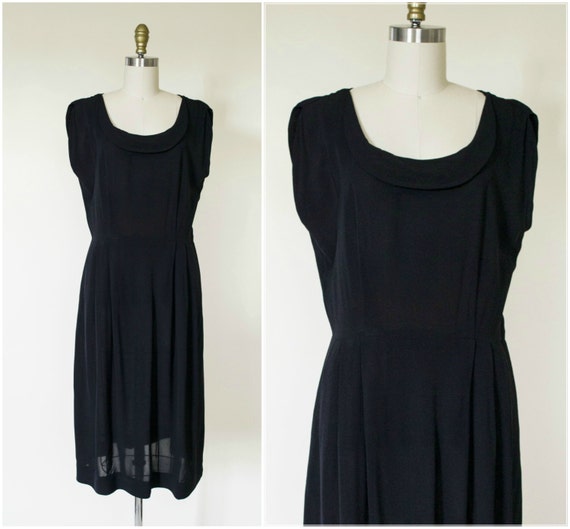 1950s cocktail dress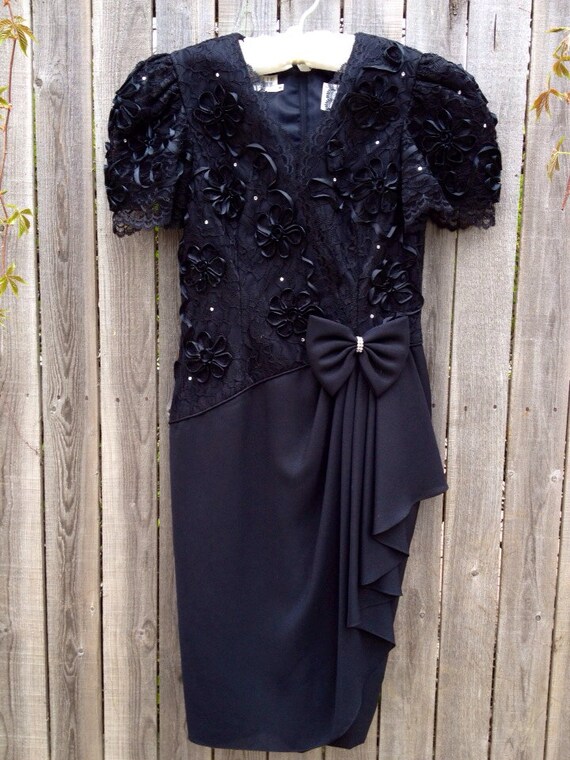 Cocktail Dress, Vintage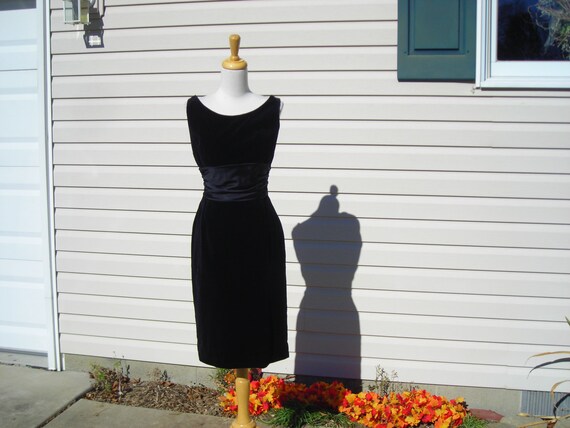 50's little black cocktail dress

Fairly Plain to Very Dressy
The original little black dress was a very basic sheathe, but cocktail dresses since them vary widely from simple, plain dresses to extremely frou frou dresses.  Whatever style you prefer, you will find a huge variety of vintage cocktail dresses to match.
And black ceased to be the only cocktail dress color years ago, with dresses ranging the color spectrum of bright fire engine red, to silver, smokey gray, and floral prints.  Fabrics can range from sheer chiffon to opaque silk to shiny polyester.
And accessories can be added to the dress to add sparkle, like beads, pearls, and rhinestones.  These kinds of additions work well when altering or changing a vintage dress to cover up any stains or tears from previous use.
1950's Vintage Cocktail Dresses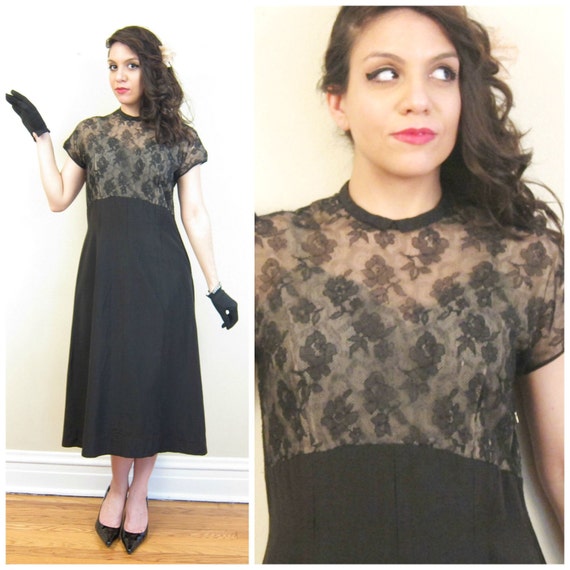 Vintage 1950s Cocktail Dress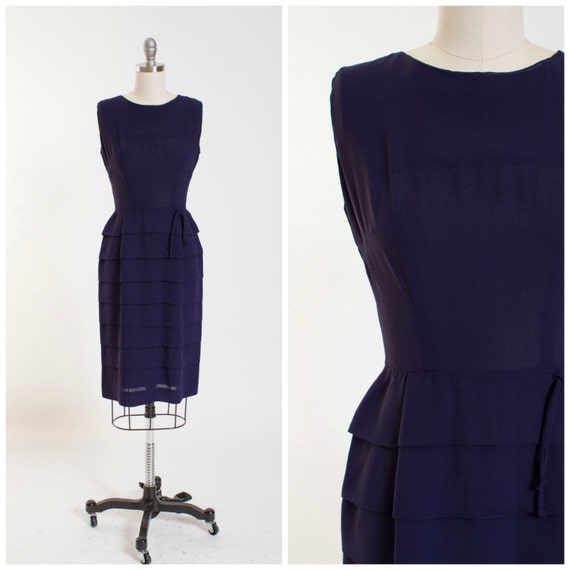 50s Vintage Dress Navy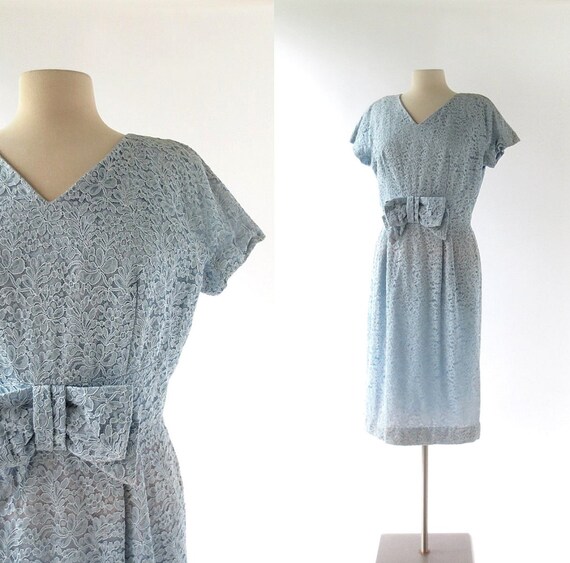 1950s Cocktail Dress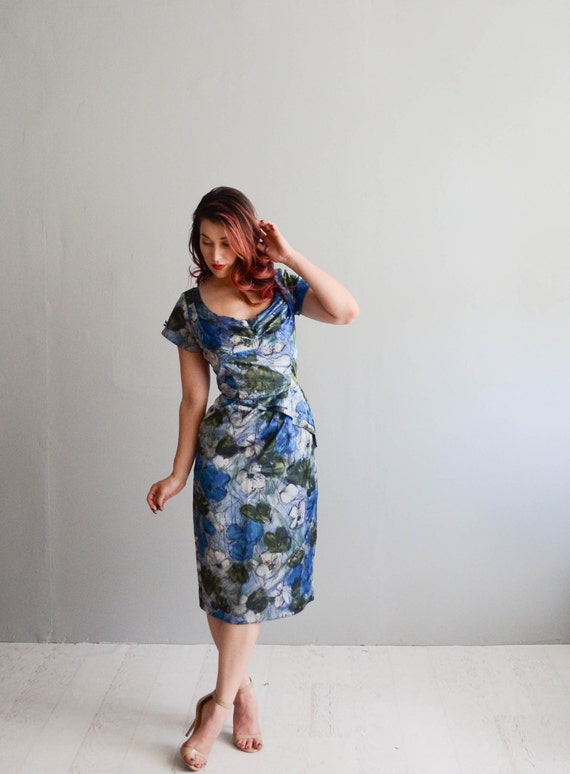 Vintage 1950s Cocktail Dress

Sophisticated to Sexy Bodice Styles
Whether you are looking for a sophisticated sleek look or a sexy shoulder bearing look, vintage cocktail dresses can be found.
Vintage cocktail dresses were made in halter style, strapless style, over one shoulder style, sleeveless, and long sleeve.
You can also find sheer sleeves, puffy sleeves, and cap sleeves.
Vintage skirt styles abound also, including straight sheath, asymmetrical cuts, mini, tunic style, a line style, and several other skirt styles.
And additions included beads, crystals, rhinestones, lurex, spandex, and embroidery.
1960's Vintage Cocktail Dresses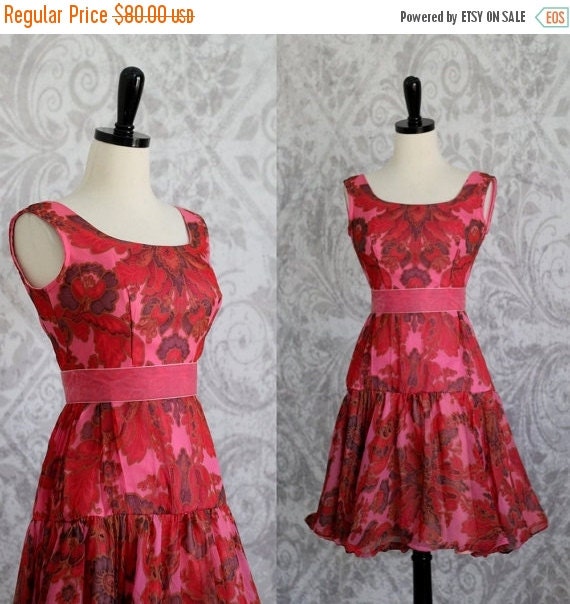 Vintage 1960s Cocktail Dress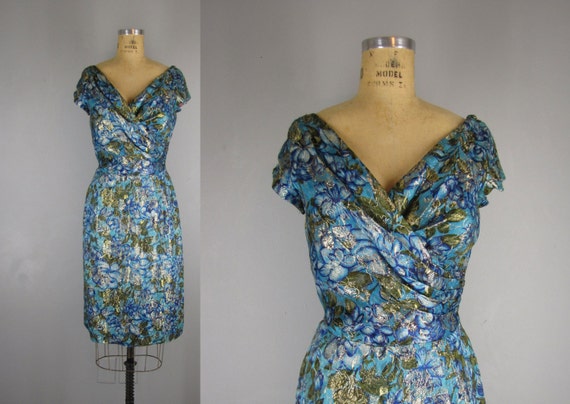 1960s cocktail dress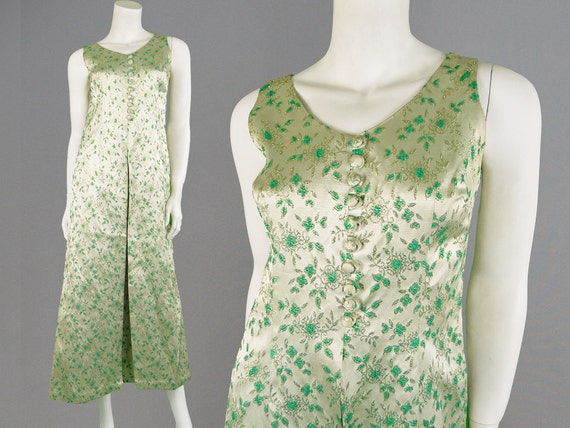 Vintage 60s ALICE EDWARDS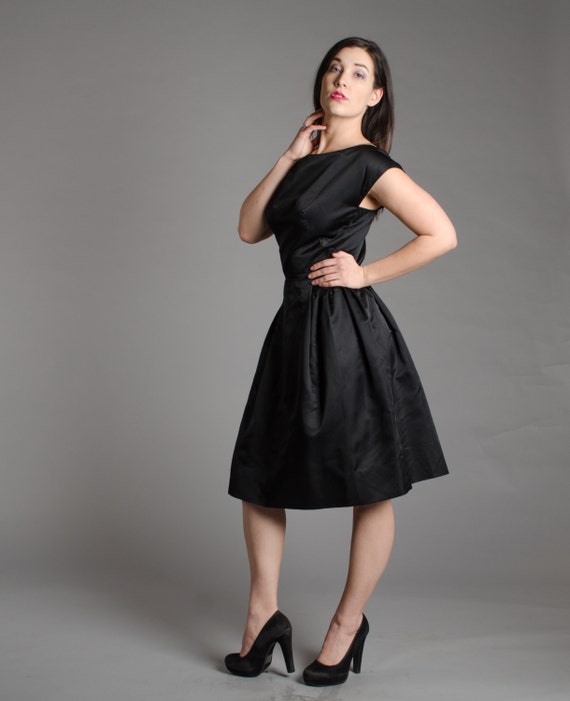 Vintage 60s Silk Dress

Explore the Vintage Clothing for Women on Ebay
Reputable Ebay sellers have a lot of wonderful mint condition vintage cocktail dresses to offer to you.  Most of them are authentic vintage dresses that are being sold for excellent prices.  But don't be fooled by retro or new vintage cocktail dresses. You can also take an exiting dress and alter it to your specifications. There is some excellent information in this book:
Gertie Sews Vintage Casual: A Modern Guide to Sportswear Styles of the 1940s and 1950s

If the dresses are new, in most cases they are not vintage but vintage style.  And that is okay if vintage style is what you want, but if you want authentic vintage, make sure that the Etsy seller makes that clear in the description or you can send them a question.
It is possible to find a new, never been worn item that is vintage, but most vintage cocktail dresses will have been worn at least once or twice.
That being said, Etsy is a wonderful place to find vintage clothing of all kinds, and it is hard to do wrong on Etsy as long as you know what you are looking for.  It is like shopping through the racks at your favorite vintage clothing store from the comfort of your own home.
(Visited 3,352 times, 1 visits today)